Posted by John Devlin
Replica football shirts gained Holy Grail status to me when I first discovered football at the age of about 8 or 9. Looking back, there is no doubt that in my eyes it was the kits that put the beauty into the beautiful game. Of course in those days it was only children who wore replica shirts. You hardly ever saw a grown man in the itchy concoctions of the time, (hence the immense rarity of 'large' sizes in vintage shirts on ebay nowadays) they were still content to parade their club colours with a scarf, bubble hat or, heaven help us, a rosette. But seeing kids in the park donned in brightly coloured football garb COMPLETE with the telltale authentic manufacturers logo or club badge was always guaranteed to draw a gasp of envy from me.
Growing up in Essex, naturally I was a diehard Liverpool fan (well, it was the late 70s). With my Dad being a Glasgow native I was also genetically programmed to be a Scotland supporter despite my Sassenach accent and residence south of the border. These two facts combined to ensure that my childhood sportswear company of choice was Umbro. My first brush with the polyester pleasure that was a football shirt came when I was 9 and Mum bought me a Liverpool jersey from the market. Sure I was pleased, but something just wasn't right and although I tried to put it out of my head the absence of the iconic Umbro logo and the prescence of a curious oval Liverpool badge that was sold separately and later stitched on my ever-doting mum indicated to me that it wasn't an official replica shirt. Consequently I never fully embraced the outfit as an authentic show of my loyalty and affection. The quest to own my own replica jersey went on…
But all that was to change one glorious Saturday morning in the early 80s when walking back from town with my Mum I happened to glance in the local sports shop window and noticed a mannikin sporting a genuine Liverpool replica home shirt that was marked quite clearly 'half price'. Half price! OK, it was minus the Hitachi sponsors logo so it wasn't quite perfect (although why I was desperate to publicise the brand of a Japanese hi-fi company wasn't clear to me) but it was half price which meant there was a fair chance I could persuade my ever frugal Mum to purchase the outfit. She still took some persuading though but I eventually managed to win her over by saying it could be an Easter present – a new concept in our household as up until that date I had never received anything for Easter other than a Milky Bar egg – but she bought it and I could barely keep my hands out of the bag all the way home. On donning the jersey in the front room when I got home the shirt bought extra delights I hadn't fully appreciated whilst in the shop. Not only was it long sleeved (in those days short sleeved replica shirts were the only variety you could buy off the peg, long sleeved versions were reserved solely for the special Umbro 'Repli-kit' boxed sets which also included shorts and socks – but more of those later), but the Umbro logo and official Liver Bird badge were made of felt and not the vinyl iron-on versions that normally adorned replica kits and washed off within six months. No more oval shaped sew ons for me, this was the real deal and I donned the shirt with pride, my face as flushed as the red of the shirt. This was the first Liverpool shirt I owned and I loved it. Had printed names and numbers been commonplace back then no doubt I would have proudly sported Dalglish, 7 on the back.
My joy however was not to last for ever. In fact it lasted mere months as while watching the highlights of Liverpool's Charity Shield match against Spurs in 1982 my jaw hit the floor. The simple beauty of the Liverpool shirt that had been worn since 1976 was gone, replaced by an audaciously shiny, pinstriped effort. For a second I was devastated. In the blink of an eye my shirt had become old-fashioned and obsolete and I had fallen victim at this tender age to the now standard end-of-season replica kit sales stunt that has since caused many a Daily Mail reader to explode in anger. But then in an instant the horror faded to be replaced by wonderment and excitement at the magnificent new design being sported by Rush, Whelen and all that firmly yanked the all powerful Reds into the 80s. My love of the ever-changing world of football kits was now fully consumated.
Since those fateful few months I have owned several Liverpool shirts, all sadly now lost; the afore mentioned home pinstriped Umbro affair, the yellow pinstriped away shirt that was made from a curious sandpaper-like fabric that managed to draw blood to my nipples every time I wore it and finally the glorious adidas strip from 1985 – incidentally my first ever sponsored football shirt and my last Liverpool one. Back in those days sponsors logos weren't the norm on replicas, especially if the brand was connected to alcohol. So desperate was I for this adidas marvel when it was launched I even compromised on the size and bought the only size the store had in stock – medium – meaning that I resembled Jan Molby in my prime every time I pulled it on (maybe Jan had the same problem when he bought his shirt?)

My love affair with Scotland jerseys lasted longer though and I owned every home shirt from the Argentina 78 commemorative special (picked up second hand at a flea market a couple of years later) through to the last Diadora jersey, each one much treasured and most still knocking about.
But my ownership of Scotland shirts was also not without incident. The first jersey I owned (the Umbro 80-82, wing-collared diamond-trimmed marvel) was bought as part of a Repli-Kit boxed set – which, as I mentioned earlier, was a unique Umbro product that saw a long-sleeved shirt matched up with shorts and socks – all housed in a tidy package. It was actually bought for me from a small sports concession owned by much-maligned Scotland keeper Alan Rough in a Glasgow department store during a trip to visit relatives in the early 80s.
In theory there was no problem with the Repli-Kit concept. In practice it was very different.
The problem in one word? Sizing. Okay, maybe it was me, maybe I was an odd shape (maybe I still am) but although the shirt and socks fitted like a dream the shorts seemed to be a completely inappropriate size. Perhaps they had slipped in from another Repli-Kit box produced for a seven year old? To say they were snug is an understatement. I won't go into detail but let's just say that when my wife announced that she was pregnant a year and a half ago I breathed a sigh of relief as it was proof that although they may have brought tears to my eyes at the time, the shorts had not caused any permanent damage. The fear that had haunted me for nearly 25 years since I first perserved with wearing the Scotland Repli-Kit shorts every time I played football finally dispersed.
Posted by John Devlin
The sizing of football kits has changed dramatically over the years and like most fashions the trends appear and reappear in a cycles. The first football jerseys tended to be pretty snug fitting before larger, baggier shirts became the norm – accompanied by even baggier shorts. Following the continental influence that emerged in the 1950s, the shirts and shorts then became tighter and smaller, reaching their pinnacle in the early 80s. Towards the end of that decade developments in fabric technology allowed looser fitting shirts to once again become popular. The 90s was a decade of fabric excess with every team in the land sporting frankly enormous shirts and also, thanks to Umbro's endeavours, enormous shorts.
Currently, in the mid 2000s, shorts are still on the long side but shirts have once again shrunk to create an impressive silhouette for the ultra-fit modern footballer.
Using just some of the home kits Manchester United have worn in the last 100+ years as examples, the illustration below shows how the fit of kits has changed in that time.
Posted by John Devlin

Although Admiral as a trademark had been around since ABC Hosiery ltd registered it in 1914, the company's most famous period was without doubt the 1970s when they broke new ground in supplying football kits and paved the way for the commercial kit revolution based around replica strips that was to follow.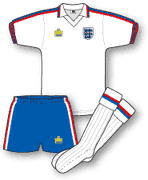 The innovative deal was with Leeds Utd and in 1973-74 the Admiral logo became the first sportswear logo to appear on an English team's kit (on both the shirts and shorts). The kit was remarkable as it was produced in nylon rather than the customary cotton. With the new deal with the English FA Admiral then produced the first commercially available replica kit. The prominent position of the Admiral logo and the other stylistic embellishments meant that young fans who wanted to emulate their heroes accurately had to buy the Admiral replicas. It was a piece of commercial genius that revolutionized English football.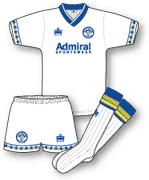 Other teams followed suite including Southampton and Manchester Utd however Admiral's success was not to last and amidst financial problems they lost contracts with all of their domestic teams. Only England remained and eventually that too ended in 1983 with the bankruptcy of the once gloriously successful company. Some lower league teams picked up on Admiral again a few years later such as Crystal Palace and Charlton and the firm eventually gained some prominence again in the early 90s with returns to Leeds, Southampton alongside new relationships with Wimbledon and several Scottish clubs.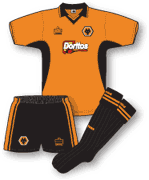 Since then however the company have focused on other sports such as cricket with their only recent high profile deal being with Wolves in the mid 00s and the company are currently enjoying a third tenure with their old chums at Elland Road.
Posted by John Devlin

As most pub quiz regulars will know the German company adidas (note lower case 'a') was formed by Adolph (Adi) Dassler in 1948. Adi's brother Rudolf later formed Puma and commenced an intense rivalry between the two firms that exists to this day. Although the
firm were known to eagle-eyed English fans who were interested in such matters via their many kits worn in various World Cups, adidas were relatively late arrivals to the English football scene and emerged in the late 70s with contracts with Fulham, Ipswich and Birmingham City. The mid 80s saw the company go for the jugular and their trademarked three stripe trim adorned the shirts of the country's three most successful teams of the decade; Liverpool, Arsenal and Manchester Utd. When it came to the number of team kit deals in England, Umbro may have had quantity but adidas arguably had quality.
A slow but steady prescence was unnerved slightly in the early 90s when the company abandoned their famous trefoil logo in favour of a new brand; adidas equipment – responsible for some of the company's most controversial designs. The slightly confusing new branding seemed to take the wind out of adidas' sails (and sales) and for the latter part of the 90s it was left to Newcastle Utd to fly the adidas flag in the top flight.
In this period the company began to turn their attention to the lower English leagues and new contracts with the likes of Fulham (then rockbottom of the league). Burnley and Crewe. However, the company's profile was boosted by the large number of international sides that they still supplied including long term associations with West Germany and France.
By now an amended version of the adidas equipment logo was established as the visual face of the company and the mid 00s has seen the company gain new high-profile deals with the likes of Chelsea and the return of Liverpool as part of the adidas deal to but the Red's kit suppliers Reebok..
Posted by John Devlin
To listen to an interview John Devlin gave to the American website EPL Talk in July 2007 click on the link below:
http://cdn.libsyn.com/epltalk/EPLTalk_episode73.mp3
EPL Talk is the only Premiership interview show on the Internet. Every week they feature intelligent interviews with different guests that include commentators, players, authors and legends from the English Premier League.
Posted by John Devlin

Nike is the world's leading supplier of athletic shoes and sports apparel. Formed in the USA in 1964 by Phil Knight and Bill Bowerman as Blue Ribbon Sports, the company's recent domination of the worldwide football kit market is astonishing. Their first appearance on an English club's shirt was with Sunderland (the local team to the company's UK office in Wearside) in the early 80s, and a Nike shirt featured in the 1984 Milk Cup Final. Curiously the shirt featured the Nike logo on the left hand side of the jersey and the club badge on the right; a reversal of the traditional placement that sees the team crest generally placed over the heart. Was the reason for this switch an audacious attempt to buck the trend and shake up football kit design? No, it was simply easier to take pre-existing branded team shirts (that already included the Nike logo on the left) and sew the Sunderland badge on rather than produce whole new jerseys.
After the brief Sunderland adventure the Nike swoosh disappeared from the English top flight and did not reappear until 1994 as part of a high profile deal with high-flying Arsenal – an association that continues to this day.
By the end of the decade Leeds Utd and Sunderland (again) joined Nike's roster before their biggest coup in 2002 when the firm disposed Umbro as technical suppliers to arguably the world's biggest football brand; Manchester United.
Since then Nike and football has grown from strength to strength and the company have been prominent in recent World Cups with their kits for Brazil and Holland amongst others. 2007 saw the firm further bolster their English presence with deals with Fulham and Aston Villa alongside the 'teamwear' contracts they hold with several lower league clubs where the clubs simply purchase Nike strips 'off the hook' and add their own branding and sponsorship.
Nike are sometimes critiscised for producing plain strips but true kit conniseurs appreciate their unique restrained and elegant approach to kit design which is often highly conceptual and firmly ensconced in history and tradition.
Posted by John Devlin
I've just had a quick check through and I may be wrong but in the last two seasons every club that has played in the Premier League has had a black or very dark blue/navy away/third kit except for Arsenal and Middlesbrough (who have had their fair share of black kits in the past). I'm sure that in the lower leagues the penchant for black/dark away kits is widespread too. Its almost getting to the point where every match will have the home team in their standard colours and the away team in black! Personally I'm getting a little tired of seeing a team coming out in a dark and mysterious black outfit. It seems a lazy choice for change colours. I'd like to see a more varied palette across away/third kits in the coming seasons – there's plenty of colour scope relating to clubs' histories and it would really freshen up the teams.
Posted by John Devlin
Taken from the introduction to True Colours

One of the myths surrounding contemporary football kits is that the constant changing of the design is purely a modern invention, merely a revenue booster aimed at parting parents with their cash in order to frantically keep up to date with the latest kits for their ever-demanding children. Although the selling of replica shirts is obviously a major source of income to the clubs today, this criticism is, on the whole, a fallacy. Although this book takes 1980 – arguably the birth of modern sponsorship in sport – as its starting point, any rudimentary research into football history shows that from day one kit styles were constantly changing from season to season, and also often from colour to colour as fashion developed and clubs attempted to forge their identity.
Today, football supporters choose to show their allegiance to their team by donning a replica jersey. The same trend can be noticed in the professional poker scene as many pokerstars poker fans often wear a customized shirt to show their support. In the 70s it was scarves, bobble hats and rosettes, but now only identical versions of the uniform your heroes wear on the field is enough to indicate that you are a true fan. As recently as the late 80s, replica shirts were still not de rigueur for the hardcore football fan. It is really only since Gazza led the English emotional rollercoaster of Italia 90 and the emergence of the Premier League that the colourful polyester jerseys became more popular and filled terraces throughout the land.
The modern football kit is very complex. For many years it was purely a functional item – a simple means of identifying the team. Then, of course, as more teams joined the Football League, change strips had to be introduced to avoid colour clashes. Gradually, as fashion changed over the years, collars, V-necks, lace-up and button-up collars all came and went and came again. Occasionally, radical innovations would occur, as mentioned above when Hungary played England in 1953 and made the heavy woollen English jerseys look almost prehistoric compared to the relatively lightweight, sleek continental outfits.
However, in the mid-70s, when the first manufacturer's logo appeared on a shirt, the colourful uniform not only had to contain the identity of the club, but also the identity of the company who produced it. When Hitachi signed the first professional shirt sponsor deal with Liverpool in 1979, a third element was thrown into the mix. Now the shirt also had to accommodate the large logo of a third party previously unconnected to the club. As anyone connected with design will confirm, it is no easy job blending these three identities together on a garment in such a way that each is clearly recognisable and does not clash with the other. Throw in the away strips problem when the entire recognised outfit has to be switched to another colour (think Coke/Diet Coke) and the problem is confounded. Also, with the popularity of replica shirts increasing in the early 90s, designers also began to consider not only how the shirt would look on the field but also how it would look off it. Yet another problem!
In very recent years, with the whole professional business side of football jumping up a gear, the kits switched focus back to enhancing performance on the pitch. Hi-tech lightweight fabrics designed to maximise comfort and minimise heat and moisture (handy for those balmy days in Glasgow!) are concerned primarily with the 90 minutes of a match. Of course, replica shirts are still a consideration as they consistently sell in their thousands, but not in the quantities they did in the 90s.
The fit of the shirts has also varied dramatically in recent years, from fairly tight to baggy to frankly enormous and back to tight again! Intimidation is the key here – larger shirts make the players look larger and stronger, but as players' fitness levels increase in the now high-pressure football world, practical skimpier outfits (such as Kappa's Kombat range) allow for the players' own physique to create the threatening image. The combination of multi panelled hi-tech fabric outfits has also enabled designers to create styles that are intended to subconsciously increase physical presence and to give an almost armour-like impression – perfect for battle on the pitch.
It is easy to see draw parallels between modern football kits and army uniforms of the past; both feature bright hues trimmed with all manner of braid, badges, medals etc. and are worn by groups of men proudly displaying their colours before the opponent. The culture of swapping shirts after important matches can also be seen a modern-day equivalent of claiming a battle-scarred souvenir from the defeated enemy.
Colour choice can also give a psychological advantage. Red is probably the most successful colour in football (think Liverpool, Man Utd and Arsenal) and gives a fearless impression. In nature, animals that are brightly coloured often exude an aggressive and arrogant air – they have no need to camouflage themselves. Natural colour coding, as seen in wasps and bees, may also explain the combination of contrasting warning colours, normally arranged on the shirt in stripes of some form. This amalgamation generally gives a subconscious warning.
The second most popular colour in British football is probably blue. Although not as aggressive as red, it does exude a calming, self-assured air of confidence and loyalty. White, of course, is the colour of heroes – pure and virtuous. For away strips, yellow is another popular choice. This may just come from the fact that there are not many sides that play in yellow and it is therefore a pretty safe selection! Or it may have something to do with Brazil…
The colours that are harder to explain as shirt choices are those that are not as strong, for example pale blue or, worse, grey or even ecru! When one of the primary functions of a football kit is its clear, distinguished visibility, it is astonishing that grey goes through trends in popularity. Of course, its selection in the mid-90s did lead to one of the most incredible events in football fashion, as is explained later in the book, when Alex Ferguson famously blamed his Manchester United side's grey shirts for their poor performances.
Gone are the days when the different coloured shirts were simply there to differentiate one team from the other. Of course, this is still a necessity, although even in this sophisticated age games are still occasionally played with both teams forced into wearing their change kits, or donning a training outfit, due to poor kit preparation and an unforeseen colour clash on the pitch.
The kit provides the most visible identity of a football club. After all, every minute of every match is identified and branded by the strip that is worn. As can be seen throughout the main section of this book, when a team are wearing a well-designed kit they often play better and achieve success. Also, when a new strip manufacturer arrives at a club, results can often pick up that season. The most passionate of goal celebrations is often accompanied (well it was, until it was banned by UEFA) by the ripping off of the jersey and waving it in jubilation like a flag of victory, antagonising the opposition and stirring the fervour of your own club's fans.
Modern kit manufacturing and sponsorship deals are incredibly lucrative for the clubs. Manchester United's recent 15-year deal with Nike is said to be worth an incredible £300 million. There is no doubt that these kind of contracts are vital to teams in these days of players' astronomical wages.
The fact that the contemporary football battle dress also now contains the financial benefits of additional sponsorship is a problem solely for the kit designers – not the players, not the fans. To the players it is merely a part of their uniform, good or bad, and to the fans it is an expression of their loyalty and devotion. These extra logos are not something to be ashamed of as some older supporters claim. Often the brands become intrinsically linked with the club, especially if the relationship lasts for many seasons, although the downside of this is that supporters who have a strong dislike of a certain team have been known to boycott their sponsors' products. For example, how many Spurs fans do you see with a JVC stereo?
Many supporters see the logos as actually enhancing the shirt, adding an extra focal point and helping to pinpoint a time and a place and also to identify with the side. After all, who would happily walk around with a shirt with the logo of an insurance company or photocopier supplier proudly displayed on it unless it meant something a little extra and gave a message out to other people? It is an example of another form of allegiance – joining together with these companies and organisations in the mutual support of a team. It is a mark of authenticity of the club's, and consequently a replica shirt wearer's, place in society. It's all about belonging to a tribe, displaying your battle colours, adopting the rich and wide variety of designs your favourite team has worn, whether it's a solid and traditional home shirt or an outrageous eyeball scorching away, showing who you follow and by default who you don't. It's all about belonging and showing your true colours.
Posted by John Devlin
Many sports brands have come and gone over the years; some have produced some wonderful, iconic designs…and some haven't. However, the past few decades have seen a handful of companies consistently produce innovative, exciting and popular kits for English league clubs. I'll be taking a brief look at just some of their stories:

Umbro – Arguably the daddy of English kit design Umbro were formed in Cheshire in 1920 as Humphrey Brothers Clothing and adopted the abbreviated version of their name four years later. With commercialism yet to rear its head in football sportswear companies remained relatively unknown and unrecognized until the early 70s. However prior to that period Umbro's biggest claim to fame was the production of the iconic red England shirt worn in the glorious 1966 World Cup final triumph.
In the 70s and 80s Umbro were rampant and their famous diamond logo was seen prominently on the shirts of the highly successful Liverpool team of the era. The Umbro diamond trim also appeared on kits by Everton, Chelsea, Derby, Manchester City and Southampton amongst many, many others.
Umbro's peak coincided with the launch of the Premier League in 1992 when the company supplied kits to no less than 11 of the 22 founding clubs. Some incredible designs – some popular, some not – followed and the company enjoyed several long-term high profile contracts.
Production of the England kit had reverted to Umbro after almost 10 years with Admiral in 1983 and the company's profitable relationship with the English FA sustained them through a relatively low-profile period in the English game throughout the late 90s and early 00s.
However, the mid 00s saw the phoenix-like re-emergence of the iconic diamond logo with new deals with several clubs included WBA, Blackburn, Sunderland and Everton.
A twist in the tale has emerged in recent months with the revelation that Umbro has agreed to be bought by US giants Nike in a deal worth £285m. At the time of writing the deal has not yet been completed so it remains to be seen what impact it will have on the most prevalent of all English kit companies.
Posted by John Devlin
So close but yet so far…its a familiar story for Scotland fans isn't it? From Argentina 78 to last night's match against Italy it seems every Scotland campaign is a mixture of glory and disaster and this one was no different. Personally though I am fed up with 'glorious failure', I want 'glorious success' where superb wins over top quality sides are supported by pedestrian wins over lower sides. And the gold trim on the kit didn't even bring us that extra bit of luck! Still, this Scotland side is something else and the future certainly looks rosy. Well played lads…maybe next time.