Posted by John Devlin
As a football fan and a football kit, fan April kicks off a wonderful time of the year. Not only is the season drawing to a climax with hopefully, from a neutral's point of view, a few twists and turns in the battle for titles, cups, promotions and relegations but its also the time when next season's kits and being premiered or at least leaked.
Football wise, the end of this season looks to be even thrilling with Chelsea's magnificent win over Man Utd yesterday blowing the Premier League, if not wide open, but at least partly ajar. All Utd need to do now is keep their nerve. We've got two cracking Champions League semis coming, followed hopefully by an all-English final. Rangers may make it to the UEFA Cup final and in the lower English leagues its extremely tight. The Championship sees several major clubs who really do belong in the top flight battling for precious promotion places along with some equally big names at the other end battling relegation.
Plus this summer of course we have Euro 2008 to look forward to!
But for me its the new kits that really make it an exciting time. Although it seems to be slightly out of fashion these days, the last match of the season was always an opportunity to show off the strip for the forthcoming season. The Cup final was always a fine example of this throwing up several anomalies such as the Everton strip premiered in the 1995 final which was the only time the design was sponsored by outgoing sponsors for 94-95, NEC. Danka took over the shirt deal for the 95-96 season itself.
Nowadays, its the internet that provides the outlet for the new strips. Leaked pictures of new strips often appear many months before their official unveiling. Unfortunately some are fakes, either concocted on Photoshop by fans with too much time on their hands, or in some cases put out as red herrings by kit manufacturers to confuse the bootleggers. Either way, football kit devotees such as myself spend everyday at this time of year scanning the web looking for the new designs and being either excited or disappointed by the fare on offer.
This season looks to be no different; already we've seen fine new outfits for Chelsea and Liverpool along with news of the continued resurgence of Umbro.
What trends will the new season bring? I'd imagine there will still be plenty of black/navy blue change strips knocking about – a quick and easy fix to the age old away kit design dilemma. I think there may be more switching of traditional shorts colours to create single colour kits – probably in an attempt to work with FIFA's increasingly strict rules over colour clashes.
We may also see an increase in advertising/logos on English club shirts. Witness Portsmouth/ Canterbury's introduction of additional branding mid-season on their jerseys. Simple designs and standard templates seem to be coming back in to fashion with some of the more outlandish designs being mothballed with team wearing similar kits to each other, differing only in hue. Plain and simple strips are what football fans prefer – football kit fans however like to see bright and dynamic designs with innovative styling. However, it must be remembered that although kits do provide a valuable source of income for clubs via replica sales, they are there primarily a job uniform. Their sole purpose is really just to differentiate between teams on the pitch (and to some extent on the terraces!) and this doctrine appears to be the method statement for kit designs in 08-09.
By the way, for those of you desperate for the new kits pre-season may I recommend you to two fine sites that are always first on the ball with such news:
www.colours-of-football.com
www.footballshirtculture.com
Posted by John Devlin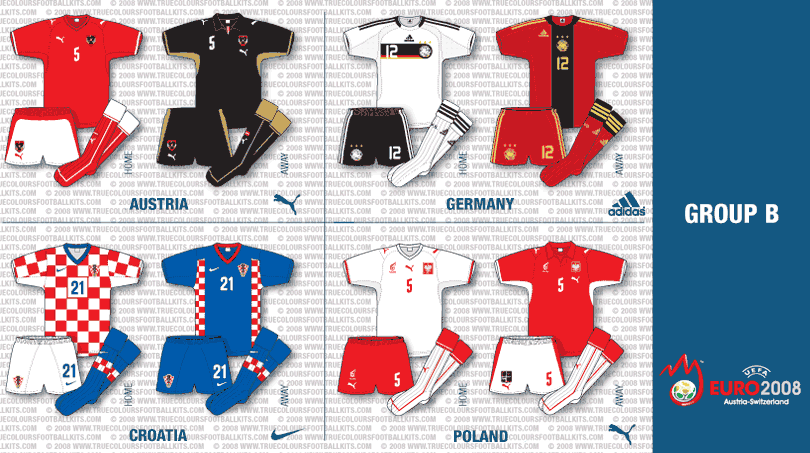 Here is the second of four articles featuring the kits that are to be worn in Euro 2008.
Group B mixes Nike, Puma and adidas together. Adidas have come up with some superb designs for the Germany team that really lift their outfits away from the slightly formularic approach of Nike and Puma. Green is no longer the German's away hue and instead a dynamic combination of red and black is preferred.
Euro 2008 also sees Austria abandon their traditional white home kit in favour of a clean red and white. This outfit is supplemented by a classy black and gold change affair.
As usual Croatia's unique style brings a rich blend of colour to the competition.
Part 3 of Euro 2008 kits to follow soon.
All illustrations are (C) 2008 www.truecoloursfootballkits.com and must not be reproduced without express permission.
Posted by John Devlin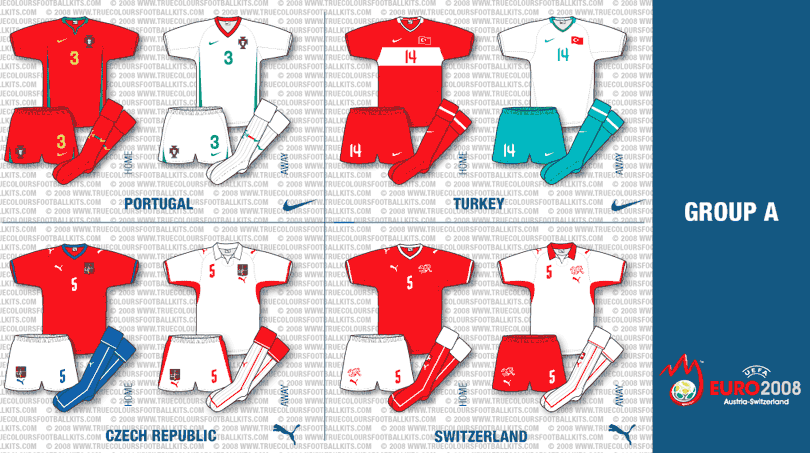 Here is the first of four articles featuring the kits that are to be worn in Euro 2008.
Starting off with Group A where unbelievably every team has a red home kit and white away! Who says international kits are getting boring? There's really only a few templates on view at this summer's tournament so for those of you who love to see a wide and rich variety of different designs be warned!
The real kit of interest from this selection is the Turkey away kit that features a rather untraditional turquoise colour. The reason for this colour choice is that the origin of the word turquoise comes from the French word for Turkey. Its another example of Nike's conceptual and intelligent approach to kit design.
Also, Portugal have ditched the darker red they have worn recently and reverted to a more familiar shade.
Part 2 of Euro 2008 kits to follow soon.
All illustrations are (C) 2008 www.truecoloursfootballkits.com and must not be reproduced without express permission.
Posted by John Devlin
On a recent visit to Sven's excellent www.footballshirtculture.com site I was very interested to see what appears to be the 08-10 Liverpool home shirt. Its certainly a good looking adidas design and in my opinion one of the best the club have worn for many years, but one aspect of it made my heart sink a little.
Firstly, I must lay my cards on the table. If you've read a little more about me elsewhere on the site you will see that I am a Liverpool fan of old. I guess I stopped following them fanatically in my teens when I felt a bit of a fraud supporting a team I seldom saw play and that were not my local side. So although I no longer shed a tear when they lose, theirs is always the first result I look out for on a Saturday at 4.45 (older fans pre-Sky will know what I mean here!)
OK, that's that out of the way. My work studying football shirt history over the years has led me to several conclusions: clubs have always changed their kit on a regular basis, some third strips are unnecessary (!), if you're wearing a good looking kit it can have an influence on the pitch and that a change of sponsor/manufacturer/design CAN improve a club's fortunes.
One of the other revelations I have also uncovered concerns Liverpool's apparent inability to win the league title – an achievement that has escaped them for almost 20 years! Sure there have been several notable cup wins along the way, but not the elusive honour that confirms a club are simply the best in the land. The reason for this 'failure' in my view is not down to an aged team that has not been updated/refreshed (as was often the argument post-Dalglish) and its not down to any rotation systems. No, in my opinion the failure is, in part at least, down to the Liverpool crest that appears on the hallowed red (and sometimes white, yellow, green or black) shirt.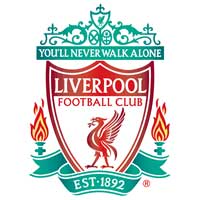 I'm sure you're all familiar with the current rather elaborate shirt crest which has gone through several minor cosmetic changes since it was initially introduced in the 92-93 season. Liverpool last won the title in 89-90 when the club shirt (which at the time was the infamous paint splattered affair, but don't let that dilute my argument!) featured a simple Liver Bird surrounded by a relatively simple and traditional crest that had replaced the classic icon of the Liver Bird standing alone above a base of 'L.F.C.' in 1987. Strong, direct, dynamic and to the point, with the club's symbol or identity instantly recognisable and on view clearly and simply.
This identity is now hidden and diluted within a couple of shields, the Shankly gates (emblazoned with the 'You'll Never Walk Alone' legend and second minature version of the Liver Bird badge), and the Hillsborough eternal flames all wrapped up with a hefty dose of scrolls. Of course I fully appreciate the significance of the flames and that is something, I believe, must not be ignored. But I do think the current badge is too wrapped up and lost in the past and the mythology of the club. It is not the crest of a forward-thinking and dynamic club. The strength of Liverpool FC has been its football and its identity – familiar and recognisable and perfectly epitomised by the peak teams of the 70s and 80s that were led and accompanied by the strong Liver Bird logo on their chests – it symbolised the team and the way they played football, the club and the city. It also instilled fear into the opposition.
Design trends come in circles and now many clubs are switching to streamlined and powerful badge designs to adorn their shirts. These badges enhance the brand identity of the clubs in question by being clearly recognisable – even when viewed at a small size in a newspaper, magazine or at the match itself. They also lend themselves easily to being rendered in virtually any colour combination. I think its time for the cumbersome and intricate badge to be phased out.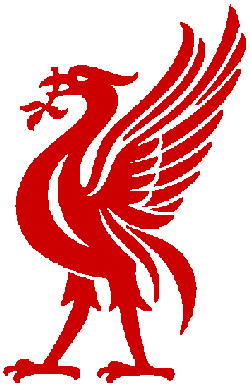 A large faction of Reds fans have been campaigning for a return of the iconic Liver Bird badge and occasionally pre-season fake shirts appear with it in place, but sadly it has yet to make a return. It does still re-appear in a part-time capacity though when the club are playing in a major cup final. Eagle eyed supporters will remember that it appeared in yellow (alongside the regular club badge and Reebok logo), slap bang in the middle of the shirts worn in the glorious Champions League final against AC Milan in 2005.
Cup wins aside, is it a coincidence that the club has not won what is rapidly becoming its 'Holy Grail' – the league title – with the elaborate crest spearheading the club on their jerseys? Don't get me wrong, nothing would make me happier than for the club to clinch the title next season in this splendid new adidas jersey complete with the current badge but I believe a change is needed.
Obviously a badge/crest can't win matches on its own but as a graphic designer and football shirt historian I believe it can inspire and influence and perhaps thats what the club needs right now.