This is a great article courtesy of Gary Silke's Leicester City fanzine 'The Fox'. It brings back fond memories for me of being desperate to own a replica football shirt when I was a small boy…cheers Gary!
Modern Life is Rubbish, this isn't just rose-tinted nostalgia specs, it really is…
Firstly we had to fund the expedition. Somehow you had to scrape together the princely sum of two pounds, which amounted to ten weeks' pocket money. Washing a car or two might get you 10p if you were lucky. And if an uncle visited you might get 50p pressed into your sweaty little palm if he was trying to look better than your Dad. When enough of you had the necessary, off you would go. It was a mile and a half from Huncote to the middle of Narborough, and the hardware shop. We weren't interested in the racks of brooms or buckets or saws. We were focussed on a cardboard box in one corner of the shop. Written on it in marker was the legend: 'Shirts £2 – Shorts £1.' It was a magical box stuffed with more highly fashionable cloth than a Milan catwalk.
It was the 'Admiral Seconds' box.
Someone obviously had a connection to the Admiral factory in Wigston and this early version of TK Maxx was created – highly desirable labels at affordable prices. Just as wannabe WAGS now fall upon labels like Gucci and Missoni we would dive into the box and rummage around for brightly coloured treasure…Tottenham, Leeds, Manchester United, Southampton, Norwich, Coventry, West Ham, England and Wales (though never Leicester) all bearing the jaunty yellow Admiral label.
There was no school uniform at Huncote Primary School so virtually every boy in J4 sported an Admiral. As Mr Hughes' eye passed over his class he would have seen Luton Town, Coventry, Man United, Sheffield United, Leeds yellow away and the England goalkeeper's shirt (though I doubt he would have recognised them as such, being more interested in folk singing than footy). The shirts you wore had absolutely no bearing on the team you supported. I was a devoted, match-going royal blue Leicester fan, but I was happy to wear West Ham's claret and light blue chevrons on my chest. Alan had never heard of Luton but wore their orange shirt with the white and navy stripe down one side. Richard did support Leeds, but the shirt came before the affiliation. Steve wasn't Welsh, as far as he knew, but was seldom seen without his gaudy red, yellow and green creation. Mitchell was a Leicester fan, and still is, but would carefully line up the tram lines on his Coventry shirt and shorts. And we all did this because, for just a couple of years, Admiral was IT!….
The Admiral brand can be traced back to 1914 when it was used by ABC Hosiery Ltd of Leicester who produced good quality underwear. By the early 1970's the company producing the brand were Cook & Hurst Ltd of Wigston. At this time the first manufacturers logos were very gradually beginning to appear on football shirts and it was Admiral who first seized on the possibility of commercialising football strips. With a young and vibrant sales and marketing force, years ahead of their time, the Leicester company swiftly set about conquering the domestic market. Don Revie's fondness for making a bit of brass to supplement his meagre salary at Leeds was a big help in the early days. Leeds United were the first to wear the nautical trademark. Then, when Revie became England boss, a £16,000 deal was cut and England's traditional plain white shirt was suddenly adorned with red and blue sleeve stripes and a yellow logo, much to the horror of traditionalists and the delight of schoolboys across the nation. That shirt was the must have item of 1975 and when Manchester United were also signed up Admiral had the 'Big Three'.
The rest fell into line.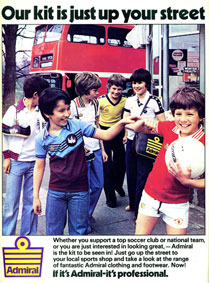 The Admiral agents had an eye for opportunity. When Southampton beat Manchester United in the 1976 FA Cup Final they wore an Admiral strip that had been designed and manufactured since their semi-final victory and they were adorned with repeated logos down sleeves and shorts. In every copy of Shoot! there would be a full page colour advert showing their latest designs. There was even an 'Admiral Annual' produced which showed only photos of games in which both sides wore the approved brand. You could also send away for a poster which displayed Admiral's growing roster of clubs from Aberdeen to Orient. Admiral, operating from a much smaller financial base, had to be sharp to stay ahead of Umbro and adidas, who were now breathing down their necks. Umbro was being worn by Arsenal, Liverpool, Chelsea, Manchester City, Everton, Derby County and Scotland, while adidas clothed Ipswich Town, QPR, Birmingham and Nottingham Forest.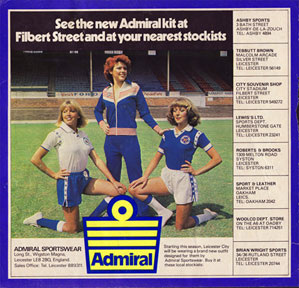 Although Admiral, being a Leicester firm, had kitted City out for years only in 1976 did they introduce logos to the strip, and plenty of them.I still remember my Dad recoiling with horror when he saw Admiral's typically unrestrained design. It was the end of football as we knew it, he reckoned. And he was probably right. But we loved it and after I got it for Christmas 1976 I seldom wore anything else for years.
Eventually, adidas and Umbro and French firm Le Coq Sportif caught up with and overtook the pioneering Admiral. They lost the England contract to Umbro in the early eighties and then went bust. Although the logo has often re-emerged over the years Admiral have never been a force in the kit market again.
But every time I see Nike or Umbro proudly, and with much gravitas, unveiling their latest ever so slight rearrangement of stripes and collars as if it were a cure for cancer, I think back to a firm from Leicester who did it first and did it best.
Gary Silke
The Fox fanzine