Posted by John Devlin
Probably like a lot of male 30-something football fans I was sad to hear about the closure of long-term football magazine 'Shoot' last week. The publication was a football institution as far as I was concerned and although it had lost its way over recent years I still have fond memories of poring over its pages as a small boy, looking at the latest kits and seldom seen away outfits.
I was lucky enough to come across a whole batch of Shoot magazines from the late 70s/early 80s recently and although the replica kit market was still relatively new I was delighted to see them packed with some memorable ads for replica outfits. Here are a selection of them:
Posted by John Devlin
Here's a handy reference guide to which kits were worn in which match in Euro 2008.
Group Stages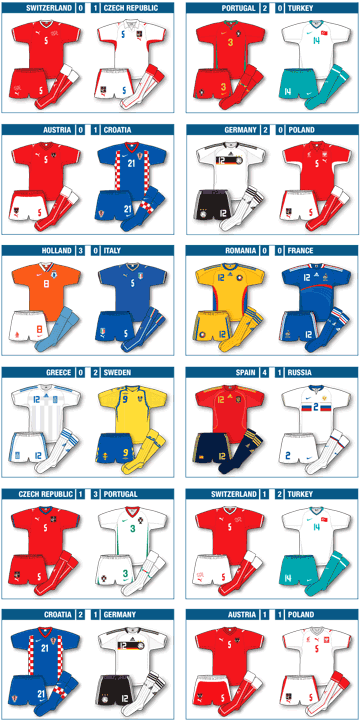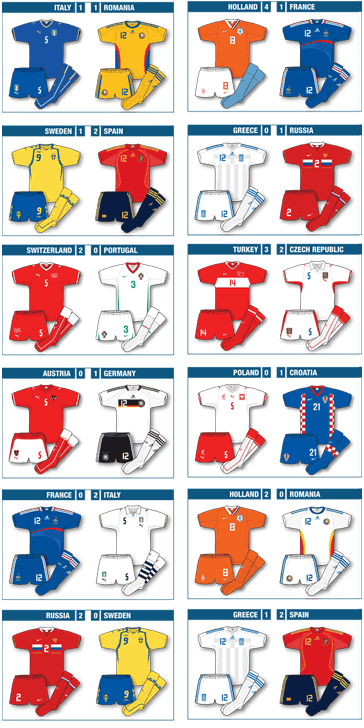 Quarter Finals
Posted by John Devlin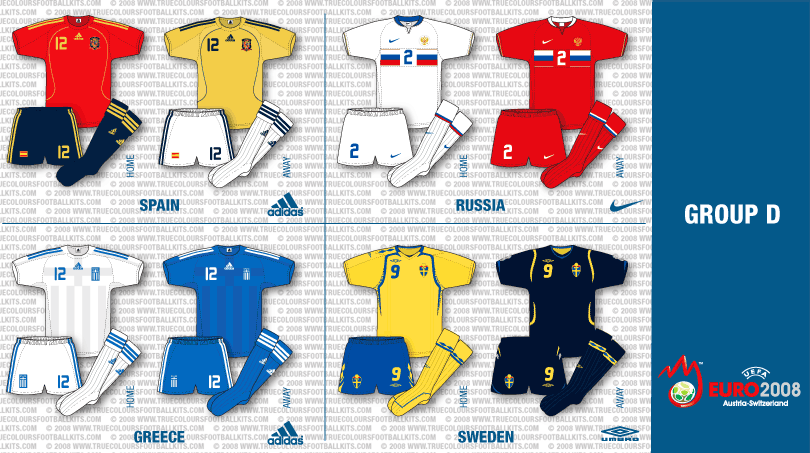 Here is the fourth and final set of Euro 2008 kits – this time from Group D.
Its a mixed bag that features the only showing from English sportswear giants Umbro with their kits for Sweden. Their home outfit has been around for a while but the mean and moody navy away strip is brand new for the tournament and is a real classic with flashes of yellow and blue providing exciting highlights against the dark fabric.
Adidas have two showings in this group. The Spanish home shirt is a typically rich design but the real talking point here (and equally rich in some ways!) is the away kit that sees the side sporting gold although the shirt is unusually to be accompanied by white shorts and socks. The Greece kits are good solid bits of adidas two-colour design with the country's flag cunningly incorporated within the shirt material as a shadow pattern.
Nike's only kit in this group is for Russia and the firm have opted for identical designs in different colourways across the outfits. Both feature a really nice element of the flag colours displayed in a chest band – spoilt only by the placement of the squad number.
There you have it! All the kits for Euro 2008…all that remains is to see how many strips will be mixed up and customised with away shorts being worn with home shirts etc due to the regulations concerning colour clashes. Any anomalies will be documented on this site.
All illustrations are (C) 2008 www.truecoloursfootballkits.com and must not be reproduced without express permission.