A relief to everyone I'm sure that it looks like that 'new' England shirt is a fake. Umbro are planning a dramatic unveiling when the side strip of their tracksuits for the Slovakia game. Umbro are really stepping up their marketing in time for the launch and have also been researching details of their past kits and their magnificent heritage. In case you missed Denis Hurley's post elsewhere on my site a superb photo collection of their shirts can be viewed at:
http://www.flickr.com/photos/umbrofootball/sets/72157613662155207/
Umbro also have a fascinating blog thats well worth reading:
Seems to be a lot of red on the site…hmmm.
A while ago my friend Shakey, a massive football shirt collector (especially Wales) mentioned he'd met up with ex-Spurs kitman Roy Reyland who'd told him of a Spurs shirt I'd missed from my book. It was a yellow version of the Le Coq Sportif centenary shirt from 82-83. Apparently it was worn against Man City as the light at the time of year the game took place tended to make the City shirt appear much lighter, meaning a clash against Spurs' white. As you know, I'm a sucker when it comes to rare third shirts so I was desperate to see if it was true and if the shirt really existed.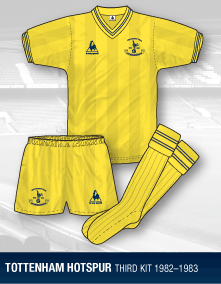 All went quiet and the regular contributor to my site, Andrew Rockall, emailed me with a picture of the shirt in question! He couldn't be sure if the kit was worn in a competitive match, the photo he had was taken from a pre-season testimonial game. The design simply followed that of the home kit at the time and I would be surprised if a yellow version of the amended version of the home kit (worn in 83-84, 84-85) didn't also exist. Thanks Andrew!
Andrew also queried Nottingham Forest's lack of a third kit for much of the 2nd half of the 80s when their change colours were simply white meaning a clashing issue against Southampton, Sunderland etc. I'm investigating it now but if anyone can give any more info that would be great.
Another friend of the site, Philip Marriott, has also discovered that Newcastle's Asics third kit from 94-95 was also worn in 93-94 against Sheffield Wednesday – the club that seem to be at the heart of plenty of kit debate!
Its been a busy week for me, I've received a copy of the interview I did for 'A Load of Bull', the Wolves fanzine. I'll see if I can get it online on my site as well. Plus I've been working flat out on a commission for the Scottish Football Association that will hopefully see the light of day next week. I'll keep you posted.