Posted by John Devlin
I've noticed that the vast majority of 09-10 Umbro kits still feature the old elongated logo design whereas the new England kit (and it seems the new Manchester City kit) both feature the redrawn Umbro logo that is closer to the version used in the 80s.
I was initially puzzled, but the reason for this is actually very simple.
Most football kits are designed a year or so in advance of their release date. This is the case with most of the new season Umbro outfits – therefore they all feature the old logo. The new logo/corporate identity and the whole 'Tailored by Umbro' concept was only launched in conjunction with the England kit a couple of months ago.
The Manchester City partnership with Umbro only came about very recently and with the new season rapidly approaching Umbro have pulled out all the stops and achieved a very speedy turnaround time for the new designs. Meaning that the club's 09-10 set of kits are the first domestic ones to be developed and manufactured since 'Tailored by Umbro' was born – hence the new logo!
Posted by John Devlin
The 09-10 kits are appearing thick and fast. Here is my review of a few of the outfits unveiled a while ago.
Arsenal Away Kit 09-10
After the furore surrounding the recent white away and the welcome return of last season's yellow and navy kit the rumours were that the infamous green away outfit of the early 80s was returning to the Arsenal wardrobe next season. Although it may yet appear as a third kit the 09-10 change strip was in fact revealed to be a simple but classy all navy ensemble. Featuring a very similar cut to the latest England top the shirt includes a neat button up collar and very fine pale blue pinstripes – this particular shade of blue was, of course, popular during Nike's early years at the club in the 90s. The shorts and socks are basic and functional and are adorned with the merest of pale blue trim.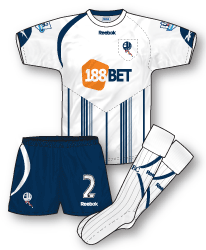 Bolton Wanderers Home Kit 09-10
All the debate about the Newcastle away kit has somewhat quietened the original disapproval that could be heard when this new Bolton home kit appeared just before the end of the season. Once again Reebok have opted for an asymmetrical look but have splashed a bold arrangement of vertical navy bars at the bottom of the shirt, topped off with a V stitching. In another strange move the shirt features the Bolton badge sitting on a pocket – yes, a pocket! Quite why Premier League players will need a pocket on the shirt is another matter. Its certainly a curious ensemble and one which, although it looks better in the flesh then it does on paper, is, in my view, one of the more overworked and therefore weaker designs for the forthcoming campaign. Further unfamiliarity occurs with the departure of Reebok as main shirt sponsor after 20 years. They have been replaced by online betting company 188Bet who will also be sponsoring Wigan in 09-10.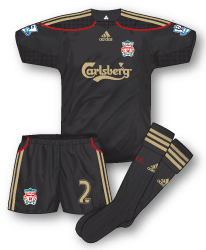 Liverpool Away Kit 09-10
I'm not a fan in general of black kits but I do think the latest Liverpool away is better than most. Although its not a ground breaking design from adidas, its the combination of red and pale gold that improves the kit for me. The shirt also features what appear to be very subtle animal markings on each side of the shirt – similar in style to the fern graphics that appear on the All Blacks rugby shirt. Some criticism has been levelled by fans at the restrictive neck design which may lead to players 'customising' this during games. In seeing the shirt in my local high street I was surprised to see that the colour is in fact a very dark charcoal grey and not black at all. Perhaps this tiny detail is what has helped lift the design.
West Ham Away Kit 09-10
I was expecting a return of the iconic pale blue away with twin claret hoops but instead Umbro surprised everyone with this all navy Hammers change strip and continued the regular rotation of navy kits, white kits and pale blue kits. A solid, but perhaps unremarkable design, its main distinctive feature is the large vertical pale blue panel, trimmed with white. The shirt also incorporate's Umbro's new trend for slightly retro looking collars/necks. The pale blue (which seems a slightly different shade to the usual West Ham blue) white and navy combination is a tried and tested approach – perhaps it might have been interesting to combine claret with the navy this time.
Posted by John Devlin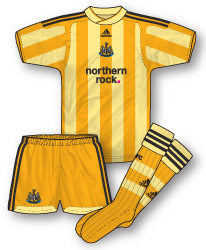 I've never known a kit ruffle so many feathers as the new Newcastle away outfit. Here are just some examples of what the media are saying about it:
http://www.thesun.co.uk/sol/homepage/sport/football/2494933/And-you-thought-relegation-was-bad.html
http://www.independent.co.uk/sport/football/news-and-comment/newcastle-hit-new-low-with-horror-away-kit-1715247.html
http://www.mirror.co.uk/sport/football/2009/06/23/newcastle-united-s-new-away-kit-and-the-worst-football-kits-ever-115875-21465573/
It seems that apart from some really superb designs, 09-10 may be remembered as the year of kit controversies with supporters also up in arms over the new Spurs and Manchester United home kits.
But is this Newcastle kit really that bad?
I must admit I did do a double take when I first saw it – I couldn't believe what I was seeing!
Unfortunately Newcastle do not have the tradition of a standard away colour in the way that Arsenal or Liverpool have. When Arsenal return to yellow and blue it always gets a thumbs up from Gooners who prefer to see this combination away from home. Part of the problem here may come from the fact that quite often Newcastle don't actually need to wear an away kit unless they are playing the likes of West Brom or Grimsby. Recent seasons have seen the side wear their famous black and white stripes away at Spurs and Derby where you would have thought a change kit may have been required.
However, if push came to a shove, yellow IS the colour most Toon fans would like to see as their club's change colours (preferably in the Brazil tribute outfit). For much of the 70s and the late 80s, yellow was worn and often trimmed with green. In fact, Umbro's last yellow and green ensemble was worn when the club clinched their promotion to the Premiership back in 1993. Maybe a yellow and green kit for 09-10 would have been a good omen? Once adidas took over the club's kit supply in 1995 a more sombre palette of blacks, greys and whites were worn. Recent years blues, maroon and purple have been favoured (still in subdued hues) along withthe yellow third kit in 04-05.
I think the issue with this kit is actually a combination of several factors. The bringing together of two shades of yellow (one a rich amber and the other a very inspid yellow) in stripes causes a problem. Would the two shades work better if say the shirt was the pale yellow and the sleeves amber? Perhaps.
Secondly, apart from releasing a new away kit every year since 1995, the club have also started issued a new third shirt every season since 2003 – this could be viewed as excessive considering, as I mentioned earlier, that the team very seldom need to wear away kits. I believe the club's supporters may possibly be feeling a little resentful of this, making the need for decent, considered designs even more necessary in this time of crisis for the club.
Lastly, the timing of such a kit is all wrong. Of course adidas weren't to know when they were designing the shirt (most probably two years ago) that the club would drop down to the Championship for the first time for over 15 years. Such an event causes massive changes to a club of Newcastle's size and stature. It should be a time of consolidation and resolve, a return to basics in order to gather together and fight to get back to the top flight where they belong. This would have been a perfect time to launch an away kit in the colours fans would prefer to have seen – yellow and blue or yellow and green. Even, a blue kit, expanding on the blue trim of the home kit. Simple, functional and proven – just the thing to help the club show that they are determined to get out of the Championship. The club's confidence and self-esteem will be low and will need every boost and inspiration that it can get. This is not a time to launch such a controversial outfit that everyone involved must have known would be a huge risk!
As far as the club is concerned, now is not the time to make the team a laughing stock away from home when so many people will be doing this, revelling in the fact that a big club has fallen.  They don't need an experimental kit to give fuel to rival supporter's fire. Although since the rise of the mighty Brazil yellow has proved a very popular away colour with many clubs it can be considered the colour of cowardice. Not what you need when you've dropped down a division.
My opinion? Well, actually the more I see it, the more it grows on me even though I still think the two shades of yellow just don't work as stripes. The design itself follows exactly that of the smart new home kit which will bring some degree of familiarity.
Funnily enough Newcastle and adidas are responsible for one of my favourite away kits of all time (the maroon and navy hooped affair from 95-96) and one of my least (the navy, orange and green strip from 97-98 which I consider to be far more offensive than the new kit. In fact I am reliably informed that this particular kit was chosen by a member of the Toon board – when manager Kenny Dalglish saw the design he apparently declared in no uncertain terms that he did not want to see any team of his wearing it.)
Despite the coward connotations of the new yellow outfit, to wear such an unusual kit is certainly a brave move and that's something I welcome in all forms of design and I think if the club were sitting pretty in the top 5 of the Premier League the strip may not have created such controversy. However, adidas's boldness may backfire when replicas of the shirt go on sale.
Posted by John Devlin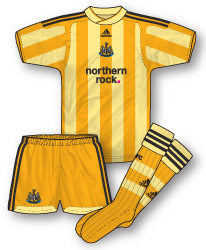 Not sure how many of you have seen this, but there's a new kit going around that has caused just a tiny bit of controversy….the Newcastle United 09-10 away.
I've a feeling the debate on this is going to run and run.
Look out for a full review on the site very shortly.
Posted by John Devlin
Its surprising how many new season kits have been launched already. Here are just four – more to follow over the next month or two in the build up to 09-10.
Chelsea Home Kit 09-10
One of the first big launches just prior to the end of the season this adidas strip has caused some controversy – primarily to its supposed similarity to a sports bra! The jersey, which actually closely resembles a tight fitting cycling top, does indeed have an innovative combination of fabrics around the chest area are designed to enhance freedom of movement. It also creates a nice clear space for the sponsor logo. Other features of the top include a fake zip effect by the collar and interrupted three-stripe trim on each sleeve. The shorts are similar to last season's with the adidas logo appearing on the back only. Personally, I love this kit. Like the Umbro England kit it redfines the whole concept of a football shirt.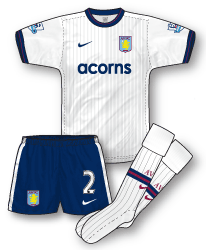 Aston Villa Away Kit 09-10
Another strong but simple conceptual design from Nike. The shirt commemorates the record-breaking 67 Villa players who have had the honour of playing for England – hence the borrowing of the familiar (until this season!) English colour scheme of white shirts and navy shorts. The whole idea is brought together under the banner of "When a Nation Calls" and is promoted by its very own Nike-powered micro-site www.whenthenationcalls.com. The shirt has a superb, elegant design with a half white/half grey fabric adorned with pinstripes. I would have liked to have seen some claret on the shorts as well though. Children's hospice Acorns remain the club's shirt "sponsor".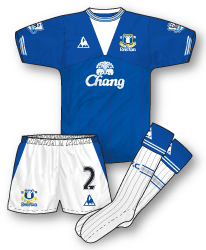 Everton Home Kit 09-10
Everton have recently signed a new kit deal with Le Coq Sportif – their apparel suppliers during the club's 80s heyday. To mark the fact and to commemorate the fantastic Everton side of the time that included the likes of Andy Gray, Kevin Ratcliffe and Graeme Sharp) a close facsimile of the design worn then has been reinvented for 09-10. The most notable retro design element is of course the unique Le Coq Sportif crew neck/white 'v' combo that dominates the shirt design. I like retro influenced shirts but somehow this is just too close to the original for me. Having said that, the more I see it the more it grows on me. Its certainly a massive move-on from the club's past few kits from Umbro who seemed to be struggling to make each design different from the previous one.
Sunderland Home Kit 09-10
Nice and simple from Umbro here for the Black Cats. Gone are the increasingly fiddly and complex adornments that decorated Umbro's recent kits and instead a good old fashioned wrapover crew neck tops off a strong rendering of the club's red and white stripes. The shirt has drawn some attention due to the large club crest watermark that sits behind the embroidered badge on the left breast. Its a brave move from Umbro and certainly makes the design distinctive but I'm not sure of the thinking behind it. Maybe it is just to make the design distinctive! Black socks also make a return with this strip.
Looking at Umbro's 09-10 kits so far, it appears that they have two clearly separate ranges of designs for next season; the tailored kits, with new diamond logo, and a regular range with the recent 'stretched' logo. Can anyone confirm this?
Posted by John Devlin
I've revealed who I consider to have had consistently the best away kits over the years…it may surprise you!
Read more here in the articles section.
Posted by John Devlin
Whilst updating the 08-09 kits on the sites I couldn't help but be impressed by Norwich City's black kit for the season. I'm not generally a fan of black away kits as I feel they are sometimes a lazy design choice, but I was really impressed by this one. Its a basic design, nothing too elaborate, but I think its the combination of white and dark green trim that makes it such a wonderful strip.
Thinking back though, Norwich kits, in my view, have always been consistently interesting and exciting over the years. Why? Well, I think firstly its that (until recently) they were so seldom worn due to the relative lack of yellow/amber clad teams that could cause a clash. But there just seems to be something stylish about incorporating the club's traditional green and yellow into a change outfit. Green is so seldom used in English football that it always catches the eye. Plus, the vast majority of them have been worn for at least two seasons.
Here are a selection of some of the best Norwich away kits since 1980: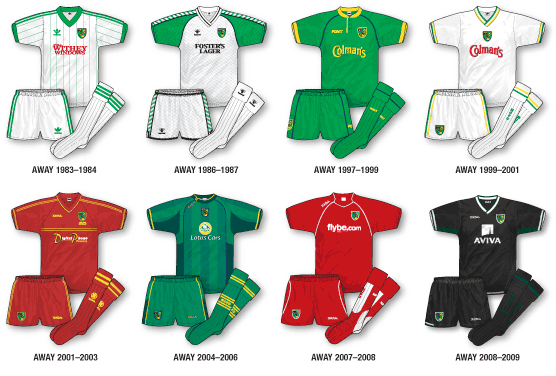 For much of the 80s, the Canaries away kits were simple white versions of the home design, embellished with green and yellow. The red logo of the club's first sponsor, Poll Withey Windows, providing a nice counterpoint on the early designs.
The early 90s was a fraught time for away kits generally and to be fair not many of the club's change outfits from the period stand the test of time. A plethora of blues, purples and the odd splash of red, provided the palette for the time. Come 1997 though and renowned fashion designer Bruce Oldfield was called in to create the Canaries 1997–99 strips putting the club's impeccable fashion sense back on track. And for the first time a simple green, reversed version of the home kit (trimmed subtly with navy blue) was launched to great approval.
For the first time in 10 years a simple white version of the home kit appeared in 1999. The strip, which also added the club's traditional yellow to the trim, featured the red logo of local legends Colmans Mustard. Xara arrived at Carrow Road and introudced a deep red away kit trimmed with yellow. It was a regular Xara template but still looked good.
A darker green was also introduced about this time and made an impressive appearance on Xara's 2004-2006 away kit – one of my personal favourite ever kits. It was a really innovative design, quite unlike anything else around at the time, topped neatly with the prestigious Lotus Cars brand. Red returned in a simple but effective creation in 2007 which was superceded a year later by the earlier mentioned black strip.
09-10 sees the Canaries again opting for a white change outfit.
Well, I've made my choice – any one else like to suggest a team with a better archive of away kits than Norwich? Let me know…
Posted by John Devlin
Well – the end of another season! Sorry to see the departure of Newcastle and Middlesbrough (plus West Brom of course) from the PL but looking forward to seeing Birmingham and Wolves back and of course Burnley for the first time in many many years. I love Burnley kits and when I helped judge the 2007 Football League Awards I nominated their superb all amber away kit which ended up the deserved winner.
Shame to see big clubs like Norwich, Charlton and Southampton drop down to League 1 though. Wasn't long ago when all of them were in the PL. I hope Saints get themselves out of the financial pickle the're in. Anyone who followed football in the 80s will remember what a cracking, entertaining side they had back then.
And now its that special time when the eagerly awaited new season kits to appear! I wonder if teams make a big event of launching kits to a big fanfare to keep interest in the club going in the close season? Bit of a disappointment not to see the new Everton Le Coq Sportif kit in action in the Cup Final – I wasn't sure of it to be honest on first glance (I'm sure you all know that it is a replica of the club's iconic early 80s Le Coq outfit) but the more I see of it the more it grows on me.
There's also some more superb designs emerging from Nike (Aston Villa away, Arsenal away) and Umbro (Blackburn home). 09-10 looks like being a vintage season for kits with some of the staleness of recent years blown away with a new crop of fresh ideas and brave designs. I'll be bringing them all to you in True Colours style very soon.
A quick visit to the 08-09 kits page will reveal that at long last I have finished the 08-09 kits for the domestic clubs I included in True Colours 1 and 2. Sorry its taken so long, I think adding the backs of the shirts along with names, squad numbers etc meant my workload was increased. Still, at least they are there now – almost before the end of the season as well.
As well as adding the final kits (all the clubs beginning with 'W' basically) I also completed a few third kits that were worn later in the season namely Aston Villa's white away (brought back from 07-08), Birmingham's title clinching all-red away, also revived from 07-08 and the return of the infamous chocolate brown kit back to Coventry (thanks for the photos Rich). The kit, a modern interpretation of arguably one of the most talked about strips in history, was launched to mark the 125th anniversary of the club. Only 1,125 replicas were made and were quickly snapped up. The strip was worn in the club's final home game of the season against Watford which ended in 3-2 defeat for the Sky Blues (or should that be the Chocolate Browns?).
Although through its stylish blending with the club's traditional colour its a great looking design, it did not find favour with Coventry boss Chris Coleman who stated "I am not one for all this nostalgia…we don't wear a brown kit at home, we wear blue." Makes you wonder who actually makes the decision about such matters doesn't it? I know many of you feel strongly about the culture of premiering new kits in the last game of the season and although its something I love, I do agree with Chris Coleman to an extent that if you're playing at home you should wear your home colours.
To read the full article including Coleman's comments click here.
I soon hope to add the following features to the site:
Illustrations of 09-10 kits
Updates for all the home international kits
A new Melchester Rovers kit addition (thanks Nathan)
A feature on the team I consider to consistently have the best away kits (any guesses?)
Several mini-features on memorable kit periods in a team's history
Plus some brand new kit histories featuring clubs not included in my books
I was also delighted to recently receive the first set of Danbury Mint Liverpool kit badges (I wrote about them earlier here) and will be photographing them for inclusion on the site soon.
Finally, a massive thank you to all of you visiting the site. Numbers are up each month and I am absolutely delighted so many of you find yourself here and hopefully come back again. Cheers!