Posted by John Devlin
Thanks to Ned and Denis (cheers guys!) I've been able to update the Melchester Rovers kit page with two new away kit designs.
Click here to view: http://www.truecoloursfootballkits.com/articles/melchester-rovers-kits-1956%E2%80%931973
There's still a few gaps here though so if anybody has any info on the missing away kits then please contact me.
Posted by John Devlin
Hmmm…these weekly blogs are getting later and later!
Lots going on at the moment though – I've been working on kit illustrations for various club programmes and websites – many of these should appear before the start of the new season. I'll keep you posted on these. Look out for a new regular feature on the site as well – coming very soon.
I was also flattered to be interviewed by the Sheffield Wednesday Vital Football website recently. If you would like to take a look then visit:
http://www.sheffwed.vitalfootball.co.uk/article.asp?a=156434
http://www.sheffwed.vitalfootball.co.uk/article.asp?a=156552
I picked up a load of old 70s programmes at the weekend and found a choice snippet in an Ipswich Town programme dated 30 August 1975. It concerns a popular topic on this site, namely the issue of change shorts and colour clashes. This is what the programme says:
"Many Town fans were puzzled when they saw the team wearing blue shorts against all white Leeds United at Elland Road last week. The change is necessary to comply with a new rule recently introduced by the Football League which states that if the basic colours of shirts, shorts or stockings are alike or similar the away club must change. This will make life a lot easier for not only referees but also armchair fans who watch the game on black and white televisions sets. The new rule will mean a change to blue shorts when Town visit Arsenal, Manchester United and Aston Villa among others."
So, it seems although prior to this it was probably up to the clubs' discretion whether to change shorts it was the 75-76 season when the rule came into being.
As a Scotland fan I was interested to hear that Diadora have gone into administration. The firm have often come in for criticism in recent years regarding the quality of their kits but going by their Scotland shirts that I own I always though they were pretty good. Still I often cast an eye over new designs and think that would look good as a Scotland kit. I'll get a chance to find out now! Nike or Umbro would be nice…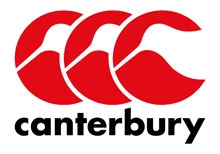 Also sad to see that Canterbury in Europe has gone into administration as well. With all due respect to Diadora I think this is a huge loss as I have been very impressed by their strips since they broke into football apparel. The quality of Canterbury products is superb as well – although they are not cheap – but you get what you pay for. Apparently the firm is still going outside of Europe (and in New Zealand of course where they originated) but I believe all club contracts have now been cancelled. Its a real shame.
Finally, as I mentioned a month or so ago I hope to start adding and updating all the kit illustrations that appeared in the two volumes of True Colours on to the site. The dilemma I have is how to present them. I have three background options (although they won't look exactly like this and I'm not sure of the final size) and I'd really value your opinion as how you'd like to see the kits displayed. If you have a spare moment and want to let me know what you think I'd love to hear from you.
Option A has the faded stadium background as used on the Sheff Wed kits elsewhere on the site, Option B has a grass background as used on the classic kits on the right hand side of the site and Option C has just a plain white background.
Posted by John Devlin
Sorry for the over-riding white theme in this latest batch of 09-10 kits…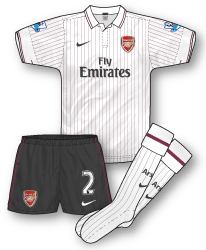 Arsenal Third Kit 09-10
First up is the new Arsenal third kit. Unlike recent seasons surprisingly last season's popular yellow away was not retained as third choice for 09-10 and instead a white version of the navy away kit has been unveiled. It mirrors the design exactly with redcurrant pinstrips replacing the pale blue ones of the standard away. As with the away kit the pinstripes on the sleeves continue on the shoulders and form a horizontally pinstriped panel on the back of the shirt where the player's name will sit. Instead of pairing the shirt with redurrant shorts Nike have plumped for "anthracite grey". I'm not sure how well the grey shorts go with the jersey to be honest and I would have preferred a redcurrant or white pair.Looking at the shirt in a sports shop the other day I was struck by the slightly scratchy fabric. Not as comfortable I would imagine as some other recent kits.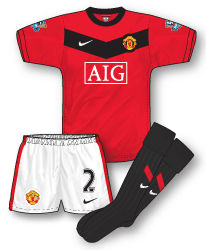 Manchester United Home Kit 09-10
A controversial design from Nike. The new Red Devils kit, that unlike the previous strip will only be worn for one season, has ruffled a few feathers with a large black chevron across the chest. The red also seems slightly pinkier than usual. Its another conceptual affair from Nike and commemorates 100 years at Old Trafford. The 1909-10 Utd team sported a kit with a chevron although it was red on a white shirt – perhaps switching to white this season would have been a move too far! I can understand why it might take a bit of getting used to but the heavy use of red and black just screams Man Utd to me and I think its a very threatening and intimidating outfit. This will be the last Utd shirt to feature AIG as sponsor although many believed the logo wouldn't last as long as 09-10 due to the US company's financial problems.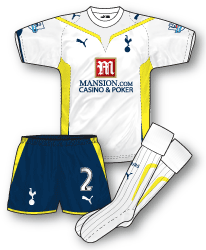 Tottenham Hotspur Home Kit 09-10
Another controversial kit is this unpopular Puma design for Spurs. The standard 09-10 Puma template is not the problem with fans though – its the fact that the prominent second colour is yellow! Its part of a campaign from Puma entitled "Glory comes in three colours"  with navy the away colour and yellow third. However, Spurs supporters are up in arms over the the yellow flashes on the home jersey and an online petition to have the kit ditched has reached over 3,000 signatures with fans threatening a massive boycott of replica versions. I think they may have a point. Yellow is a Spurs colour though and has featured on several home kits over the years but never in as prominently as on this one. Its a brave design move and in the days of one-season kits an attempt to try something new. Sadly, it looks like its not going to be a success.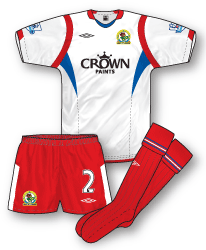 Blackburn Rovers Away Kit 09-10
Umbro have taken a radical approach with Rovers' new away, opting for a predominantly white jersey with healthy dashes of red and blue. There's a real variety of designs coming from Umbro this season that surely must please the anti-template brigade. Personally, although I like the design I do have an issue with away kits that don't form a viable alternative to the home and this outfit falls right into that category. With Blackburn's home shirt being, famously ,half-white, is this really a suitable change strip?
Posted by John Devlin
New article just added – An alternative to alcohol. Read it at: http://www.truecoloursfootballkits.com/articles/an-alternative-to-alcohol
Posted by John Devlin
It is a fact of life that some of life's more, shall we say, frowned upon pastimes namely alcohol and gambling, are common and important shirt sponsors for clubs throughout the world.
Quite sensibly, recently a return to the 80s rules regarding removing alcohol brands from children's replica shirts has come into force, but there is currently no general legislation preventing alcohol advertising (including shirt sponsorship) in the UK despite calls from medical experts who have, in the past, successfully banned tobacco advertisements.
This is not the case everywhere in Europe though, with France and some Scandinavian countries banning  advertisements for alcoholic products by law. This has caused some problems through the years for clubs who draw a side  from these countries in European tournaments.
Celtic and Everton have in the past got round the issue by simply removing the logos from their respective sponsors (Carling and Chang Beers respectively) but Newcastle, Liverpool and Rangers have used different solutions.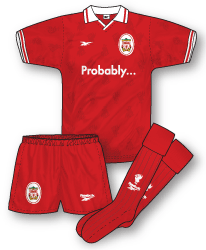 Although they generally sport plain sponsorless shirts when playing competively in countries that ban alcohol advertising, on one occasion Liverpool and Carlsberg undertook a more creative approach. When forced to remove the Carlsberg logo on their shirts during a pre-season tour of Scandinavia in 1997 the club donned versions emblazoned with "Probably…" – the first word from Carlsberg's famous strapline "Probably the best lager in the world". Carlsberg, it seemed, did not want to miss the opportunity to promote their beer in the area of its birth! Only approximately 20 shirts were produced with the "Probably…" logo and are now, of course highly prized collectors items.
Newcastle and Rangers have been sponsored by Scottish and Newcastle Breweries at times in the past couple of decades. Newcastle of course sported the brewery's Newcastle Brown Ale logo and Rangers, McEwans Lager.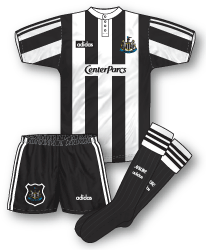 Incidentally, Scottish and Newcastle Breweries also used to own holiday complex Center Parcs and when the company was forced to remove their alcoholic brands from the Newcastle and Rangers shirts during games in France they chose instead to replace them with the Center Parcs logo.
In Newcastle's case this happened against Monaco in the quarter final second leg of the 96-97 UEFA Cup when the Toon lost 3-0.
Rangers have actually sported the Center Parcs logo during the course of two seasons. It was first worn in the 96-97 Champions League match at Auxerre that the French side won 2-1. Then in 97-98 a new style Center Parcs logo was worn in the UEFA Cup first round first leg game in Strasbourg where again the 'Gers lost 2-1 (also wearing their change blue shorts).