Posted by John Devlin
Read it here: http://www.truecoloursfootballkits.com/articles/the-kit-cupboard-carlisle-united-away-kit-1995%E2%80%9397
Posted by John Devlin
There have been numerous incidences of shirt sponsors influencing the colour schemes of club kits but none perhaps as blatant and eye-catching as the Eddie Stobart sponsored Carlisle United away kit from 1995-97. The Stobart Group (as the company is now known), a road haulage/distribution/warehousing company who had moved to Carlisle in 1976, actually commenced the shirt deal in 1995 and it was obviously decided to start the relationship with a bang. Therefore the Carlisle side appeared in change jerseys (manufactured by the little known Red Fox company) that mirrored the iconic livery of the Eddie Stobart trucks. It was a genius, although controversial move, as toys and collectables branded with the Stobart Group's instantly recognisable corporate palette of green, red and amber (with a healthy dash of white) were massively popular at the time – ensuring massive publicity and exposure for the club who were then newly promoted to Division 2. A brave initiative highlighting the close bond between a world famous company and its local team – or a financial sell-out that destroys the integrity and heritage of the club? Opinion will always be divided athough it should be noted that The Stobart Group's sponsorship of Carlisle continues to this day.
Worn in: The 95–96 relegation season…and the 96–97 promotion season! Plus, the dramatic 96–97 Auto Windscreens Trophy Final penalty shoot-out win over Colchester United.
Worn by: Rory Delap, Matt Jansen and Lee Peacock.
Posted by John Devlin
Read it here: http://www.truecoloursfootballkits.com/articles/the-kit-cupboard-england-third-kit-1976
Posted by John Devlin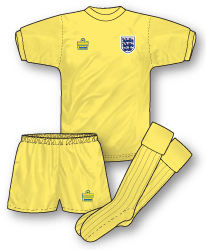 Although we all know England in white, red and occasionally blue (or even grey!) it is very rare to see them in yellow but it has happened on a few occasions, most recently during the 1976 USA Bicentennial Cup where they wore this Admiral outfit. The Bicentennial Cup was a friendly tournament celebrating the anniversary of American Independence and featured England, Brazil, Italy and a Team America side (captained by England legend Bobby Moore and including Pele) in a handful games across the states. This all-yellow England kit was adorned with Admiral logo and England badge but otherwise was a rather plain, and thanks to the very pale yellow, an insipid affair. To be honest, it was a mystery why it was even worn as both England's kits provided adequate colour options. Whatever the reasons, England have never been seen in yellow since.
Worn in: A 3–1 win over the Team America side –  the only time the strip was worn (although the socks did make a reappearance in the game against Brazil). Unlike their Brazilian and Italian counterparts, the English FA treated the match only as a training game and did not award caps.
Worn by: Gerry Francis, who captained England in the match.
Posted by John Devlin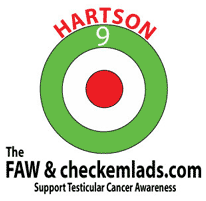 One of the things I love about football shirts is the potential they have to communicate messages and stories away from their regular usage as apparel on the pitch. I recently blogged about Cesc Fabregas' shirt tribute to Daniel Jarque and I heard today from Welsh football shirt collector and cancer awareness campaigner Simon 'Shakey' Shakeshaft about the recent tribute paid by the Wales national side to former international player John Hartson.
I'm sure most football fans are aware of Hartson's recent struggle with cancer. He was released from hospital the other week (but will continue his chemotherapy though) but things looked very serious for him at one point.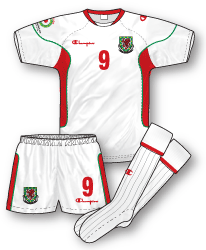 Shakey, who works closely with testicular cancer charity checkemlads.com explained about the new John Hartson Foundation the organisation are setting up in order to promote awareness of the disease. He also informed me that the Football Association of Wales (FAW)  granted special permission for the Wales team to wear special John Hartson/checkemlads.com sleeve patches for their recent friendly game against Montenegro.
I think its great that football shirts can be used in such a positive way and in such a show of strength for a man and his battle against cancer. Its all credit to checkemlads.com for starting the scheme and the FAW and everyone involved for supporting it in such a brilliant way.
To find out more about checkemlads.com and the brilliant work they do click here.
To find out more about the FAW and their support for John Hartson click here.
Posted by John Devlin
Read it here: http://www.truecoloursfootballkits.com/articles/09-10-kits-review-part-5
Posted by John Devlin
Manchester City Home Kit 09-10
The best kit of 09-10? Quite possibly. Umbro have made a triumphant return to the blue side of Manchester with this exercise in simple, classy design hat is reminiscent of the clubs late 60s/early 70s kit. The jersey, which was launched amidst great ceremony, is formed from the same fabric as the new England shirt with which it shares the 'Tailored by Umbro' theme and new Umbro logo (unlike all other domestic Umbro kits this year) thanks to the high profile and importance of the deal. A simple crew neck adorns the jersey with ribbed fabric under each arm. The kit also includes white socks for the first time since the mid-90s. It remains to be the seen whether the team's performances will match the quality of their kit.
Wolverhampton Wanderers Home Kit 09-10
Premier League new boys Wolves will also sport an unfussy design in 09-10. Like the Manchester City kit the overall appearance is simple and uncluttered. The shirt features an interesting baseball jersey style collar with button neck and breathable fabric panels on each side.Chaucers have been replaced as sponsors by online betting company Sporting Bet whose brightly coloured logo stands out well on the famous old gold of Wolves.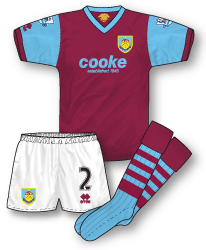 Burnley Home Kit 09-10
Hmm…I'm noticed a pattern here…fellow Premier League newcomers Burnley have also opted for a simple design this season although theirs is unashamedly retro in style even to the point of manufacturers Errea moving their logo discretely to the right sleeve. The shirt borrows the styling of the club's 1950 jersey with slim V-neck and simple contrasting sleeves. Its another great design for 09-10 although some people have criticised its overly backward looking appearance. A new club badge has been introduced along with new sponsor Samuel Cooke & Co – a fuel distribution company. This kit will always be remembered though for the club's return to the top flight for the first time in 33 years and a certain 1–0 win over reigning champions Manchester United.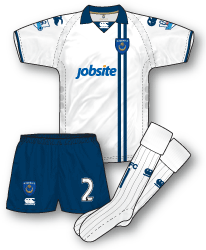 Portsmouth Away Kit 09-10
Pompey have looked into their past with the inspiration for their new away kit – back in fact to the home outfit the club wore in the mid-70s with navy blue now replacing royal blue. The kit is made by troubled sportswear firm Canterbury is a typical good, solid design. The jersey incorporates a 70s style inset wing collar with the Canterbury logo sitting neatly in the centre. The shirt has not yet been worn at the time of writing so it is uncertain quite what the placement of new sponsor Jobsite's logo will be.
Posted by John Devlin
Read it here: http://www.truecoloursfootballkits.com/articles/the-kit-cupboard-orient-home-kit-1980%E2%80%9382
Posted by John Devlin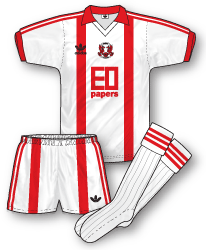 Like Birmingham's Penguin or Middlesbrough's chest band, for me Orient's 'braces' kits are distinctive and iconic and I believe they should always play in them! Introduced in 1977 by Admiral the design was updated nicely by adidas in 1980 complete with large wing collar. The club's first sponsor, Everard Ovenden, (Epping-based paper merchants) appeared on the jerseys in 1981. The kit was produced in a simple reversed version for the away kit and also in blue and white for a third kit. At the time Orient (the 'Leyton' wasn't reintroduced until 1985) were struggling in the old Division 2 and were eventually relegated at the end of 81-82.
Worn in: A superb 4-0 win over fellow Londoners QPR but also a 2-0 defeat to West Ham in an East End local derby (both 80-81).
Worn by: Stan Bowles, Ralph Coates and a young John Chiedozie.
Posted by John Devlin
…read it here:
http://www.truecoloursfootballkits.com/articles/the-kit-cupboard-burnley-away-kit-2006-07