Posted by John Devlin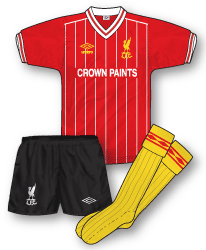 All this recent talk of change shorts/socks bought to mind a rather bizarre mismatch of a kit that Liverpool wore back in the 83-84 season against Watford. The Hornets' yellow shirts, red shorts and red socks clashed with both Liverpool's home outfit and their all-yellow away. Instead the club paired their home shirt with the yellow away socks and the black shorts from their previous away kit. Quite why they didn't opt to resurrect their previous white/black away kit in its entirety is a mystery as it certainly would've looked better than this combination!
The all-red Liverpool kit is pretty much untouchable and this was, as far as I'm aware,  the only time thire red shirt has been worn with anything other than its traditional red shorts and socks.
Worn in: The aforementined away game at Watford in the 83–84 season. The match ended in a 2–0 win for Liverpool.
Worn by: Alan Hansen, Graeme Souness, Sammy Lee.
Posted by John Devlin
The first installment of my QPR kit history has just gone live. View it at:
http://www.truecoloursfootballkits.com/articles/queens-park-rangers-kits
Posted by John Devlin
QPR have one of the most exciting kit histories going in my opinion with some quality designs that mostly stick with traditional colour schemes.
When two or more sponsors appear on the same kit in different seasons I have illustrated each season's kit separately.

Posted by John Devlin
As you can see the site is back online after some coding bugs and hosting problems. Sorry for the disruption – new updates to follow shortly.
Thank you.
John
Posted by John Devlin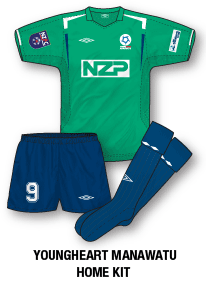 I encountered a curious phenomena when I purchased a shirt from New Zealand domestic side Youngheart Manawatu (what a great name!) who hail from the Manawatu region of the country where some of my family now live.
Umbro supply the club who play in the New Zealand Football Championship and finished runners up in the 08-09 season. New Zealand Pharmaceuticals are their primary sponsor.
The shirt I bought was not a replica as such but was officially branded a "Supporter's Jersey". The shirt itself featured the main sponsors logos, club badge and of course was an official Umbro product. But although it is a proper, authentic football shirt (and one I recognised as a standard Umbro template from a few years back as worn by the Republic of Ireland amongst others), its NOT the one the team plays in. So what exactly is a Supporters Jersey?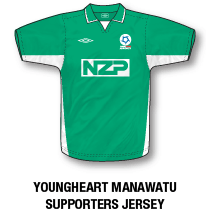 It seems they are pretty common in rugby (especially down under) where replica jerseys tend to be pretty expensive and very much modelled for athletic performance. A supporters jersey allows fans to wear official, branded clothing without squeezing themselves into expensive, tight fitting replicas of the kit the team wears. For example, the latest Nike England rugby shirt is designed for the match itself; tight fitting, minimalist neck design, lightweight with various touches designed to enhance performance. However, there is also a supporters jersey, far more baggy, casual, comfortable, branded and with an old-fashioned button up neck – very similar in fact to the current England football shirt.
In New Zealand the situation surrounding supporters jerseys is slightly different. Football is very much a minority sport with a small but devoted following. Replica jerseys from either football or rugby out there are hideously expensive, we're talking about £60-£70 each. On speaking to Youngheart Manawatu's marketing people it seems they wanted to produce branded clothing for supporters but realised that most fans would probably not want to pay top dollar for a replica – apart from the cost, there just isn't the culture of fans wearing strips exactly the same as the team. So instead they secured a bulk order of old stock from Umbro (in the same colour as the team kit of course) and branded it with the respective logos  The cost was approx £15 therefore making a highly affordable and official way to show support for your team.
Its an interesting concept and I wonder if it will ever make its way into mainstream football? Currently there is a plethora of training shirts, polo shirts etc that supplement any club's team kit – but its still the replica jersey that is the pinnacle of supporter clothing.
Posted by John Devlin
Thanks to Chris Oakley and Steve Dickie I've been able to add some new kits to the Admiral Kit Cupboard special:
http://www.truecoloursfootballkits.com/articles/the-kit-cupboard-special-admiral-in-the-70s
If you know of any Admiral kits that are not on the feature then please let me know. I especially want to know about Bradford's Admiral away kit.
Thanks!
Posted by John Devlin
Read it here: http://www.truecoloursfootballkits.com/articles/the-kit-cupboard-football-league-centenary-classic-1987
Posted by John Devlin
The Football League marked its 100th birthday in 1988 with a series of special events and matches. The celebrations kicked off in 1987 with the Football League Centenary Classic match that saw a Football League XI playing a World XI at Wembley. The World side was captained by Diego Maradona making his first major appearance in England since the infamous 'hand of God' incident at Mexico 86.
As suppliers of the national team Umbro won the deal to kit out both sides and opted for these two designs; the Football League XI in white and blue and the World XI in all red. Football League badges appeared on each sleeve and on the shorts with the League side's shirt sponsored by Mercantile Credit who also backed the Centenary Tournament the following year.
The match, attended by a disappointing 61,000 crowd, ended up in a 3-0 win for the Football League XI with goals from Bryan Robson (2) and Norman Whiteside. Full team line ups were:
Football League XI
Manager: Bobby Robson (England)
1 Peter Shilton (Derby & England)
2 Richard Gough (Tottenham & Scotland)
3 Kenny Sansom (Arsenal & England)
4 McClelland (Watford & N Ireland)
5 Paul McGrath (Man Utd & Rep of Ireland)
6 Liam Brady (West Ham Utd & Rep of Ireland)
7 Bryan Robson capt. (Man Utd & England)
8-Neil Webb (Nott'm Forest)
9-Clive Allen (Tottenham & England)
10-Peter Beardsley (Liverpool & England)
11-Chris Waddle (Tottenham & England)
Subs:
16-Norman Whiteside (Man Utd & N Ireland) for Allen 45
13-Steve Ogrizovic (Coventry) for Shilton 60 min
15-Pat Nevin (Chelsea & Scotland) for Brady 67 min
14-Ossie Ardiles (Tottenham & Argentina) for Webb 76 min
17-Alan Smith (Arsenal) for Beardsley 83 min
World XI
Manager: Terry Venables (Barcelona)
1-Dasayev (Spartak Moscow & USSR)
2-Josimar (Botafogo & Brazil)
3-Celso (Porto & Brazil)
4-Julio Alberto (Barcelona & Spain)
5-Hysen (Fiorentina & Sweden)
6-Bagni (Napoli & Italy)
7-Berthold (Verona & W Germany)
8-Lineker (Barcelona & England)
9-Platini (France)
10-Maradona capt. (Napoli & Argentina)
11-Futre (Atletico Madrid & Portugal)
Subs:
18-Zubizarreta (Barcelona & Spain) for Dassayev 45 min
15-Elkjaer (Verona & Denmark) for Lineker 45 min
12-Detari (Eintracht Frankfurt & Hungary) for Josimar 61 min
14-Larsson (IFK Gothenburg & Sweden) for Celso 70 min
13-Belanov (Dynamo Kiev & USSR) for Bagni 70 min
17-Stojkovic (Red Star Belgrade & Yugoslavia) for Platini 70 min
16-Zavarov (Dynamo Kiev & USSR) for Futre 83 min
Guest of Homour: Pele
Posted by John Devlin
I was delighted to be asked by Sunderland to work with them on adding their kit history to the relaunch of the club's official site.
The new site went live recently and now features a complete set of True Colours illustrations and text for all of the Black Cats kits since the late 70s.
Click here to view: http://www.safc.com/page/Kit
Well, I say all – there is still one Sunderland kit that eludes me. Its the club's amber third kit from the Patrick era of the late 80s. I know they wore the outfit against Wigan in the Mercantile Credit Festival/Football League Centenary Feitival at Wembley in 1988 where they drew 0-0 but I just can't find a decent photo of it. If you can help with a photo or if you're just able to let me know what it looked like then please contact me.
Posted by John Devlin
OK, sorry for the lame title but what is going on with shorts clashes in the Premier League at the moment?! Always a favourite topic of conversation on the site, the increase in clashing shorts has increased dramtically in 09-10. I've counted 16 in total (listed below).
3 October:  Bolton vs Spurs,  Burnley vs Birmingham, Man Utd vs Sunderland
27 September:  Sunderland vs Wolves
28 September:  Man City vs West Ham
20 September:  Man Utd vs Man City,  Wolves vs Fulham,  Chelsea vs Spurs
12 September:  Man City vs Arsenal
29 August:  Blackburn vs West Ham
22 August: Arsenal vs Portsmouth, Hull vs Bolton
15 August:  Bolton vs Sunderland,  Everton vs Arsenal
16 August:  Manchester Utd vs Birmingham
19 August: Hull vs Tottenham
Even the Manchester derby saw both teams wearing white shorts. It looks like only Aston Villa, Man Utd and Everton are bothering with change shorts this season. Its really odd that after years of teams ensuring there are no clashes on any part of the kit all of sudden the rules have been relaxed.
Perhaps the colour clash focus is now more on socks? I understand from a ref's point of view this is more important when it comes to vital decisions.
If anyones got any theories please let me know!