Posted by John Devlin
Can it really be two months since my last blog? Still, I hope there's been enough kit related features and articles on the site to keep you entertained!
I've just come back from a week away in Herefordshire where despite not being near a computer I managed to get a football kit fix in Tintern Abbey gift shop of all places! I spied on the rack this wonderful card featuring a selection of historical Bukta kits from an old advertisement reproduced from the National Archive.
What I found surprising on my travels though was that all of the sports shops I visited only seemed to stock replica shirts of the big 4, Chelsea, Liverpool, Man Utd & Arsenal. It was a bit sad not to see any local sides represented. Still I did find one shop with a great selection of obscure rugby jerseys which was fascinating.
Already the 2010 World Cup kits are starting to appear. I'm not overly impressed by many of the adidas outfits that have already been unveiled so far – maybe they'll grow on me. Again, they seem too fiddly and are overwhelmed with patterns and flashes – I know that seems to be adidas' trademark style against the simplicity of Puma, Umbro and Nike – but at the moment I can't quite get my head around what they are trying to do. It'll be interesting (for me anyway!) to see what they do with the Scotland kit next year. I'll look at these latest adidas kits in detail in a future post.
With the World Cup in mind I've also added a new Kit Cupboard feature on the current New Zealand home kit. New Zealand (my kind of adopted country due to my folks now living out there) of course qualified last week for South Africa. By sheer coincidence their kit is the same as the one Nike produced for True Colours!
Umbro have asked me to contribute some graphics for a new vote they are doing on their blog, namely the best Umbro kit of the last decade. Have a look at the selections and vote for what you think is the best kit in each season: http://blog.umbro.com/ More seasons to follow shortly.
I know I've mentioned this before but another site well worth visiting is Leicester City fansite Bentleys Roof. They have posted a few very entertaining articles on past Foxes kits for which I have contributed graphics: http://www.bentleysroof.co.uk/category/the-kit-room/
If you would like to use any of the kit illustrations from either my site or books please drop me a line.
Thanks to invaluable assistance from many of you (but especially Steve Browne and Martin Reynolds) I have added a few more kits the Kit Cupboard special on Admiral in the 70s including some great Orient and Sheffield United kits. Unfortunately the gallery feature is playing up a bit at the moment meaning they are a little jumbled up in order! But I hope to get this sorted soon. People often ask me why I didn't go further back in time on my books. Producing this Admiral special reminds me why! Kit usage was just so inconsistent back then with little changes and irregularities occuring all the time. Many of the Admiral kits went through minor tweaks each season (and often mid-season!): eg. badge positioning, Admiral logo colour and socks trim etc etc. To document these all accurately would be nearly impossible – you would need a photo from every match ever played I think – and potentially a little dull. What I've tried to do is just illustrate the main kit from each period.
Glad to see my QPR kits section is attracting some interest. I have also updated these recently and added some more kits.
Finally, friend of the site Denis Hurley has contributed a great little piece about a particular bugbear of his, namely home/away/third kits that aren't able to be "mixed and matched" throughout a season. It follows on nicely from the debate about Liverpool's many shorts that have been worn this campaign. Check it out here.
If you'd also like to contribute an article to my site then please let me know!
Posted by John Devlin
I was delighted when friend of the site Denis Hurley mentioned contributing an article around one of his pet hates concerning football kit design and sent in this great feature. Denis is a freelance sports journalist in Ireland who has an unhealthy obsession with football kits.
It is often odd when you think back to the things you did when you were a little boy. When I was eight years old, at the beginning of the 1992-93 season, clearly following real football was not enough to satisfy me, and so I created an imaginary club. Where I, being from Ireland, got the name 'Clydeonian' from I'll never know (I always took an interest in Caledonian Thistle after I heard of them a few years later), and my method of squad selection was probably not the best either.
Basically, I started off with a team comprised of players whose Pro-Set cards I had, meaning a strikeforce of Paul Merson and Owen Archdeacon, though I allowed myself to sign Dragan Stojkovic when I realised Andy May (of Bristol City in real life) was not up to the standard required of a team chasing a fantasy championship. You're probably wondering why such meanderings are appearing on a site dedicated to kits. Well, you see, even back then I held the same principles towards kits that I still do.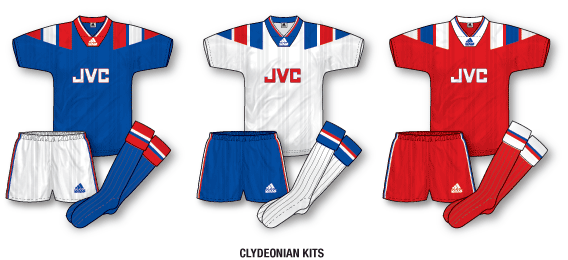 In my head, and on numerous sheets of paper spent drawing goals from games, Clydeonian wore an adidas kit. It was a mixture of what France and Rangers wore at the time, with the three stripes over either shoulder, two red and one white, with white shorts and blue socks with red tops. The away was exactly the same design, only white where the blue was, blue where red was and red where white was, with blue shorts and white socks, with the third following the same rules, red the main colour. And this is the point I am trying to make – I like it when clubs have a set of kits where the shorts and socks can be properly mixed and matched, as the club's identity is retained no matter what kit is worn as all the colours are there.
Manchester United's strips in 1996-97 were classics in this regard, the shorts and socks exactly the same design, with the kits worn in many different variations.
To a lesser extent, United's kits two seasons ago also matched up to that criteria, with the home and away kits both using the same pair of black socks as first choice. However, consider United's offerings from 2006-07.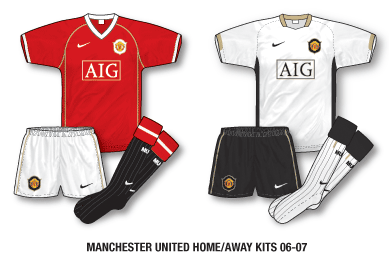 The home was the usual red/white/black, with gold trim on the shirt and shorts. The away was white, with black shorts and white socks, gold appearing all though as well. Red, often a trim on white United aways, was missing from the kit unless there was a sock clash, as at West Ham that season, where the home socks jarred with the rest of the kit. And that is what annoys me (and sometimes I worry that niggling little things like this irritate me far too much and I should get out more) – when a prominent colour in a side's home kit, or one very close to it, is featured on the away kit, only paired with a different colour. Take Everton's away outfits from 2006-07 until last season. All white shirts, but all with navy or black shorts, as opposed to royal blue, last featured prominently on a Toffees' away in 04-05, when plenty mixing and matching occurred.
As I am Arsenal fan, let's take a look at the Gunners' three kits from 07-08.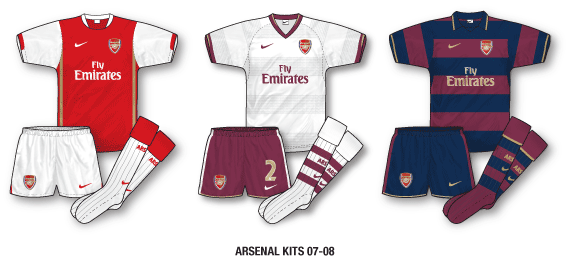 The home was the one launched a year previous, classic red with white sleeves and white shorts and socks, with gold trim on the shirt. Gold was also the third colour on the new away and navy and redcurrant hooped third, the only colour to feature on all three kits. White was on the home and away, with redcurrant on the away and third, with red confined to the home and navy, the tertiary colour on many an Arsenal home, only on the third kit. Despite the fact that colours appeared on more than one kit, there was no mixing and matching. This meant that four different pairs of shorts were used (regular white home, recurrant away and navy third as well as white change away shorts at Sheffield United in the Carling Cup) and five different sock designs (white and red with the home kit, redcurrant and white hoops and plain redcurrant with the away and redcurrant and navy with the third). You can't help but feel that, with a little more thought from Nike, the away would have been trimmed in red with red shorts and socks, paving the way to mix and match.
Let me point out, however, that I'm not calling for all teams to have aways that reverse their homes, I love yellow and blue Arsenal away kits, but when things are so near and yet so far, the lack of foresight seems silly.
(C) Denis Hurley 2009
Posted by John Devlin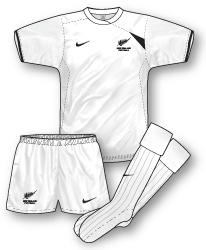 With all the fuss surrounding Ireland's controversial failure to qualify for the 2010 World Cup it may have escaped people's notice that a small country at the bottom of the world have qualified for their first World Cup since Spain 1982. Yes, thanks to a 1–0 win over Bahrain, New Zealand's 'All Whites' (would it have been better to have them play in black like their famous rugby counterparts, or is that too sacred?) will be in South Africa next year.
Their kit for the qualifying campaign was the standard Nike template worn in yellow as Fulham's third kit last season. The sharp eyed amongst you will also recognise it as the design I chose for the official Nike 'True Colours' shirt, so obviously its a favourite design of mine.
With most of my family now living in New Zealand I will certainly be cheering the All Whites next year.
Worn in: The Asia/Oceania World Cup play-off 1–0 win over Bahrain. The winning goal scored by Plymouth Argyle's Rory Fallon.
Worn by: Ivan Vicelich, Ben Sigmund, Tim Brown.
Posted by John Devlin
With so many clubs seemingly abandoning the shorts colour clash tradition in 09-10 I was surprised when True Colours regular Andrew pointed out to me that Liverpool have worn no less than five different pairs of shorts so far this season. And we're still just barely into November!
As well as the home red, away charcoal grey and Euro (thats third to you and me) white the club have also worn change away shorts of gold against Sunderland and change third shorts against West Ham.
Here they are in all their glory
Posted by John Devlin
Read it here:
http://www.truecoloursfootballkits.com/articles/the-kit-cupboard-scotland-away-1946%E2%80%9349
Posted by John Devlin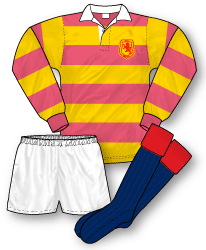 Scotland are known throughout the world for their navy shirts, soon to be revamped courtesy of the SFA's deal with adidas. But throughout the 1880s, 1890s and the first decade of the 1900s they also occasionally sported a different home strip of pink and amber (officially known as 'primrose') hoops – the racing colours of racehorse owner Archibald Philip Primrose, Lord Roseberry, who was an early patron of the game north of the border in the late 1880s.
The unique colour combination was resurrected as a change strip (illustrated) after World War 2 when it made a handful of appearances. Contrary to popular opinion, as far as I can see, the kit's last appearance was not in 1951 but actually 1949 against France at Hampden Park.
Results were pretty good in the Roseberry colours and I for one would love to see it brought back as a Scotland change strip by adidas. As well as its individuality it would bring tradition and pride back to the Scotland side as it rebuilds after failing to qualify for the 2010 World Cup.
Worn in: The 1949 2–0 win over France.
Worn by: Willie Waddell, George Aitken and Billy Steel.
Posted by John Devlin
Back in the 80s and 90s Soccer Scene in London was THE place to go for replica shirts and all manner of football and rugby products. Based in Carnaby Street at the time they have since moved twice and now reside back in Carnaby Street but somehow the place isn't quite the same as their original pokey little store that was a veritable treasure trove of kits!
Their catalogues were a valuable source of reference for any football kit enthusiast (this was pre-internet don't forget) and I'll adding some online in the coming weeks. This one is from the 86-87 season.