Posted by John Devlin
Much of the debate generated from Philip Marriot's excellent article on the site concerning Newcastle away kits over the years (read it here) has commented on the club's superb adidas 95-96 away kit.
Like many of you, this particular kit is probably one of my top 5 kits of all time and I was pleased to discover this full page 1995 ad for it (featuring a great photo of the strip) whilst rooting through my kit archive in the loft.
Not sure who Dirty Sports were though or what became of them?
Happy New Year to you all!
Posted by John Devlin
Just a quick to note to wish all visitors to the site a very Merry Christmas and a very prosperous New Year.
Thanks to everyone who's visited and left comments or emailed me. Its very very much appreciated.
All the best
John
Posted by John Devlin
Here's another complete catalogue from London's Soccer Scene store – at one time the mecca for football kit fanatics.
This one is the last I have at A4 size and dates from the 89-90 season.
Posted by John Devlin
Regular contributor to the site Philip Marriott, a diehard Newcastle United fan and kit obsessive has sent in this wonderful article on the Toon's strange use of away kits over the years. A fascinating read from a fan's point of view. Cheers Philip!
They play in black and white….or most other colours!
The situation with Newcastle's away kits has always been a curious one. The Magpies have traditionally opted against change colours in the past or even changing the shorts and socks on the home kit. Indeed, the Toon wore white home shorts for the first time at Chelsea in 1980. Since then, white shorts and socks have been worn on the home kit many times, even at the expense of seldom worn change kits. Third kits have been irregular for Newcastle pre 2003, with the Green asics design of the 90's and plain red or blue being worn very occasionally in the late 60's/early 70's. This is peculiar considering that away designs have often been unhelpful, sometimes in white or silver. The latter was worn on a regular basis in the 80's causing regular clashes as Spurs and Luton among others.
The concept of a new away/3rd colour every year is a clear way to lead Toon fans to part with their hard earned, but also provides great anticipation as the colours often change yearly. In 03/4 there was a black away and silver third whilst in 04/5 there was a two tone blue effort and a great yellow third kit. The change kits were traditionally seldom worn up until 03/4 when each kit was worn several times regardless of clashes, exceptions being the 07/8 Argentina style kit and the 08/9 silver strip.
The addition of new kits has often proved popular, with a surge in the club shop for the 08/9 purple kit and 98/9 shiny blue away shirt. The only problem with some of these kits has been the inconsistency of their use. In 98/9, the home kit was sported at Spurs whilst the shiny blue design remained in the kit bag, likewise at the Southampton and Leeds matches that season.
The two designs of focus on are the away kits for 95/6 and 97/8, possibly the best and the worst Toon kits ever.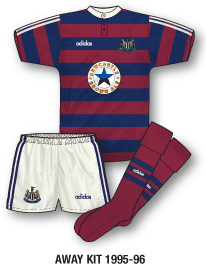 Worn with ecru shorts and maroon socks, the maroon and blue hooped kit in 1995, created by adidas in their first season and resembling the old kit worn by Newcastle West End was an instant hit yet saw only 5 competitive matches, the last of which was in October 1995! Strangely, it was not worn at Blackburn or Leeds later in the season. This great kit was worn during happy times, made even more iconic by stars such as David Ginola and Les Ferdinand. The shirt is a great reminder of traditional values and modern materials being merged into a classic design which reflected the wishes of the fans and the rigours of Premiership football.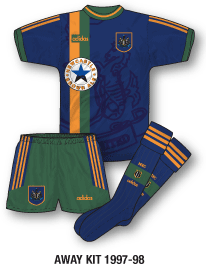 Now contrast this with the outrageous 97/8 design, worn only three times competitively. This kit was neglected for the matches at Derby, Spurs, Bolton, Sheffield United, PSV and more. It was used in three defeats, 4-1 at Leeds and then 2-1 at both Sheffield Wednesday and Southampton. Crazily, it was worn with three pairs of shorts and three pairs of socks, using similar colours! The standard kit at Leeds, customised white shorts and socks at Hillsborough and then the white HOME shorts and UNMARKED purple socks at the Dell. The curiosity here is the inconsistency of use and the number of shorts and socks worn. The rationale for kit choices by kit managers can be no more baffling than on these occasions, where the kit should probably have been worn regardless of its unpopularity. Nevertheless, the shirt sold well, as this was 1997 when replica shirt sales were soaring in this country. But surely the fans deserved more for forty pounds than 3 matches that season? Surely the clashes at Bolton, Spurs etc should have been avoided?
Whilst teams like Milan, and in most cases Manchester United, have a set away colour, Newcastle never have. White prevailed from the 1920's until the late 60's but this is highly unpractical and was before kit replicas became a fact of life. Should teams have a set away colour? A yellow and green design similar to the 70's would sell well, but are Newcastle, by luck rather than design, at a commercial advantage to most teams? If yellow and green was worn every year, sales would surely decline but if there is anew colour each time, fashion conscious fans are faced with two forty pound change kits a year, and a good income for the club. Quite what has happened with the away kits over the years or why, only the kit manager of the time can answer. But like the strange two blue kits scenario at Portsmouth in 03/4, it remains one of the Premier Leagues' kit mysteries. What is indisputable though is that the shirts will sell, money will be made and we can expect new designs each year. Enjoy.
Posted by John Devlin
I've added loads more QPR kits to their kit history. Its now up to 2005 and I should be able to bring it bang up to date by Christmas.
Posted by John Devlin
You may not have noticed that I've just started posting the 09-10 kits, starting with the Premiership. Championship will follow.
Although I've only posted Arsenal to Everton so far already you can see the overdose of black and navy away kits in English football at the moment – something I've often criticised in the past.
Posted by John Devlin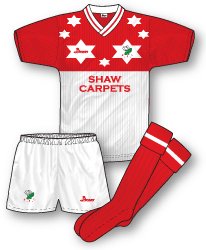 As anyone who has read my books will confirm, I'm not one eager to negatively criticise kit design as I realise that such a matter is always subjective. Having said that, it is difficult to find anything too positive to say about this truly extraordinary shirt from the kit design era that taste forgot: the late 80s/early 90s. Made by Beaver International who specialised in lower league outfits, the jersey dispenses with the club's traditional all-red colour scheme and is instead white with a red yoke liberally adorned with a bold display of stars – a motif rarely seen on football shirts. Topped with thin shadow stripes, a wrapover V-neck and the sponsorhip of Shaw Carpets it is, it has to be said, probably the least popular of all Barnsley kits over the years.
Worn in: Two excellent wins over eventual Division 2 champions Leeds United (1–0 at home, 2–1 away). Also worn in a 7–0 drubbing at the hands of West Brom.
Worn by: Paul Futcher, Steve Agnew, Owen Archdeacon.
Posted by John Devlin
Click here to read: http://www.truecoloursfootballkits.com/articles/barcelona-home-kit-1982-89
Posted by John Devlin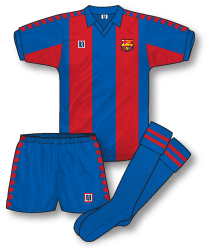 One of the most distinctive continental shirts worldwide is undoubtedly that of Barcelona. Until the club's recent arrangement with Unicef they were famous for never allowing their sacred shirt to be 'desecrated' by a sponsor's logo. However the powers that be's strict stance on the pureness of the Barca strip didn't seem to prevent some truly hideous designs being worn by the club. Although this outfit (produced by Meyba) dates from an era when Barcelona did have a classic aesthetic on the pitch and is pretty familiar to UK fans thanks to the high profile presence at the Nou Camp of Terry Venables and several British players at this time. The kit was worn for an incredible seven seasons and featured a classic combination of stripes and a subtle Meyba trim on the sleeves making it surely one of the more memorable Barca outfits.
Worn in: Barcelona's 1984–85 La Liga winning season.
Worn by: Gary Lineker, Steve Archibald, Mark Hughes.

Posted by John Devlin
You may have noticed that The Kit Cupboard has been promoted and now has its own place in the top level of the site:
http://www.truecoloursfootballkits.com/the-kit-cupboard
Hopefully this will be a better and easier way for people to view the kit selection here. The articles page will remain for lengthier features though of course.
This is the first stage of the re-organisation of the site that I hope will be finished before New Year.
If anyone has any kit they would particularly like to see in the Kit Cupboard please let me know.