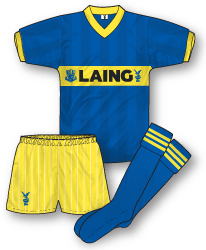 At first glance this kit may seem nothing out of the ordinary but there is an interesting story behind it.
In the mid-80s (the height of the British football downturn) Southend were facing an uncertain future. The side had spent the previous season sponsorless after a lack of interest from local firms. Another campaign in Division 4 without the valuable income a shirt sponsor brings was a real crisis for the club. In stepped local construction firm Laing and a deal was put together. The only problem was that Laing's corporate colour was yellow and it was requested that this branding be somehow incorporated into the Southend kit.
Desperate times cause for desperate measures and despite the club's 80-year history of various combinations of blue and white kits they switched to blue and yellow to allow the deal with Laing to be sealed and bring vital revenue into the club coffers. Interestingly the club badge and logo of kit manufacturers Elite were placed on either side of the Laing logo on the yellow horizontal band – presumably to indicate the unity between club and its commercial partners.
Yellow remained a crucial part of Southend's home kit for another 10 years before the blue and white colour scheme so engrained in the club's past returned.
Worn in: A cracking 5–1 win over (relatively) local rivals Orient and consecutive 3–1 victories over Mansfield and Hereford.
Worn by: Steve Phillips, Glenn Pennyfather and Roy McDonough.