Posted by John Devlin
I'm delighted to announce the launch this week of www.greatestkitever.com – a companion site to True Colours in conjunction with the team behind the www.greatesteverplayer.com website.
Debate over which current or past kit is superior to another is rife and has been a hot topic on my site, www.greatestkitever.com, which at the moment focuses only on the English Premier League, now allows you to decide!
The process is simple, the site is filled with approximately 500 shirts carefully selected from every year and every team since the Premier League's formation in 1992. A pair of random shirts is displayed and you simply click on the one you think is best, or in the centre if you can't decide. The stats are continually being added up and at any time you can see which kit/shirt is the most popular.
Its really fun and a great way to see and compare shirts from the Premier League's history…but a warning, its very addictive!
Click here to visit the site and start voting now!
Posted by John Devlin
With the World Cup fast approaching I was interested to see that FIFA have launched a new range of sports/lifestyle clothing. FIFA have encompassed and used football's visual 'language' across all the items in the range but they have avoided the trap of simply producing sportswear apparel that then has to compete with the big sports manufacturers.
Entitled the Spring Summer 10 Collection the range is divided into five sections:
1904 – a range of men's apparel celebrating FIFA's heritage with strong references to it's inception in 1904. This collection has a relaxed fit and retro style and features graphics inspired by the origins of football and FIFA's first headquarters in Paris. Items include jackets, blazers and cardigans.
Editions – celebrates past World Cup winners with contemporary sportswear styles and takes historic references from 1930 to 2006 with specific typography and graphics to illustrate the winning matches. The colours are taken from the seven key winning nations (Argentina, Brazil, England, France, Germany, Italy and Uruguay) and the range includes tracksuits, T-shirts and polo shirts.
Code – is an urban streetwear range that includes casual T-shirts, polo shirts and hoodies. The design is influenced by African street football with graphics inspired by African Bantu art.
Essentials – a simple and classic traditional range of T-shirts, polo shirts, jackets, bags, knits and headwear.
Event – focuses  specifically on South African culture and heritage. The collection features graphics reminiscent of the 1990s and is available in a wide range of colours. The 'Event' range also includes many items for women as well as men.
To find out more visit: www.FIFA.com/fifacollections
Posted by John Devlin
OK, never let it be said that I don't back down when I'm wrong. I've just finished a complete set of World Cup 2010 kit illustrations and I have to admit that despite my initial reservations about them the adidas designs for the campaign are looking pretty fine. One of my particular favourites is the new away kit for the host nation, South Africa. Adidas are the master of the template. Unlike some companies, in the main, each adidas template is altered just enough for each team to give it a unique look and character.
One of adidas' templates for the World Cup is sported by South Africa (along with Mexico) but thanks to an ingenious use of two swish shades of green, the particularly precise trim on the neck and a subtle watermark (a favourite of adidas at the moment it seems) of the South African flag on the shirts it ensures the hosts will look unique. These sorts of specific touches, designed purely for each country, was something Nike were very keen on a few years back and its interesting to see other countries also exploring this creative path.
The only mystery to me is why the country's badge appears on the left breast rather than the right – if you know, please comment.
If you are interested in using my World Cup kit illustrations for any print or web project please contact me.
Posted by John Devlin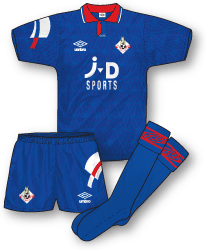 Oldham Athletic were a founding club of the Premier League back in 1992 and were just one of a plethora of Umbro-supplied teams in the top flight that year. That season saw the club wear this rather elegant all-blue outfit that had been introduced a year earlier. Umbro included mysterious asymmetrical designs on the right sleeves of most of their teams in 1991 and this Oldham shirt was no exception. But in the case of the Boundary Park club these curious markings combined well with the red collar, OAFC monogram and tasteful shadow pattern and made for a great looking strip.
The shirt was sponsored by construction firm Bovis in the 1991-92 season before being replaced by JD Sports the following year (after a brief 3 month sponsorless hiatus).
Oldham's adventures in the Premier League lasted only for two seasons before the club were relegated (despite a cracking 93-94 FA Cup run) and, like Bradford City (as featured in an earlier Kit Cupboard post) they have struggled to return to the top flight.
Worn in: Numerous astonishing wins in the 92-93 campaign: 1-0 over Manchester United, 3-2 versus Liverpool, 6-2 over Wimbledon, 4–3 versus Southampton and 5-3 against Nottingham Forest. Despite these amazing results, the club only narrowly avoided relegation that year!
Worn by: Neil Pointon, Nick Henry and Darren Beckford.
Look out for a True Colours Oldham Athletic kit history – coming soon!
Posted by John Devlin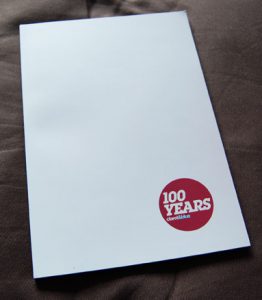 Burnley are this year celebrating the 100th anniversary of their switch to claret and blue in 1910 after experimenting with a vast array of colour schemes prior to that date. To mark the occasion the club have staged an exhibition in Burnley's Towneley Hall with all 34 different shirts on display. In conjunction with the exhibition a special 84 page colour brochure has been produced. Burnley's just a little too far for me to travel but I snapped up a copy of the '100 Years of Claret & Blue' publication eagerly from the club shop. I was delighted when the book arrived next day and on opening the package was very impressed by the look and feel of the publication.
No shorts or socks, but ever claret and blue shirt worn by the club since 1910 is portrayed beautifully in photos depicting the shirts on mannequins. The design of the brochure is superb with details of when the shirt was worn, manufacturers and material (very interesting!) along with what the club describe as a 'biography' of the shirt. Although it looks great, my problem with the text that accompanies photo is that it falls into the old trap that many football shirt literature does and merely details what was going on at the club when the shirt was worn and, with few exceptions, doesn't offer much background in to the shirt style or design itself. It was a trap I was determined to avoid in True Colours – I wanted the kits to be the main focus of the text along with putting the outfits into historical context. If you're producing a book about team shirt history it makes sense to write about the shirts themselves! Anyone wanting a history of Burnley FC could choose from plenty of other books.
So although the book looks superb and there's few ways I'd rather spend an hour or so than studying superb photos of past kits it was let down that there's nothing in the book about how football fashion has changed through the years, the story of Spall taking over from the long serving Umbro, why EN-S decided to move the club badge to the right breast or the reasons behind Super League's ultra-retro effort in 2000-01.
Its great to see a club celebrating their kit history – this was one of the major reasons for starting the True Colours books as I found it strange that most sides don't seem to be remotely interested of their kit past – but I'm afraid the lack of facts about the shirts themselves means that this publication is a slightly wasted opportunity. Still well worth £5 though!
For more details of the exhibition click here.
To order the book directly from the club eagerly here.