Posted by John Devlin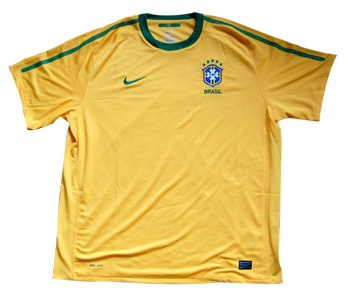 Most replica shirts are naturally bought by diehard fans who want to show their support for the team. But if I were to choose one shirt that seems to transcend affiliation more than any other and is snapped up in soccer shops worldwide it would have to be the iconic yellow and green of Brazil. It seems you don't have to be Brazilian to wear the jersey, such is the legendary status of the country's teams over the years and the standards of excellence and flair that they represent. By donning the jersey you show the world that you love good football and out of all the World Cup apparel available the Brazilian shirt is always a big seller.
Nike introduced a new Brazil World Cup Jersey prior to the tournament's kick off and its a superb looking minimalist and elegant shirt with the only trim of note being green stripes down each sleeve and round neck design, making it slightly reminiscent of the country's 1998-2000 strip. The stripes are actually made of a rubber-like material with lots of tiny holes and on the left sleeve the stripe incorporates five stars – symbolising the country's five World Cup triumphs.
The Dri-FIT fabric used is part of Nike's ecologically sound ethos and is comprised of up to eight recycled plastic bottles taken from Japanese and Taiwanese landfill sites and then melted down. All in all Nike have prevented 13 million bottles from going into landfill sites with the creation of their new range of shirts.

Apart from being incredibly comfortable to wear there are lots of little details that make the shirt interesting. Inside the neck there is a tiny Brazilian flag with the legend 'Nascido Para Jogar Futebol' or 'Born to Play Football' and on the back of the neck there is a green panel with 'Brasil' text. A mesh fabric runs down each side of the jersey for ventilation.
Turn the shirt inside out though for a real surprise as on the reverse of the badge (placed over the heart of course) is the message 'Pride and Love' beautifully rendered in a font designed by a Brazilian artist. Its a great, subtle touch and an similar graphic relevant to each country is included in most if not all of Nike's national shirts in their soccer apparel range this year.
Without being burdened by unnecessary design elements the shirt is simple and classic with impressive environmental qualifications and the added bonus of an inspirational message over the heart!
Posted by John Devlin
Its great to see how Umbro have got so behind England in the World Cup. They've gone above and beyond in their support for the team – far exceeding their role as just kit supplier.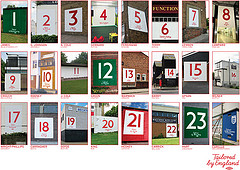 One of their more creative ventures is the creation of commemorative walls in the hometowns of the players and manager Fabio Capello. Each wall is situated on a building that was significant or has relevance to the early life/development of each England squad player and features their squad number and the slogan 'Tailored by…' followed by the town name. Its a great idea that really aims to unite the country in support for the team. How many will be graffitied by the end of the tournament though remains to be seen…
The examples shown are David James' wall in Welwyn Garden City and Rio Ferdinand's wall in Peckham.
For more details on where to find the walls check out Umbro's website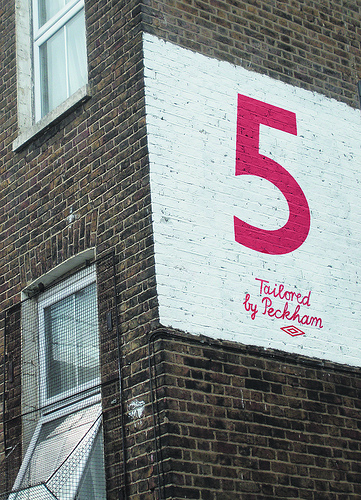 Posted by John Devlin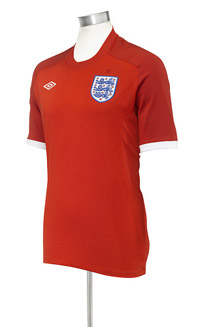 Any reader of True Colours will know how much interest I have in the symbolism and importance of a good looking kit and the power of colour theory. Although I am a massive fan of the current England home shirt, it doesn't seem to have brought the side much in the way of good fortune in South Africa. With the game against Slovenia now proving make or break for Capello's team I can't help but wonder if the fact that England will be wearing their red away kit in the match will have any bearing on the performance?
The spirit of '66 is definitely required now if England are to lift themselves out of what has been a torrid tournament so far for them and the latest away shirt is the closest recent design to the jersey sported by Bobby Moore and the rest of team when England last won the trophy.
Could this fact and the proven significance of red as a sporting colour help inspire the team to do the business on Wednesday?
Posted by John Devlin
As I've mentioned in an earlier post the current edition of Kick magazine has a full double page spread of all my home World Cup kit illustrations.
The next edition will be on sale soon so if you want to pick up a copy with the kits in you better hurry!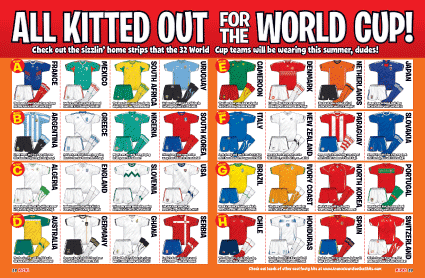 Posted by John Devlin
I've just posted a full set of all 64 home and away kits for this year's World Cup.
You can see them all here.
Posted by John Devlin
With just under a week to go, here is a complete set of home and away kits for every country competing in this year's South African World Cup. I've not included third kits but will feature the superb African Unity shirt in a Kit Cupboard special soon.
There's still question marks over the DPR Korea (North Korea) kits, seems we won't know what they will be wearing for sure until they take the field in it but the others should be accurate.
I'd be really interested in not only your favourite kit(s) but also which company you think have made the best strips this year. For me, I love most of the adidas and the Puma African kits – especially the away styles. Nike has been a bit of a disappointment I think although I do like the Holland and Portugal strips.
And while you're preparing for the World Cup don't forget, you can download EPL Talk's special e-book 'What the World Cup means to me' that I was asked to contribute to here.
Finally, check out Andrew Rockall's World Cup blog here. If its anything like his contributions to this site it should be a good read.
All illustrations are (C) 2010 John Devlin and must not be reproduced online or in print without permission.
Posted by John Devlin
The new Everton away kit is being launched tomorrow and BBC Radio Merseyside have asked me for a live interview to talk about the design.
If you're interested you can catch it on Thursday 3 June 2010 at approximately 8.20am.
Click here to listen to BBC Radio Merseyside via the BBC iPlayer.
Better shake off this pesky jetlag before then!!