Posted by John Devlin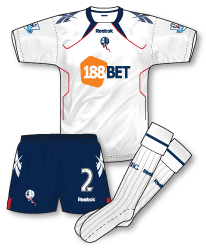 Since Bolton ditched their two-year life cycle on kits in 2007 the designs have become ever more 'challenging'. Prior to then you could count on Reebok producing good solid, innovative designs for the club but many of the recent kits have left Bolton fans scratching their heads and football kit fans in general bemused. The 2010-11 kits are no different, although a vast improvement on the 2009-10 strips the designs just don't hit the mark for me. The bizarre collar design with red piping arching across each side of the chest just looks odd. Bolton have got such a great colour scheme and I'd really like to see what another kit manufacturer could do with their strips. Perhaps its time for a change?
The away follows exactly the same design as the home but in royal blue with white and red trim which works better in my view. It seems the 2009-10 navy away kit is also being retained as a third choice, creating a suite of kits that should just about be sufficient to cope with any colour clash eventuality.
Posted by John Devlin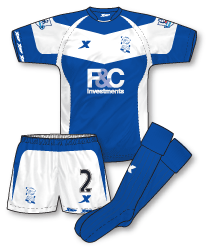 Birmingham prepared for 2010-11 with the announcement of a new kit deal with Chinese sportswear manufacturers Xtep. The club previewed four designs and asked supporters to vote on the one they preferred. Faced with some simple, clean designs fans, bizarrely, voted for this strip. Although it carries on some degree of tradition by featuring a large expanse of white on the kit I can't help but think that the designs is just too full-on. One rejected design was virtually identical to this but with the broad white V removed and in my view this would have been a better choice. One element I do like is the inclusion of small Xtep logos on the cuff of the right sleeve and the left leg of the shorts. Although the original illustration of the kit showed blue and white socks, for some reason the final versions worn are just plain blue.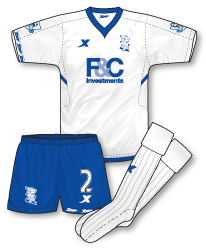 Perhaps as a reaction to the somewhat over the top flamboyance of the home shirt the away couldn't be much simpler. Just an elegant pointed V-neck and the merest of blue trim under the arm adorns this jersey – apart of course from club badge and sponsors logos (including the small Xtep marques on the sleeve). Plain blue shorts and white socks complete the outfit although the shirt has already been worn with the white home shorts, creating a rather unbalanced combination.
Given the amount of white on the home shirt and the plain white away, there is clearly a need for a third kit. Rumours are that it will be red but no confirmation of this has yet been announced.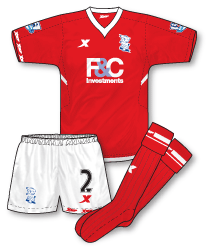 STOP PRESS – Although at the time of writing (August 2010) no official announcement about the third kit has been made evidence on the Premier League website shows how it will look. Its essentially a red version of the away kit.
Posted by John Devlin
Nike have stuck pretty rigidly to Villa's traditions since arriving as kit supplier in 2007. This time round they've replaced the light blue necks that they've used on all three of their previous Villa kits with a non-contrasting claret V-neck design and added a Croatia-esque chequerboard pattern down each side of the shirt to add some degree of flair. A similar pattern (reduced in size) forms the trim on the shorts. The biggest change (apart from the presence of new sponsor FxPro who replace children's hospice, Acorns) is the introduction of claret socks for the first time since 2002–03. FxPro are a foreign exchange trading company who must be doing well as they are also sponsoring Fulham this season! Although its an effective, traditional strip and the chequerboard motif lifts it somewhat I can't help but think that Villa kits in recent years are stuck in a bit of a rut. Its interesting that Nike have often dabbled with Arsenal's white sleeve heritage but are less keen  to tamper with Villa's blue. Is it a teamwear issue perhaps?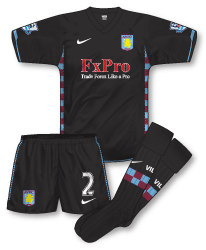 The away kit follows the same design (including the chequerboard sides) but in black – the first time the club have worn the colour to this extent in 10 years. Utilising the same template with its splashes of claret and light blue works really well (especially on the socks) and ensure that it retains Villa's identity for the 2010–11 season. The FxPro logo in red raises questions of legibility however.
Posted by John Devlin
I'll be adding a full page of 10-11 kits as soon as they're done, but in the meantime I will be posting each PL club's new kits separately. First, Arsenal…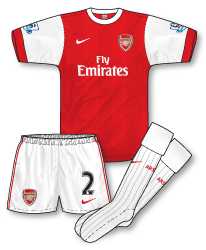 Arsenal home kit 10-11
Great to see the traditional Arsenal white sleeves returning to this superb Nike shirt. I think they've got the jersey bang on (although to be fair it would be pretty difficult to mess up such a timeless design) . Traditional, simple and yet modern at the same tim I love the pretty hefty cuffs as well (cuffs making a big comeback this year!). On inspecting the shirt in JJB, I noticed a very subtle variation in fabric composition – almost resembling shadow stripes. A simple red trim adorns the shorts. The classic 70s kit on which this is based was actually worn with red socks although for this version Nike have stuck with white. It will be interesting to see how the kit looks when a socks clash forces a change.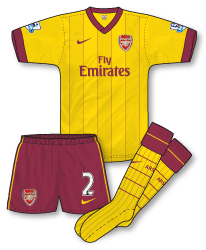 Arsenal away  kit 2010-11
Another strong design from Nike and most Arsenal fans will be glad to see yellow back as their club's primary away colour. But paired with redcurrant (which has been added to the Arsenal palette since they prepared to leave Highbury) ? I'm not sure – it almost seems to rich a colour combination. The design is elegant though and comprises pinstripes and the same 'shadow stripe' fabric as the home. Worn with redcurrant shorts although its first outing in the Premier League this season saw the shirt worn with yellow shorts to avoid a colour clash at Anfield.
The club's 2009-10 navy blue away kit is retained as a third kit for 2010-11.
Posted by John Devlin
I didn't want my first post for a while to be so negative but my jaw dropped when I saw photos of the Scotland vs Sweden game tonight. In case you weren't aware Scotland have just launched their (rather smart) new yellow away shirt which they wore in tonight's game. Nothing normally wrong with that except that Sweden, who I may remind you were at home, play in yellow and were therefore forced to wear their away kit to prevent a clash.
Don't get me wrong, I am well aware of the commercial pressures of replica sales and the important income they bring to club and country but I am appalled that the Scotland team wore their new kit in these circumstances when a) there was no colour clash and b) the team they were playing wear the very colour of their new away kit!!! I'm sure the Swedish FA agreed to it but I just don't understand it.
The last time the SFA pulled a similar stunt was to launch the ill-fated Diadora red third strip a few years ago in a WC match against Georgia which Scotland embarassingly lost. The result this time? 3-0 to Sweden. Coincidence?
What are the lessons to be learnt? Well, if you're going to launch a new away kit and want to arrange a match to promote it, pick a team whose kit will make a change strip necessary or at least doesn't clash with the kit you're trying to promote, and secondly (and more importantly) ALWAYS wear your home colours whenever possible and therefore maintain the integrity of your national football identity.
Sorry…rant over.