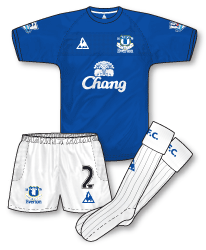 It has to be said that under Umbro Everton's kits were beginning to stagnate somewhat. Since Le Coq Sportif arrived back at Goodison last season they have breathed new life into the club's kits. Last year's early 80s 'homage' I felt was a little over-egged, but this year LCS have really revamped Everton's kitbag. The new home shirt is all blue with no outward contrasting trim at all (save of course badges, logos etc). The chest features a curved panel of breathable fabric framed by reverse stitching. The shorts are plain white and the socks minimalist in design, featuring only the EFC monogram and LCS logo. Its a simple, uncluttered strip but full of class.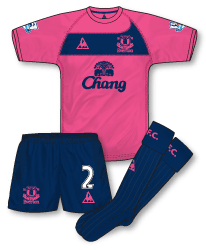 The away (which incidentally was launched before the home) more than ruffled a few feathers on its unveiling. Yes, its pink and not the subtle salmon pink colour Everton have been associated with in the past, but bright, fluorescent PINK! The colour featured as trim on last year's all black outfit but this time takes centre stage with a bang. The design of the kit is the same as the home, but with the chest panel now picked out in navy and with additional pink trim on the shorts (only visible on the back). Pink change shorts and socks will also be worn with the shirt this season if necessary. Its certainly a bold design with a colour that challenges what some consider to still be a homophobic element to football fans. No doubt though it will be popular with Goodison's female clientele if the popularity and sales amongst ladies of the clubs recent two pink breast cancer charity shirts are anything to go by. I think the strip is very brave and despite my initial reservations I'm beginning to like it.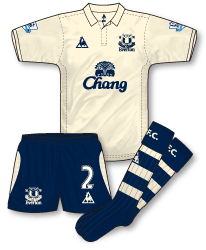 On to the third….which has to be one of my favourite shirts of 2010-11 – notice I said shirts and not kits. More of that in a moment. The jersey, which makes more than a passing reference to the highly successful England home kit of 2009-10 (blended with the England retro commemorative rugby kit worn earlier this year) is just pure class and as Everton's marketing claims is "rich in heritage, modern in design". The off-white/cream/vanilla (delete as appropriate) shirt is simply stunning and is paired with navy shorts and nice retro hooped socks. Ah yes, the shorts. Maybe I'm being picky but to my mind its the shorts that let down this otherwise superb outfit. For some reason LCS have used a design with a curved contrasting panel on each side that joins up on the back rather than a simple, plain, all navy pair. Apart from the fact that this kit doesn't seem to fit as a set of strips with the home and away, it jars with me that the fine retro shirt and socks are joined by a very contemporary and alien design of shorts that, to be honest, would look far more at home with the home or away outfits. It just seems strange and I wonder if LCS deliberately made these third shorts very different simply to distinguish them from the away kit's navy pair? Its a shame and partly sabotages what otherwise would be, for me, a strong contender for kit of the season.