Posted by John Devlin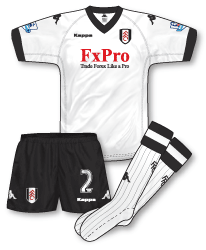 I'm not sure but I think I must be the only person who likes Fulham's kits this year. In fact, I don't just like them, I love them! I always think its hard to get Fulham's kit too wrong, the white and black, despite its workmanlike and understated demeanour, just looks great. Kappa have come in this year replacing a couple of years of Nike teamwear and have dressed Fulham in a very simple, but classic strip with V-neck and Kappa's familiar reversed seams for comfort. Fulham share Villa's sponsor, FX Pro, but their logo looks much better on Fulham's white than on the Villa outfits. Intelligent splitting of the Kappa logo as well, with the seated figures on each sleeve and just the logotype on the front of the jersey.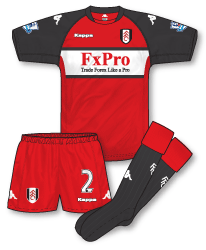 The away takes Fulham's familiar red, white and black and blends it in to a bold new design (with a dark grey replacing the black) including a white chest band and a neck design reminiscent of Kappa's shirts at the turn of the millennium. The shorts follow the same design as the home black pair so there are mix and match options (there's also a white change pair just in case as well).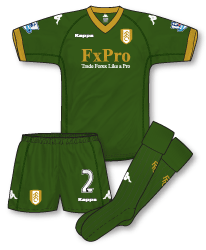 The third kit is the real deal breaker here though and I'm sure it will rub a lot of Craven Cottage's faithful up the wrong way. The dark green and gold strip really breaks with tradition and brings a completely new look to the Fulham team. Rumours are that the gold and green have been inspired by the famous corporate branding of Harrods owned (until very recently) of course by Fulham chairman Mohammed Al Fayed. The simple fact that Al Fayed no longer owns Harrods makes the choice of hues very strange. The design is identical to that of the home and I, personally, think it looks superb. Whether it is effective on the pitch is another matter (at the time of writing the kit has not actually been worn or, come to think of it, officially unveiled so a few of the details may not be 100% correct). Another big talking point is that it seems the Fulham badge will be rendered in gold and white rather than the traditional red, white and black. Its another brave design and for me is the only questionable element of the strip.
Posted by John Devlin
For a glimpse into the kit history of your team as featured in TRUE COLOURS click on the team links below where you will be able to view two sample pages for each club included in the books.
For the full kit history see the two volumes of TRUE COLOURS – the only place to include in detail all the home, away and third kits since 1980 of England's biggest clubs.
Kits from Volume 1 & 2 will open a PDF.
All downloadable artwork is (C) John Devlin and is available on the strict condition that is for personal use/reference only and must not be offered for retail.
Posted by John Devlin
Here you will find various updates to TRUE COLOURS including kits for the seasons covered that were released too late for the book's publication dates and also various corrections and additions that have been discovered since the books were released. Every effort has been made to make the books as accurate as possible but if you know of any errors then please get in touch using the contact form. Thanks to my recent acquisition of hundreds of Shoot! magazines from the late 70s/early 80s and the very generous supply of information from David King's kit research (thanks David!) I'm able to now illustrate a handful of very rare third kits that I was not aware of at the time of publishing True Colours 1 and 2.Thanks also to Dave Moor at Historical Kits for the exchange of information!
05–06 Missing kits
Everton third kit 2005–06
Released by the club after the copy deadline for True Colours volume 1 had passed, this vivid yellow third kit became the latest addition to the ever-growing Umbro/Everton back catalogue. The shirt featured an asymmetrically trimmed cut-away neck and navy and white horizontal pinstripes to which flashes of navy were added in typical Umbro style. However, like the 00-01 and 03-04 outfit this kit was never worn on active duty.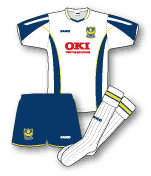 Portsmouth third kit 2005–06
Like the above Everton kit this white and navy Pompey outfit was unveiled too late for inclusion in True Colours volume 1. Also, like the Everton strip it only lasted one season and attracted criticism in some quarters for actually being rather superfluous to requirements. Unlike the Toffeemen's outfit though this strip did actually make an appearance on the pitch. It was premiered, just before Christmas 2005, in the club's 3–0 away defeat to Manchester United.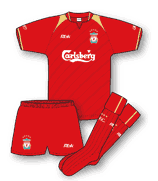 Liverpool Euro kit 2005–06
Following Liverpool's incredible Champions League success of 04–05 the team sported a unique home strip in the following season's competition. The shirt (which was trimmed luxuriously in gold) loosely followed a similar design to that worn by West Ham and Bolton (other Reebok clients) and included loose diagonal shadow bands and unique gold flashes on each shoulder. The other prominent design feature was the addition of five stars above the club badge (which despite rumours did not return to the popular 'Liver Bird' technique) to symbolise the Red's five European Cup/Champions League victories.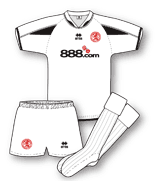 Middlesbrough third kit 2005–06
The last of the 05–06 season shirts that did not make into True Colours was this very rare Middlesbrough third kit, worn only once in the March 06 UEFA Cup Quarter Final tie at FC Basel. The Swiss side's red and blue kit meant that both of Boro's designated outfits clashed and this classy all white number was worn to solve the problem. The collar matched that to the club's standard all blue jersey with black panels and reversed stitching were added to each sleeve. Unusually the Errea logo was placed centrally on the shirt. Boro lost the game 2–0 but recovered to win 4–1 in the return home leg and proceed onto the final. Sadly the club couldn't overcome the mighty Seville and were soundly beaten 4–0.
Wales kits
Thanks to Shakey at the excellent www.footballmatchshirts.co.uk site I am able to correct a couple of errors that appeared in the Wales section of True Colours Volume 2 and include a rare third kit from the late 80s.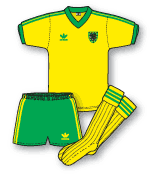 Wales away kit 1984–1987, correction
There seems to be a commonly held belief that the second Wales adidas away kit of the 80s simply reversed the colour scheme of the home and comprised of white shirts and red shorts. It appears this is inaccurate and in fact Mike England's men continued with a yellow and green away strip – although now fashioned into a fairly plain design. The origin of the mythical white away kit of these period seems to stem from, of all places, Subbuteo, who at the time produced a miniature version of the Wales team decked out in incorrect white strips!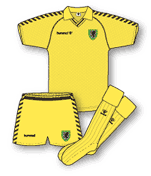 Wales away kit 1987–1990, correction
The colour scheme of the rather splendid Hummel away kit was actually yellow and black, and not yellow and green.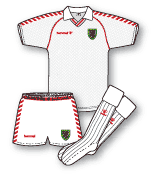 Wales third kit 1987–1990
As well as the standard red kit and yellow and black away, Hummel also produced an all white third kit for the Welsh side during their tenure as kit supplier. The kit was worn only once in September 1988, away against Holland in Wales' first Italia 90 World Cup qualifier – the Dutch side's orange shirts obviously just a little too similar to both the Welsh red and yellow. The match ended in a 1–0 victory for Holland. While we are on the subject of Wales kits, it might be a good opportunity to include the country's new kits: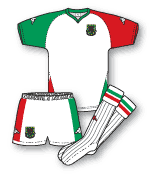 Wales third kit 2007–2008
Wales have never been shy in adopting third strips, and this design was worn for the first time in a May 2007 friendly against New Zealand in Wrexham – forcing the 'all whites' to change to their blue away kit. The match ended in a 2–2 draw. The strip features a brave design of red and green alternate sleeves which are then flipped for the shorts. The shirt also includes a more restrained neck than the hefty V-necks worn on the Welsh home and away kits of the time.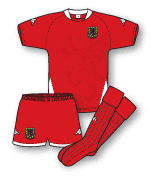 Wales home kit 2007–2008
There appears to be some confusion in the Wales kit camp at the moment – the side took to the field in this new home kit for a friendly against the Republic of Ireland (a 2–2 draw) and their final European Championship qualifier against Germany in November 2007 (a 0–0 draw). The shirt is not as radical as the previous design, its main design feature being a watermarked dragon print. Kappa have announced that the jersey will be officially launched on St David's Day (March 2008) with replicas also available then. A new away kit will follow in April. However, the Football Association of Wales have also announced their new kit deal with JJB Sports who will be launching their Welsh strips in August 2008! Meaning that Wales will sport their final set of Kappa strips for just 9 months. Its an unusual move and perhaps the country might have been better sticking with the existing Kappa outfits (which were only introduced in 2006) rather than opting for these short term new kits.
Middlesbrough kits
Friend of the site and self-confessed Boro anorak Shaun Wilson has let me know of a couple of Middlesbrough kits that were missing from True Colours. He also pointed me in the direction of a wonderful collection of Boro shirts: www.flickr.com/photos/boro_shirts.
Middlesbrough third kit 1986–1987
As well as the red home and royal blue away kits of this period, Boro also donned this Hummel sky blue/navy blue third outfit. The design followed that of the home and away. The sponsorship situation at this time was a little cloudy; this jersey did not feature the standard Dickens logo of that season and was mostly worn unsponsored although the logo of ICI's polyethylene plastic film product, Visqueen, did appear on the shirt by the end of the campaign. ICI of course came on board as the club's main shirt sponsor a few years later in 1992.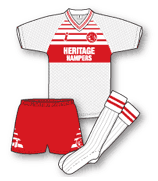 Middlesbrough third kit 1988–1990
Following the pattern of the previous season, a white Boro third shirt also appeared in 1988. The design essentially just reversed the colours of the home jersey complete with the logos of Heritage Hampers and kit manufacturers, Skill. The shirt was also worn with the white home shorts.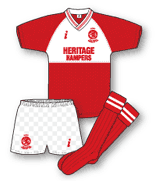 Middlesbrough alternative home kit 1989–1990
Although I made reference to this outfit in TRUE COLOURS I though this might be an apt opportunity to illustrate it. The club's achievement in getting to the Zenith Data Systems (ZDS) Final in 1990 marked the side's first ever trip to Wembley. To mark the occasion a special one-off adaptation of their standard home shirt of the era was worn. The design, which was worn in just this game, was basically the same as the regular home jersey with the exception of a large, solid white chest panel that housed the Skill and Heritage Hampers logos and the club badge. Commemorative embroidery adorned the badge which also featured on the white shorts. The shorts ditched the triangular side bar trims and added a chequerboard shadow pattern. The unique strip did not bring the club luck however as they lost the game 1–0 to Chelsea.
Miscellaneous Middlesbrough kits
Rather than their standard V-neck adidas blue away jersey of the late 70s/early 80s, Middlesbrough also sported a wing collared version of the shirt, minus club badge/sponsor's logo). Any kit fan won't need reminding that in the early days of shirt sponsorship, sponsored shirts were banned from TV coverage. This occasionally would catch teams out if they arrived at a game that was due to be televised without an unsponsored set of kits. This situation happened twice to Boro; a 1981 visit to Manchester City meant the club were forced to borrow Manchester United shirts (can you imagine that happening today!), and in a 1983 trip to QPR plain adidas orange jerseys with black trim, minus club badge and of course sponsor, were worn by the club to ensure that the TV cameras could keep rolling. Finally, the club's 1994–95 jade/dark green away kit was also retained as third kit for the 1995–96 season, complete with the logo of Boro's new shirt sponsor Cellnet. It was one of the few times an Errea Boro kit lasted for more than one campaign although it is unclear whether the strip was actually called into action.
Wolverhampton Wanderers kits
Wolves third kit 1991–1992
Clubs who wear yellow or gold shirts (Wolves, Watford, Norwich etc) seldom have to worry too much about away kits due to the relative lack of colour clashes in a season. The commercial advantages of change strips are obvious though in terms of replica sales. Nowadays, away shirts are often worn even when a clash does not occur in order to promote the kit to fans. With some exceptions though, it is rare for a team wearing yellow/gold to release a third kit as there is effectively no real requirement for the shirt other than to market another replica design. In the early 90s third kits were becoming popular for the first time and this era saw Wolves wear their only (as far as I can tell) official third outfit. The sky blue Bukta kit followed the design of the home and away, with a swish trim of black and old gold.
Wolves away kit 2006–2007, correction
One of the problems when putting together a book like TRUE COLOURS is dealing with the tight deadlines. All artwork had to be with the printers in the summer meaning a race against time to get all the new kits included. A side effect of this is that often the only reference material available was pre-release publicity shots and as many kit fans will know early prototype versions of kits can alter considerably from the final outfit. This was the case with this Wolves away kit. The definitive strip worn during the 2006–07 campaign as illustrated here, had different sleeve detailing to the illustration included in TRUE COLOURS VOL 2.
Chelsea kits
Chelsea third kit 1977–1981
Despite the relatively few teams wearing both blue and yellow (Shrewsbury Town?) in this period Chelsea issued a white third shirt in the late 70s to augment their blue home and yellow away outfits. The shirt was attractively simple with a basic V-neck and interestingly non-contrasting cuffs. Umbro diamond trim appeared on the shorts that were a straight reversal of the home pair. Its not clear whether this rather smart strip was ever worn in action but it did appear in one of the club's official team photos of the early 80s in an era when 'training/leisure' tops were scarce.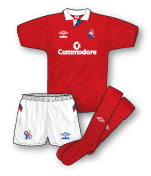 Chelsea third kit 1990–1991
Never shy of donning a third kit, Chelsea sported this simple all red shirt against Coventry City in the 90–91 season due to Coventry's sky blue and white striped jersey clashing with both Chelsea's kits at the time. Unlike many other clubs you always got the feeling that the majority of Chelsea's third kits were necessary, functional items.
Sunderland kits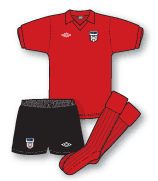 Sunderland fourth kit 1980–1981
Fourth kits are real rarities and are guaranteed to get kit fanatics such as myself very excited! This swish all-red Sunderland shirt (with no contrasting collar/cuffs) made an appearance in the 80–81 season away at West Brom where the Black Cats lost 2–1. A quick glance at TRUE COLOURS 1 indicates that as well as the team's red and white striped home shirt, their blue away and white third jerseys must have been judged not to provide sufficient colour differentiation against the Baggies.
Sunderland third kit 1985–1986
The very pale yellow third kit worn in the 83–84, 84–85 seasons was not retained for the final year of the Nike deal at Roker Park and instead this brighter all yellow third outfit was introduced. The black trimmed jersey still featured the Nike logo and club badge the 'wrong way round' although interestingly the Nike logo also featured on each sleeve.
Sunderland third kit 1989–1991
The merest of tweaks was applied to the Sunderland Hummel third kit of the late 80s. Instead of featuring the wrapover crew neck as worn in the 88–89 incarnation a wrapover V-neck was introduced. Other than that tiny change the kit remained the same.
Fulham kits
Fulham third kit 1990–1991
With the Fulham's penchant for red away shirts to accompany their white home jerseys there is always a fair chance that a third kit is lurking around somewhere in the shadows, just waiting for the opportunity to make an appearance against a red and white striped side. This yellow and blue outfit followed to all intents and purposes the design of the home, minus the piping and additional sock stripes. It made a couple of appearances in 90–91, most notably in a good 2–1 win away at Brentford.
Leicester City kits
Leicester City third kit 1979–1983
This white version of the Foxes' Umbro shirt of the late 70s/early 80s was probably only worn once or twice but was called into action for the club's 3–1 defeat at West Ham – a blip in an otherwise superb 79–80 season that saw the club crowned champions of Division 2 and promoted to the top flight. Hammers fans will remember that the club were then sporting the classic Admiral claret and sky blue 'yoked' shirt that must have clashed too much with Leicester's blue home and red away strips.
Leicester City home, away and third kits 1989–1990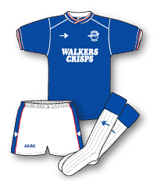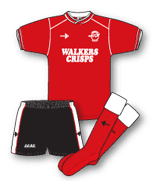 The Scoreline Leicester kits actually went through a tiny cosmetic change in the 89–90 season. 88–89 saw the kits sporting the Foxes badge in the centre of the shirt with a Scoreline logo on each sleeve (as illustrated in True Colours but by the following year the club crest (now with the addition of 'Leicester City F.C.' around its edge) and the Scoreline logo were both given a more traditional placement on either side of the chest. This very minor alteration occured throughout all of the club's three kits.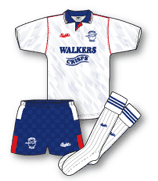 Leicester City away kit 1990–1992, correction
The shadow pattern on the club's Bukta away kit, introduced in 1990, actually featured a different design to that of the home kit. The pattern consisted of gradiated and abstracted diagonal blocks. Some versions of the shirt also featured a navy blue Bukta logo.
Birmingham City kits
Birmingham City alternative home kit 1992–1993
The 92–93 season saw Birmingham City in a period of upheaval. The controversial reign of the Kumar brothers (and their even more controversial kits courtesy of Influence, the sportswear company also owned by the Kumars) ended in the Spring of 1993 with the arrival of new owner David Sullivan and the appoinment of Karren Brady as MD. The unpopular 'paintbox' home kit, supplied by Influence and worn for the majority of 1992, was quickly ditched and replaced for the last two months of the season only by this dynamic little number. This 'stop gap' kit featured large white shoulder panels and no manufacturers logos and was worn in the crucial 1–0 win over Charlton in the last game of the season that ensured the Blues avoided the drop to Division 2. The club badge and Triton Showers logo appeared centrally. No replicas were produced.
Birmingham City alternative away kit 1992–1993
Birmingham's 92–93 white away kit was also abandoned during the takeover and was replaced by this simple yellow and blue version of the temporary home outfit. Again, the outfit featured no manufacturers' logo. This kit was mistakenly identified in TRUE COLOURS Volume 1 as a third kit for 92–93.
Wigan Athletic kits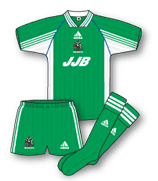 Wigan Athletic third kit 1998–1999
Adidas' arrival at Wigan in 1998 brought along some splendid outfits but one that slipped through the net in TRUE COLOURS Vol 1 was this seldom worn all-green third kit that featured in the 98–99 season. The style mirrored that of the club's regular strips of that season with the exception of basic adidas shorts and socks that were favoured ahead of the slightly more elaborate designs that formed part of the home and away kits – perhaps the outfit was produced in a rush to meet a problematic fixture? The shirt was worn in a 1–0 defeat to Manchester City although interestingly when the two clubs met again the 2nd leg of the play-off semi-final Wigan opted for their standard white away shirt paired with the blue home shorts.
Sheffield United kits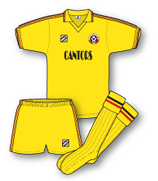 Sheffield United third kit 1979–1981
The Blades' first Hobott home and away kits (as documented in True Colours) in all honesty did not provide a satisfactory solution to colour clashes so it was not a surprise when I discovered that the club also donned an all-yellow version of the strip during this period. It made an appearance away at Brentford in the 79–81 season, a match that United won 2–1. Incidentally, what happened to Hobott? They really were the masters of lower league kits in the 80s. If anyone knows drop me a line.
Crystal Palace kits
Crystal Palace away kit 1985–1987, correction
Contrary to popular belief this dynamic mid-80s Hummel Palace kit was actually trimmed with blue and not red as I (and Eagles expert Andy Burton) had illustrated it. The proof came during the club's shirt parade at Selhurst Park a couple of years ago when loads of old shirts were modelled on the pitch.
Coventry City kits
Coventry City alternative home kit 1981–1983
Highfield Road must have been a very interesting place to be a kit man in the early 80s. Not only was there the issue of Coventry's provocative Talbot shirts and their tamer alternate non-sponsored versions (for televised matches) there was also a second alternate home kit. This shirt was worn to combat the problem that occured when the plain white backs of the first alternate shirts caused a clash with teams playing in white (such as Ipswich Town and their away kit of the time). The second alternate shirt was similar in design to the non-sponsored jerseys but was predominantly navy blue. Interestingly, the backs were sky blue.
Newcastle United kits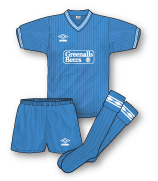 Newcastle United third kit 1987–1988
Until relatively recently Newcastle have always been remarkably frugal when it came to different kits. They were quite happy with just their famous home black and white stripes and an away kit. However, in the late 80s their silver away kit caused an issue at an away game at Luton Town. Most likely under the discretion of the referee it was deemed that both United's kits clashed with Luton's white jersey. Instead this mid-blue makeshift number appeared. It was a standard shadow pinstriped Umbro affair of the time and was worn minus club badge but including the logo of shirt sponsors Greenalls – the pressures of commercialism taking precedent over club heritage even then!
Ipswich Town kits
Ipswich Town away kit 2006–2008, correction
This kit was actually comprised of a white shirt and navy blue shorts and socks – not black. White change shorts and socks were also worn.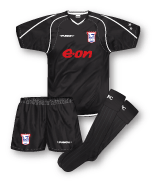 Ipswich Town kit third kit 2006–2008
A kit that missed inclusion in TRUE COLOURS VOL 2 due its emergence after the publication deadline was this Ipswich all black third kit.  The design followed that of the white away and featured an identical neck design paired with white piping. The shirt was called into action in 06–07 for the 3–1 defeat at QPR and the 1–1 draw at Leeds that virtually condemned the Elland Road side to relegation.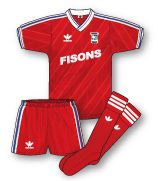 Ipswich Town kit away kit 1986–1989
The very swish red version of adidas' last set of kits for Ipswich actually featured a blue stripe inbetween the white stripes on the sleeves and shorts – similar to the style favoured by the French national side.
Republic of Ireland kits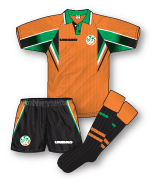 Republic of Ireland away kit 1997–1998, correction
Ireland's away kit for the 97–98 period was actually a remarkable combination of orange, green and black – not navy.
Derby County kits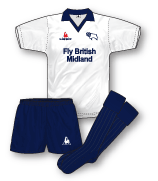 Derby County home kit 1978–1981, correction
This classy Le Coq Sportif home kit was actually white and navy and not white and black as depicted in TRUE COLOURS 2. It was a very dark shade of navy however! This was one of the first Le Coq Sportif shirts to appear in the English game and was a taste of what was to come in the 80s.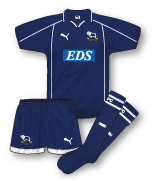 Derby County away kit 1999–2000, correction
Puma's 99–00 away kit for the Rams was navy (with a very subtle hint of purple) and not the solid purple shade included in TRUE COLOURS 2.
Derby County special kit 2006–2007
This kit didn't make it to Derby's section in TRUE COLOURS 2. It was worn for one match only right at the end of the 06–07 season in the Championship play-off final against West Brom. It was the last game of the Joma deal and the company obviously thought they'd go out with a bang in this all-or-nothing match by introducing a special, unique kit. It clearly did the trick though as the Rams won 1–0 with a goal by Pearson enough to clinch promotion to the Premiership.
More updates to follow shortly.
Posted by John Devlin
Over the next couple of weeks I hope to complete the 09-10 kits for the Premier League and the Championship along with the kits of Leeds United, Charlton Athletic, Norwich City and Southampton who were all featured in the True Colours books.
If you're looking for 08-09 kits, they can be found here.
Vote for your favourite 09-10 Premier League kit – please leave a comment here: http://www.truecoloursfootballkits.com/truecolours/poll-favourite-premier-league-kit-09-10
Barclays Premier League 09–10 Kits
Arsenal home kit 08-10, Arsenal away kit 09-10, Arsenal third kit 09-10
Aston Villa home kit 09-10, Aston Villa away kit 09-10, Aston Villa away kit 08-09, third kit 09-10
Birmingham City home kit 09-10, Birmingham City away kit 09-10, Birmingham City away kit 08-09, third kit 09-10
Blackburn Rovers home kit 09-10, Blackburn Rovers away kit 09-10, Blackburn Rovers away kit 08-09, third kit 09-10
Bolton Wanderers home kit 09-10, Bolton Wanderers away kit 09-10
Burnley home kit 09-10, Burnley away kit 09-10
Chelsea home kit 09-10, Chelsea away kit, Chelsea third kit 09-10
Everton home kit 09-10, Everton away kit 09-10, Everton third kit 09-10
Fulham home kit 09-10, Fulham away kit 09-10, Fulham third kit 09-10
Hull City home kit 09-10, Hull City away kit 09-10
Liverpool home kit 08-10, Liverpool away kit 09-10, Liverpool third kit 09-10
Manchester City home kit 09-10, Manchester City away kit 09-10, Manchester City third kit 09-10
Manchester United home kit 09-10, Manchester United away kit 09-10, Manchester United away kit 08-09, third kit 09-10
Portsmouth home kit 09-10, Portsmouth away kit 09-10, Portsmouth third kit 09-10
Stoke City home kit 09-10, Stoke City away kit 09-10
Sunderland home kit 09-10, Sunderland away kit 09-10, Sunderland away kit 08-09 third kit 09-10
Tottenham Hotspur home kit 09-10, Tottenham Hotspur away kit 09-10, Tottenham Hotspur third kit 09-10
West Ham United home kit 09-10, West Ham United away kit 09-10
Wigan Athletic home kit 09-10, Wigan Athletic away kit 09-10
Wolverhampton Wanderers home kit 09-10, Wolverhampton Wanderers away kit 09-10
Coca Cola Championship 09–10 kits

Barnsley home kit 09-10, Barnsley away kit 09-10

Blackpool home kit 09-10, Blackpool away kit 09-10
Bristol City home kit 09-10, Bristol City away kit 09-10
Cardiff City home kit 09-10, Cardiff City away kit 09-10
Coventry City home kit 09-10, Coventry City away kit 09-10, Coventry City third kit 09-10
Crystal Palace home kit 09-10, Crystal Palace away kit 09-10
Derby County home kit 09-10, Derby County away kit 09-10, Derby County third kit 08-10
Doncaster Rovers home kit 09-10, Doncaster Rovers away kit 08-10, Doncaster Rovers third kit 08-10
Ipswich Town home kit 09-10, Ipswich Town away kit 08-10, Ipswich Town third kit 09-10
Leicester City home kit 09-10, Leicester City away kit 09-10
Middlesbrough home kit 09-10, Middlesbrough away kit 09-10
Newcastle United home kit 09-10, Newcastle United away kit 09-10, Newcastle United third kit 09-10
Nottingham Forest home kit 09-10, Nottingham Forest away kit 09-10
Peterborough United home kit 08-10, Peterborough United away kit 09-10, Peterborough United third kit 09-10, Peterborough United charity kit 09-10
Plymouth Argyle home kit 09-10, Plymouth Argyle away kit 09-10
Preston North End home kit 09-10, Preston North End away kit 09-10, Preston North End third kit 09-10
Queen's Park Rangers home kit 09-10, Queen's Park Rangers away kit 09-10, Queen's Park Rangers third kit 09-10
Reading home kit 09-10, Reading away kit 09-10, Reading third kit 09-10
Scunthorpe United home kit 09-10, Scunthorpe United away kit 08-10
Sheffield United home kit 09-10, Sheffield United away kit 09-10, Sheffield United third kit 09-10
Sheffield Wednesday home kit 09-10, Sheffield Wednesday away kit 09-10
Swansea City home kit 09-10, Swansea City away kit 09-10
Watford home kit 09-10, Watford away kit 09-10
West Bromwich Albion home kit 09-10, West Bromwich Albion away kit 09-10
Finally, to complete my coverage of 09-10 kits, the strips worn by Charlton Athletic, Leeds United, Norwich City and Southampton who were all featured in the True Colours books.
Charlton Athletic home kit 09-10, Charlton Athletic away kit 09-10
Southampton home kit 08-10, Southampton away kit 09-10
Posted by John Devlin
When I bumped into award winning journalist, kit fanatic and all-round good bloke Jeff Maysh at England's recent Wembley game against Bulgaria and he told me about his planned book on Spurs match worn shirts I couldn't wait to see how it would turn out.
When my signed, editioned copy arrived last week I ripped open the package with eager hands and I have to say the beautifully designed book doesn't disappoint.
Jeff has tracked down nearly all of the key Spurs home shirts (and a few aways) since 1950 – many of them draped with history and with a story to tell. Photographs of each shirt are accompanied by key facts and text explaining more about the shirt and how it relates to Spurs heritage. Its a fascinating read enlivened by Jeff's superb writing thats packed with humour and anecdotes. We learn more about the 'Holsten' sponsorship faux pas from the 1987 FA Cup final and the one-off 2002 Worthington Cup final shirt that was never made into a replica and that apparently cost adidas more to produce than it would have done to manufacture 100,000 replicas!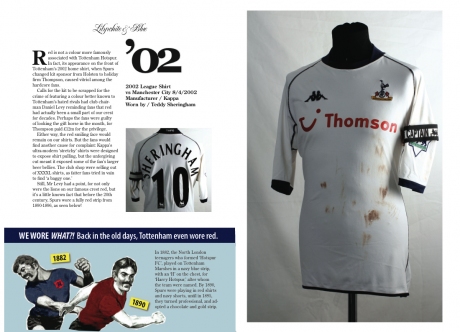 My only slight criticism would be that some of the photos of the shirts are a little on the a dark side, but that aside the book is essential reading for any football kit fan – especially if you follow Spurs! As I said when Jeff asked me for a quote for the back of the book (which seems to be have been replaced by some bloke called Steve Perryman, who's he?!) "this incredible collection gets to the very fabric of the club's history".
Click here to buy – but hurry, this limited edition is being snapped up fast!
Posted by John Devlin
With the new season now well under way understandably there haven't been too many recent shirt launches to get us kit anoraks all hot under the collar. The biggest news this week is the launch of a special limited edition Umbro England shirt featuring Peter Saville's colourful crosses throughout the entire fabric. Its certainly a very different and brave shirt and would be a nice addition to the wardrobe of any England shirt collector. Not sure how popular it will be with the everyday England fans though given that the crosses graphic (symbolising the  identities of modern day England) was not exactly warmly received when it appeared on the chest/shoulder panels of the regular England kit.
The other kit news I saw last week on Football Shirt Culture was the launch of some new adidas Star Wars shirts. Now, I love football kits and I love Star Wars, but putting them together just doesn't do it for me. Maybe its an age thing (after all I remember seeing Star Wars at the Odeon in Southend when it first came out in 1977!) but these new shirts are just utter rot. Embarassing and poorly thought through – just awful. See what you think – click here.
I've recently finished a commision to supply very basic Champions League kit illustrations. I'd like to develop these and get them on the site at some point soon – but first I have to finish the 09-10 kits (just added Sheffield United's) and then start work on adding the 10-11 outfits. Illustrating the backs of the shirts for this section does mean a lot of extra work so I'd appreciate your views as to whether its worth including them. What do you think? Please let me know.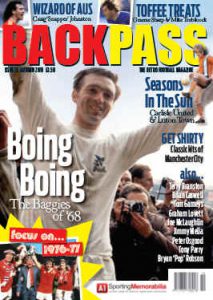 Speaking of kit illustrations, I have a new regular kit feature starting in the latest edition of Backpass  – the excellent magazine that deals with all manner of retro football topics. Each feature highlights several key or interesting kits from a club history dating from the 1960s to the 1980s and is accompanied by text and photos. This edition features Manchester City and can be bought at WH Smiths or online at the Backpass website.
A couple of other websites I'd like to draw your attention to are:
Pride in the Jersey – the first ever website dedicated to documenting the history of GAA kits. This fascinating look at Irish kits has been put together by Denis Hurley – a regular contributor to True Colours message boards – and features an interesting article on kit clashes in the GAA.
Footy Kit Reviews – this new kit review site is by Rich Johnson – another regular here at True Colours – and it gives his views on various contemporary kits. Again, well worth a visit.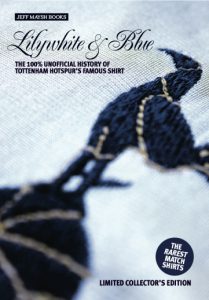 I hope to posting a full review very soon of a new book on Spurs matchworn shirts entitled 'Lilywhite & Blue' by esteemed journalist, football kit fan and all-round top bloke Jeff Maysh. Just to say, if you're interested in kits (and if you're reading this I have to assume you are!) you will love this book.  Jeff's also ghost written the memoirs of Roy Reyland, a kit man at Spurs for many years which also looks like being a good read. Check out Jeff's site here.
Finally, keep an eye open for a bit of a restructuring of the True Colours site over the next few weeks along with a slightly different new look…watch this space.
Posted by John Devlin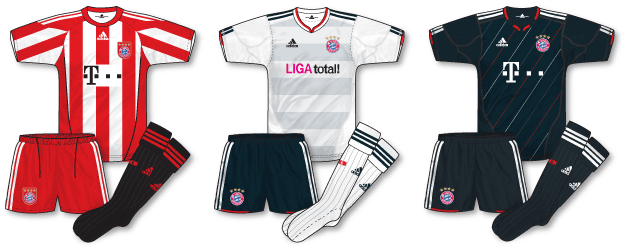 If there's a finer set of new kits this season than Bayern Munich's new outfits I'd like to see them.
Adidas have really hit the spot here as far as I'm concerned with a traditional looking home kit to commemorate the club's 110th anniversary perfectly complemented by a frankly superb away kit featuring subtle pale blue/grey bands and a stylish anthracite third (and also Champions League away) complete with alternating red, white and pale blue/grey diagonal pinstripes. Rather than including the logo of T-Mobile/Deutsche Telekom, the away features the logo of Liga Total! – the exclusive Bundesliga soccer service via Deutsche Telekom's Entertain portfolio and mobile communications.
Fair enough there is a chance that the kits may not cover every colour clash eventuality and perhaps the white away would have looked better with white shorts but as a set I think they look great. I love the way they have taken adidas' standard templates and really made the most of them. If I was a Bayern fan I would have to snap up all three.