Posted by John Devlin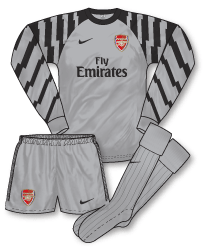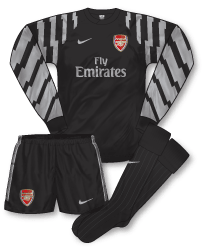 Never shy to mix it up when it comes to goalie kits, this season has seen Arsenal  sport four different colourways of the standard Nike zig-zag goalkeeping template introduced in 2010.
According to their website the standard home goalie kit is grey with black sleeves/trim. This is also the kit that is being marketed as a replica. However, out of data from 35 league and cup games this season (including the 2nd leg of the Carling Cup semi-final against Ipswich) the grey kit has only been worn 6 times – 5 at home and 1 away. A reversed version in black with grey trim (although this kit doesn't feature contrasting sleeves) has been worn 6 times – 2 at home and 4 away.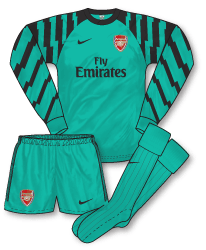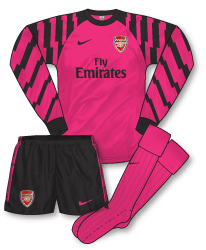 Then to make matters really interesting a more colourful set of goalkeeper kits have also been worn by Arsenal this season: a rather fetching jade interpretation, worn an incredible 19 times – 11 times away and 8 at home and finally last but not least a dazzling pink kit (with black shorts), only worn 4 times, 2 at home and 2 away.
So what's going on at Arsenal? I've looked through the facts and can't seem to see any pattern (eg cup games, away games, Europe etc) behind the choice of kit. Why hasn't the jade kit been sold as the club's primary goalkeeper kit this season when it is by far and away the most commonly worn strip? Do they select sombre colours or bright colours depending on the style of play of the opposition? Is it down to the individual keeper? And more to the point, do they really need four goalkeeper kits?!
Knowing the attention the Gunners put into their kits I find it hard to believe that there's a complete lack of logic and consistency behind these goalkeeping strip decisions. There must be a reason behind the selections. Any theories?
Posted by John Devlin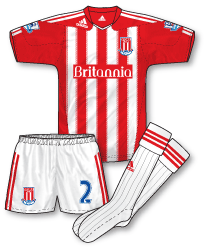 The buzz around the Britannia Stadium when it was announced that Stoke's 2010-11 kit would be made by adidas was palpable. Sadly the club ended up with a home strip that didn't really live up to expectations and left many supporters a bit deflated. In my view the shirt struggles too hard to fit in with an adidas template that first saw the light of day in the World Cup, and the stripes are made confusing and messy by the addition of 2 dashed lines on the outer edge. It just feels too forced and unnecessary. The rather pedestrian minimalist neck also does nothing to improve the design. The shorts and socks are relatively sober adidas fare, with red alternative pairs also lined up if required.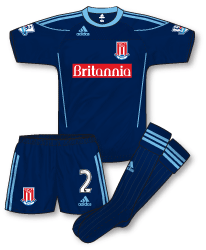 Still, if the home is arguably one of the worst in the Premier League this season the away does perform better. Again, another World Cup template is transformed into what is a rather fetching navy and sky blue ensemble. The lopsided adidas/Stoke badge placement (caused by the chest panel) is accompanied by the ominpresent Britannia logo – would this look better simply reversed out of the blue in white with no hint of red? The shirt also features a very subtle abstract shadow pattern. Shorts and socks follow the design of the home with the exception that on the shorts the adidas logo appears on the front in its traditional position rather than on the back as is the case with the home kit.
I would guess that we will be seeing a far more traditional Stoke home shirt for 11-12.
Posted by John Devlin
OK, this may not mean much to many of you loyal visitors to True Colours but Sunderland's  1986-88 third kit has become something of a holy grail to me in the last few years. A short while after True Colours Volume 1 was published I was told by a diehard Sunderland fan that I had missed a yellow (or orange as he described it) third kit from the late 80s. It was worn, seemingly, only once in the club's match against Wigan during the Mercantile Credit Festival at Wembley to mark the Football League Centenary. The search began in earnest but after purchasing scores of programmes and routing through hundreds of magazines I was unable to find any evidence of what this kit actually looked like. I knew it was made by Patrick and sponsored by Vaux but that was about it. I made contact with a couple of Sunderland shirt collectors and kit experts but they were unable to help despite having vague memories of the yellow kit being worn in that game. The club themselves had no idea either. Unfortunately the Mercantile Credit Festival was very poorly covered by the football media and precious little footage or photography of the games exist. Everytime I met a Sunderland fan the first question from my lips was "do you remember the yellow kit worn against Wigan?". They always shook their heads and looked at me with a slightly bemused expression.
I made a minor breakthrough a few years ago when I found in a Wigan biography a small black and white pic of the game in question with the Sunderland kit displayed. Trouble was it was the back of the shirt and was therefore fairly useless. So near and yet so far.
And then – this weekend I visited a programme fair and picked up a load of cheap programmes. One, a Chelsea publication from 1988, I had picked up due to the great cover depicting a Brighton away kit. When I flicked through the programme on returning home my jaw dropped in amazement when I discovered on page 25 in glorious colour a full frontal view of the elusive yellow Sunderland third kit that I had searched for all these years!! A completely serendipitous surprise!!! Another surprise was to see that the yellow shirt and shorts were apparently worn with white socks.
OK, fair enough, I know what you're thinking (apart from the fact that I should get out more), the kit IS a bit plain with its  lack of contrasting trim and embellishments apart from the shadow pinstripes, but at last I can now complete the gap in my Sunderland kit history.

Worn in: The 0-0 draw with Wigan in the above mentioned Mercantile Credit Festival in April 1988. Wigan eventually won the game 2-1 on penalties.
Worn by: Marco Gabbiadini
Posted by John Devlin
Firstly, happy new year to all visitors and friends of the site! Wishing you all a healthy and happy 2011!
To celebrate the new year I've put together a True Colours Football Kit 2011 calendar which can be downloaded in PDF format free from the site.
Each month features a selection of 6 kits by a specific kit manufacturer. There's a real mixture of strips – some good, some bad, some well known and some very obscure!
Click on the links below to download the free True Colours Football Kit 2011 calendar.
DOWNLOAD FREE FOOTBALL KIT CALENDAR PDF Part 1
DOWNLOAD FREE FOOTBALL KIT CALENDAR PDF Part 2
DOWNLOAD FREE FOOTBALL KIT CALENDAR PDF Part 3
DOWNLOAD FREE FOOTBALL KIT CALENDAR PDF Part 4
DOWNLOAD FREE FOOTBALL KIT CALENDAR PDF Part 5
DOWNLOAD FREE FOOTBALL KIT CALENDAR PDF Part 6
The calendar has been designed to fit into an empty CD jewel case. Simply print out (at 100% size) the 6 A4 sheets in the PDFs and cut out the 12 separate pages. Then remove all booklets etc from the CD case along with the CD holder within the tray. Detach the lid from the tray and flip it round before reattaching it to the tray. You can then stand the case up on a flat surface and the pages should sit neatly in the, now upright, tray. Or, alternatively simply cut the pages out and pin them on the wall.