Posted by John Devlin
I've just posted an in-depth look at the Carling Nations Cup kits in the articles section.
Click here to read http://www.truecoloursfootballkits.com/articles/carling-nations-cup-kits
Posted by John Devlin
Maybe its just because I'm a Scotland supporter but I'm puzzled as to the lack of interest in the UK in the Carling Nations Cup. Despite the poor attendances I've really enjoyed following the matches (on the radio) and it brings back fond memories of the Home Internationals. Plus of course it gives us a chance to check out all the kits, apart from England, of  the "home" UK nations (plus the Republic of Ireland of course).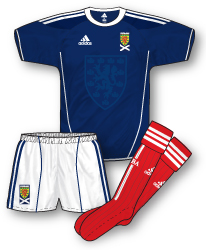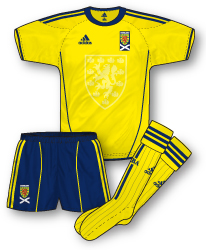 Umbro dominate the home nations international kits as they did in the early 90s with only Scotland outside of their roster. The Scots' adidas kits are due to expire later this year with a new home design due in November but as mentioned elsewhere on the site they are good, sturdy designs from a well-used adidas template. The away is equally as smart as the home (worn against Northern Ireland) and mirrors the design exactly including the SFA crest watermark which for me is the only negative point of the kits. Disappointing to see both Wales and Scotland wearing their away kits in the week – perhaps the clash of shorts caused an issue and they both decided to change or of course it may be just an opportunity to give an airing to the change designs.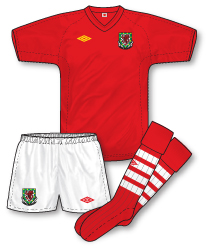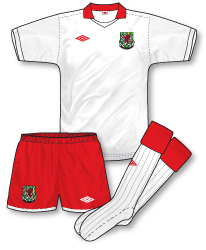 The recent Welsh kits saga where it seemed the FAW switched kit designers almost every few months has stabilised with these great Umbro designs, Umbro returning to Wales for the first time in approximately 20 years. The home 10-11 kit is minimal and elegant and follows an Umbro template that also appeared in the Premier League last year. Non-contrasting, layered V-neck design and yellow Umbro logo (anyone else noticed that Umbro are really favouring yellow/amber/gold branding on their shirts of late?) complete the shirt design which is accompanied by plain white shorts and those exquisite hooped socks. Curiously, the Welsh side wore this home kit against the Republic of Ireland with red change shorts, presumably to prevent a clash with Ireland's white shorts. However, the Irish side decided to sport their 10-11 white away kit instead meaning the change was futile! The away 10-11 Wales design keeps it simple too and follows the basic red and white scheme and simply reverses the colours. The away shirt introduces a red collar with white neck.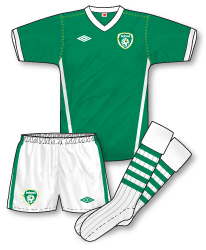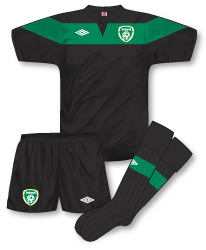 The Republic of Ireland have been supplied by Umbro since 1994 and have benefited from some superb designs. There has been a few questionable offerings as well though but fortunately this latest 10-11 home kit is one of the best strips worn by the nation for some time. The shirt, worn in the emphatic win against Northern Ireland, features a simple white V neck and cuffs with white bands angling in from each side. The really smart touch comes from the subtle gold stitching throughout. The angled bands continue as shorts trim and those Umbro hooped socks are also worn. The Irish side have also just launched a new away kit due to last until next year. It sees the side return to black and is crafted from a new Umbro template that I'm sure we'll see much of in the forthcoming season. Its a bold design that I think people will either love or hate! The main focus of the kit sees a large band stretching horizontally across the chest and continuing on each sleeve. The rest of the design is sparse with the shirt topped off with a neat button up 'cycling jersey' style neck.
Speaking of designs you either love or hate, Northern Ireland are also sporting a new Umbro away design in the tournament that clearly falls into that category. Worn for the first time in the 5-0 defeat to the Republic, the shirt sticks with the familiar white change colour scheme but is adorned with a large green and navy V across the chest topped off with a yellow Umbro logo (again!) Navy of course, has often appeared in the Northern Ireland kit palette. These bold designs have been very popular in recent years (ie Man City's third kit) and it seems to be a clear direction Umbro are aiming for with their contemporary strips. Simple green shorts (ideal for mix and matching with the home kit) and white socks, trimmed with a green and navy band complete the outfit. The home design (to date worn against Scotland) is more sober and features a basic white crew neck and shadow stripes paired with green trimmed white shorts and plain green socks. The green appears to be a slightly warmer shade than that worn the country's neighbours. Its a simple but effective design that is due to last until 2012 but with international lifespan dates being somewhat erratic this may not be the case.
Posted by John Devlin
Well, the votes have all been counted and double checked and I can announce that the winner of the True Colours Best Premier League Kit for 2010-11 is the:
Manchester City Third Kit
Congratulations to Umbro who produced the kit and who incidentally also won last year's True Colours Best Premier League Kit with that season's Manchester City home strip. This time round though the third swept the board, closely followed by Manchester City's home kit. Seems Umbro and City are definitely doing something right up there!!
Whats interesting as well is that this winning kit is one of the rare football outfits that has a two-year lifespan – food for thought really that in this day and age, when football kits come and go in a single season, that a strip is just as popular in its second year than it was in its first. All credit really to this superb Umbro design that reinvented a long forgotten City away kit style from the 1970s and brought it bang up to date. Perhaps the fact that the sponsors' logo takes a bit of a back seat in order not to impinge on the design had something to do with it?
Last year saw the strip worn with black shorts and socks, this season though the overall strip has been updated with the home kit's white shorts (complete with tonal badge/logo) and a smart new design of socks (featuring red and black bands) now being favoured, although the previous season's black shorts have been worn on occasion.
Posted by John Devlin
I was delighted to find out this morning that the True Colours site has been nominated for the Best Football Fashion Blog award hosted by esteemed Premier League website EPL Talk.
If you have a spare moment please visit: http://www.epltalk.com/2011-best-fashion-football-blog and I'd be really grateful if you voted for True Colours!
Thank you!
Posted by John Devlin
As the season's drawing to a close and we've had a whole 8 months of seeing the Premier League kits in action I thought now would be a good time to recap and see what we all thought were the best top flight kits of 2010-11.
I thought I'd take a leaf out of the 'alternative vote' book and ask you for your three favourite PL kits of the season. Your first choice gets 3 points, second 2 and third 1. If you want a recap of the kits please click here and then lets have your votes!
To get the ball rolling I'll go for:
First: Blackpool Third
Second: West Ham Home
Third: Sunderland Away