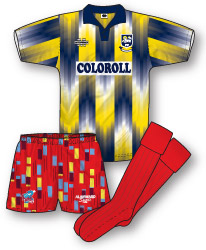 I wouldn't have believed this monstrous combination ever existed if I hadn't seen a picture of it with my own eyes! Back in October 1994 Scunthorpe turned up at Preston North End's Deepdale for a Division 3 fixture. Now one can only assume that Scunthorpe (who that season had a white home kit that clashed perfectly with Preston's lillywhite jerseys) forgot to bring their away shirts, as they took to the field sporting Preston's away jersey from the previous season, paired with the red shorts and socks from The Iron's regular change strip.
What made matters worse is that the Preston away shirts they were forced to borrow and their own red shorts and socks are both prime examples of early 90s patterned excess and, in their own right, both regularly voted among the worst football kits of all time. Combine them together though and you're left with this foul concoction, arguably one of the worst kit ensembles ever seen!
The Preston shirt design was a familiar Matchwinner template that was also sported by Wigan amongst other clubs, where as the Scunthorpe strip seems to have been fashioned from a truly hideous stock fabric design (that was also worn by Peterborough and made infamous by Birmingham) which was then badged up with a manufacturers logo, that of Alan Ward Sports.
Worn by: Tony Ford, Alan Knill, Mark Smith
Worn in: Scunthorpe's 94-95 match at Preston – Scunthorpe winning 1-0