So many people ask me what's the worst kit I've ever seen and what's the best. Focusing on the worst kits gets a little boring after a while in my opinion so I'm opening the True Colours Hall of Fame within The Kit Cupboard that will feature a selection, in no particular order, of some of my favourite kits of all time. Plus where possible I'll be telling you where you can still buy them! To start the ball rolling here's the classic Liverpool home kit from the 1985-86 and 1986-87 seasons.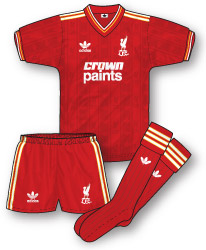 Growing up as a Liverpool fan I was accustomed to seeing the reds decked out in Umbro. At the time they were part and parcel of the Liverpool DNA. When the announcement came the club were switching to adidas I was both thrilled (as I loved to see new kits), nervous and just a little sad to see the departure of Umbro from Anfield. My first glimpse of the kit though instantly quelled all my fears. It was utterly superb!
If my memory serves me correctly Match Weekly magazine previewed the new home, away and third kits in a double page spread allowing avid kit fans to pore over every detail: a typically mid-80s multi-trimmed V-neck, adidas three-stripe taping delicately outlined with yellow and stopping at the shoulders (of course this was before tournament sleeve patches), white Liver Bird and adidas logos and a wonderful shadow pattern comprising of stripes, Liver Birds and adidas trefoils. Another point of interest was that the shorts didn't flip the placement of the club badge and manufacturers logo as was normally the case. It was wonderful stuff – adidas had achieved the impossible and come up with a design that matched, and in fact exceeded, the last Umbro pinstriped jersey.
Sadly the kit's opening match was the tragic 1985 European Cup Final at Heysel at the end of the 1984-85 season where it was worn without Crown Paints logo and 'adidas' type below the trefoil logo. Fortunately though happier times were ahead for the kit as King Kenny's men clinched the club's first ever FA Cup and League double whilst wearing it the following year.
The kit went through several minor cosmetic adjustments in its lifespan including the switching the Crown Paints logo to run on a single line and the various pieces of commemorative embroidery to mark the triumphs this memorable side achieved wearing this memorable kit.
Worn by: Ian Rush, Jan Molby, Paul Walsh
Worn in: The 1-0 win over Chelsea that sealed the 1985-86 Division 1 title and the 3-1 victory over Everton in that season's FA Cup final. Also worn the following season in a 10-0 thrashing of Fulham.
Buy this shirt now from Vintage Football Shirts