I picked up today a second hand copy of a great book published by The National Football Museum entitled 'The Football Hall of Fame'. It includes pics of numerous matchworn shirts but this one really caught my eye.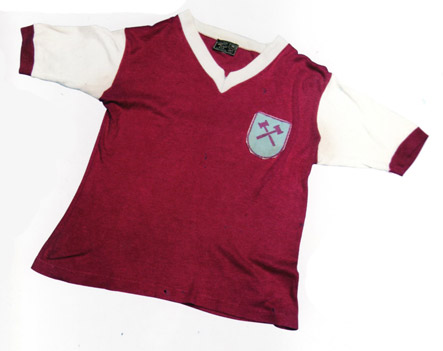 Judging by the short sleeves, V-neck and badge it looks like a Bukta-produced 1957-60 home shirt but with a big difference – the sleeves appear to be white and not the usual light blue.
Whether the colour appears much paler due to the photograph (unlikely) or the blue has faded through the years (again unlikely going by the colour of the badge) is up for debate, but to me it looks like it definitely has white sleeves. Could it be a rare third strip perhaps? I've not heard of the Hammers donning this particular style in the past, and can't really imagine a situation where such a strip could be called for. Its a real mystery.
Just wondering if any West Ham experts could cast any light on the subject? I'd be really interested to find out more…