Posted by John Devlin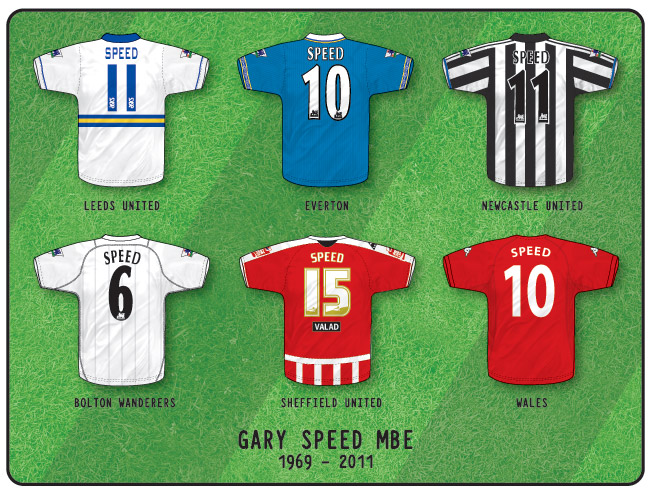 Like all football fans I was shocked and saddened to hear about the tragic death of Gary Speed. One of football's nice guys, he typifies for me that last batch of British players who straddled both the old fashioned Division 1 and its traditional values and the new and shiny Premier League – a time when you could still identify with the ordinary fellas who played the game before the influx of foreign "superstars". The fact that he was the same age as me (42) is also very sobering.
His service to football and his professionalism were beyond compare and its such a shame we'll never see how his Welsh team could have faired in the next World Cup qualifying campaign.
I wanted to pay tribute to Gary Speed and thought illustrating a shirt from each of his clubs would be the most appropriate way for me to do so.
Posted by John Devlin
Just posted a full listing of 2011-12 Premier League kits with my new background/layout design.
You can view them here.
Next stage is to update top navigation to include the latest kits and add pages for Championship, League 1, League 2 and the Scottish Premier League.
Reviews of individual club kits will continue to be posted in the main blog section.
Posted by John Devlin
Posted by John Devlin
Text and photos by Chris Oakley
These days the launch of a new football strip isn't what it used to be. When I was young, you were lucky if you caught a glimpse of England's new kit on John Craven's Newsround, but my, how that ten seconds of footage would have lingered in the mind until you saw it for real in their next international match. As for every other new kit, a token picture in Shoot! magazine was all you could really expect.
Nowadays, kits are launched with fashion shows, pop concerts and all manner of hullaballoo. It's all well and good, but what do we actually learn about the kit itself? Quite often, we learn very little at all.
Fortunately the launch of Puma's new range of strips for teams competing in the 2012 African Nations Cup has bucked the trend. On November 8th 2011, the Design Museum in London provided the setting for ten kits to be introduced to the world – and for a new exhibition showing how they were designed.
A wander around the second floor of the museum is most enlightening. Admittedly before I arrived, I expected to see nothing out of the ordinary beyond a few mannequins sporting de rigueur outfits accompanied by industry waffle telling of the 'unique breathable nature of the fabrics used.'
Fortunately, this was altogether more inspiring. The kits themselves were predictably colourful. The vivid green shirts of Cameroon, the bright yellow of South Africa, the searing white of Ghana and the deep red of Namibia were all there to be seen. That, however, was only half the story. What makes this such an incredible range of kits is the fact that Puma have commissioned ten artists from their Creative African Network to produce the new shirt designs. Not designers – artists.
The distinction is worth making because of the way each of them has looked to their soul and the identity of their home nation for the ideas that are made manifest in each new shirt. Luckily for people like me who visit the exhibition, those thoughts, ideas, dreams and stories are all writ large for everyone to see.
We hear how Zineb Sadira used the geometric patterns of the tiles found in Islamic buildings to create the design for the new Algeria shirt. We see how Samba Fall drew a Baobab tree for Senegal's new shirt to symbolise the coming together of fans from across the country as they follow their team in international competition. We also discover how Hasan and Husein Essop depicted a series of rainbows on the South Africa shirt to symbolise the diversity of cultures celebrated in the post-Apartheid era.
As well as the words and the kits themselves, there are also the original sketches made by each artist providing a fascinating insight into the original ideas that led to each shirt design. There are also videos to watch featuring interviews with the designers and all the visual imagery you need to understand the passion of Africa football and the part these kits will play in perpetuating it.
The exhibition 'Interpretations of Africa: Football, Art and Design' runs at the Design Museum, London until 27 November 2011 and is well worth a visit if you want to fully appreciate this innovative approach to football kit design.
LINKS
http://www.football-shirts.co.uk/fans/puma-launches-african-cup-of-nations-2012-shirts-and-exhibits-them-in-london_13799
http://creative.puma.com/us/en/2011/11/2012-african-kit-launch-artist-bios/
http://www.designweek.co.uk/home/blog/interpretations-of-africa-football-art-and-design/3031689.article
http://designmuseum.org/exhibitions/2011/interpretations-of-africa
Posted by John Devlin
I've just posted a new article on what I consider to be one of the greatest kit templates ever. I have a feeling its going to be a controversial decision!
You can read the article here
Posted by John Devlin
Football kit templates are much maligned – unfairly in my view – as a lazy way to supply teams with kits. Whether the side is sponsored by a major brand or merely using a teamwear outfit, templates have always been around and they're here to stay, especially with the average lifespan for a kit being a single season making totally unique designs for every club almost impossible
Its important though that, especially when it comes to teamwear, that the template designs keep moving forward. Nothing infuriates me more than a side adopting a design thats 2 or 3 seasons old purely for the sake of changing the strip.
The best templates allow for little tweaks here and there to make the designs a little more unique. It might be including non-contrasting collar and cuffs or simply revising slightly another design element.
After a mediocre 10-11 season kit-wise 11-12 is shaping up to be a cracker and some great templates are leading the way.
I realise this may be a controversial choice, but for me the latest Puma template as employed by their lower league sides is one of the greatest kit templates ever. Gushing words perhaps? After all it has attracted criticism by being worn by virtually every lower league and Scottish club on Puma's roster. But its just a great design – simple, classic, flexible and, most importantly, it allows a combination or 2 or 3 colours to be incorporated into a kit without impinging on the overall integrity of the clubs identity by inserting unnecessary large panels of colour willy nilly. Puma's branding is strong, without being overpowering and it could be said that it provides an almost anonymous design that is both practical and effective and provides a solid foundation for the club's brand/tradition and primary sponsor logo to stand out.
With hints of the 70s and 80s all squeezed together its a functional kit template that just screams football.
Shirt variations include V-neck or collar, dual colour or single colour shoulder trim which can be applied on both sides or asymmetrically – it even can handle contrasting sleeves, hoops, stripes or in Motherwell's case a chest panel without breaking swear. There's even the odd shadow badge design in there too!
There are two types of shorts (although some Scottish clubs have opted for plain pairs) and two designs of socks, one with a single band and one with two.
There are a few anomalies, for example Crawley Town have decided to pair the shirt with last season's Puma shorts and there some very slight variations on the template (such as Cardiff's questionable third kit and the 'training kit' style third kits worn by Stevenage and Crawley that feature broaded trim down each sleeve) but on the whole the design options are consistent throughout the range.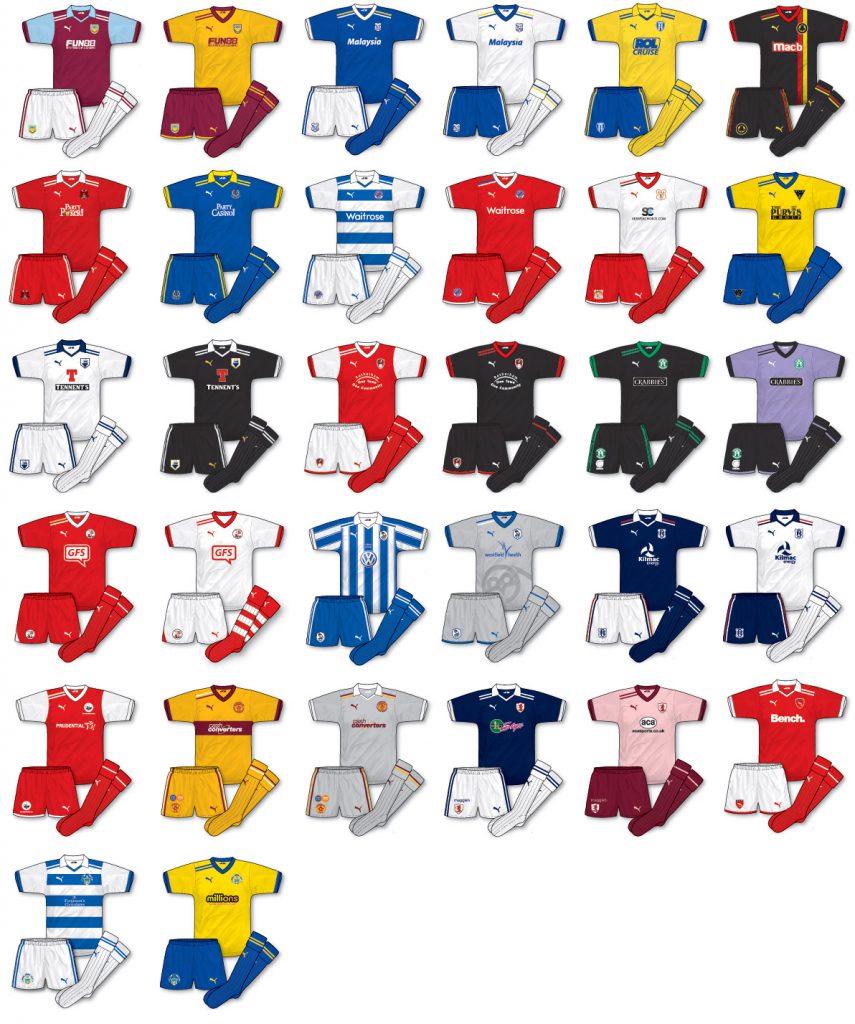 I've illustrated what I hope is the entire English and Scottish renditions of this great template (let me know if I've missed any!). It may take a while to load, click on the image to view at a larger size.
Top row, l-r, Burnley home, Burnley away, Cardiff home, Cardiff away, Colchester away, Partick Thistle away
Second row, l-r: Leyton Orient home, Leyton Orient away, Reading home, Reading away, Stevenage home, Dunfermline away
Third row, l-r: Preston home, Preston away, Rotherham home, Rotherham away, Hibernian away, Hibernian third
Fourth row, l-r: Crawley home, Crawley away, Sheffield Wednesday home, Sheffield Wednesday away, Dundee home, Dundee away
Fifth row, l-r: Stirling Albion home, Motherwell home, Motherwell away, Raith Rovers home, Raith Rovers away, Morecambe home
Sixth row, l-r: Greenock Morton home, Greenock Morton away