Posted by John Devlin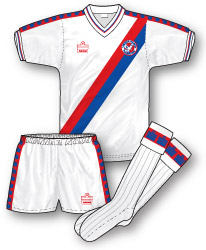 It may not have been the first appearance of Crystal Palace's iconic sashed kit design but this Admiral incarnation, fondly remembered by the Palace faithful, is arguably the greatest. The sash first appeared in The Eagles' kit cupboard in the 1975-76 season with flamboyant and kit-savvy boss Malcolm Allison the instigator. It became first choice home kit the following year (replacing the club's Barca-like red and blue stripes) and when Admiral took over kit duties in 1977 they updated the design with bold red taping featuring, of course, multiple Admiral logos, and an elegantly trimmed V-neck and cuffs. It was a strong and confident design – perfectly suited for Terry Venables' up and coming young Palace side.
Worn by: Gerry Francis, Mike Flanaghan, George Graham.
Worn in: The glorious 2-0 win over Burnley in the last game of the 1978-79 season that clinched the Division 2 crown and sealed promotion to the First Division for "The Team of the Eighties".
Posted by John Devlin
Just posted a great new article by journalist Denis Hurley on the nature of away kits.
It can be viewed here: http://www.truecoloursfootballkits.com/articles/the-recipe-for-an-ideal-away-kit
Many thanks Denis!
Posted by John Devlin
My first real footballing memory is the same as that of a lot of Irish people around my age – the heady days of Italia 90.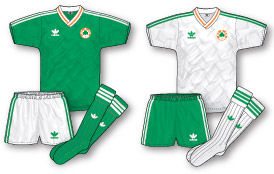 Even then, I was fascinated by the kits, and there are few things better than a World Cup to help such an interest develop. Having been introduced to the concept of home and away kits by my father at my first Cork City game shortly before Italia 90, I was surprised to find Ireland decked out in white shirts and green shorts against the Netherlands and Italy, when neither of them played in green.
I was told that, as the World Cup was being beamed around the globe and not everybody was as lucky as to have colour televisions, it was necessary to be able to tell teams apart in black and white. Of course if I'd simply waited a few weeks until the start of my first season supporting Arsenal, I'd have come to see that an "away kit" appeared to be just that, as the Gooners were in the habit of changing for nearly away game. But, in any case, I think I'd have been too surprised by the fact that Arsenal's change strip was yellow and navy rather than white and red.
Having seen that Ireland's away kit was simply a reversal of the home (bar the neck, which stayed the same), I had simply assumed that all teams did this, and that Arsenal's away would be white with red sleeves, not considering how such an outfit would not really alleviate a clash.
Since my childhood, I've come to see why yellow and blue are the first choice of many as Arsenal change colours, and I now favour them too, but in general my preference is still for and away kit to be simply a reversal of home colours, or at least use of the same two or three colours in a different order, as a way of retaining the club's identify.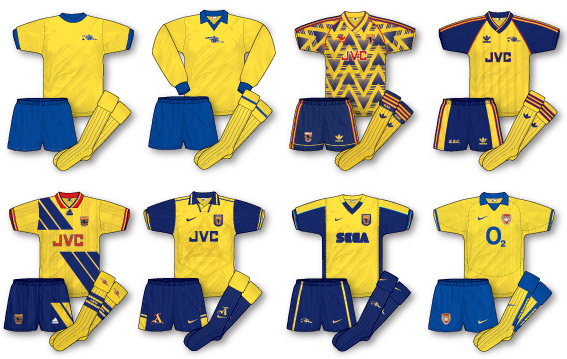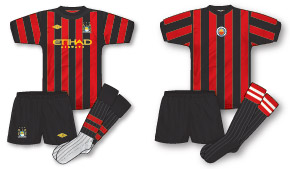 Of course, teams other than Arsenal have also embraced change colours that bear no relation to the home and they have gradually developed to be seen as the club's 'ideal' away choice, such as red and black for Manchester City (despite them being Manchester United colours) although a case could also be made for maroon that City have also worn on several notable occasions.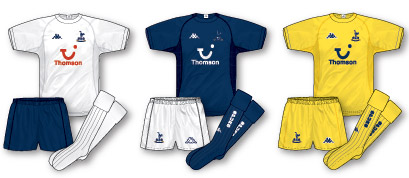 Similarly, yellow is often considered the regular away strip for Tottenham (though I have to admit I loved their set in 2004-05, when yellow was third choice and the away was the exact opposite of the home).
When worn on famous occasions, these change colours take on a personality of their own – the 1971 and 1979 FA Cup finals, as well as the 1989 league decider, have ensured that for Arsenal, though why completely different colours are chosen in the first place is something of a mystery. Football seems to stand alone in this regard. In the main American sports, home and away uniforms (the term is taken literally there) always have the team colours, it's similar in Gaelic football and hurling (see www.prideinthejersey.com for more – please, I need the hits!) and the approach taken in Australian Rules can best be understood by this link http://www.collingwoodfc.com.au/tabid/5586/default.aspx?newsid=105726.
One possible reason for the way it developed in England was that originally in the FA Cup both sides were required to change in the event of a clash, so if teams' change colours were similar too then a different option was required. It was due to this that Arsenal wore yellow/gold for the first time, against Liverpool in the 1950 final, but it wasn't until 1968 that yellow and blue were decided upon in a more permanent manner, as the Gunners had to stop using their navy away, due to the FA outlawing the colour as it clashed with referees.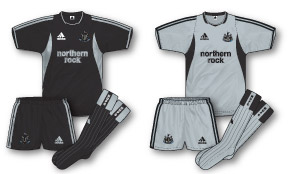 Some clubs, Newcastle United for example, tend not to have a 'favourite' away design (one could say yellow and green but to the best of my knowledge they have not worn those colours together since they had Umbro in the early 1990s). However, The Toon have utilised another of my favoured approaches to change kits when, in 2003-04,  the away and third were the opposite of each other: black with silver trim and silver with black. This is something that can work when the designs are nothing like the home, for example Arsenal in 1999-2000 (yellow with navy and navy with yellow) but something like the range of kits Crystal Palace had in 1990-91 was perfect in my view:  the home was the usual stripes while the away was a similar design in all-blue with red trim and then the third, using the home shorts and socks, was all-red with blue.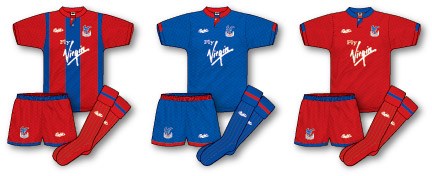 Such a philosophy doesn't always work – witness Bristol City having purple and green change kits in 1993-94 – and if it is being done, then clubs should take advantage of the mix-and-match opportunities rather than doing something like Liverpool did in 2007-08, when they had two pairs of black shorts with white stripes and red trim. You'll notice that this article hasn't yet dealt with 'out there' away kits, where the designers let their imaginations run riot. Well, I'll do so now – I absolutely hate them!
Posted by John Devlin
Found this interesting little piece that I'd kept from a few old editions of Match magazine. Its a single page feature detailing some of the processes involved in designing and manufacturing the Scotland national team's Fila shirt from 2000. Amazing, given the interest in football kits these days that not more of this type of article turns up in the football press.
Click on the pic to enlarge and read.
Posted by John Devlin
I've just posted a full set of 2011-12 Scottish Premier League kits. They can be viewed here.
Its a real mixed bag with some superb strips and a few that are looking more than a little dated.
As ever, I'm really keen to hear your views! How do you think the shorts sponsorship is working out? Seems fairly unobtrusive, but the flip side of this is that incredibly its sometimes pretty tough to work out who exactly the sponsors are.
Posted by John Devlin
From this page you can access my archive of 2011-12 kits.
COMING SOON
Championship
League 1
League 2
Champions League
Posted by John Devlin
Posted by John Devlin

I was delighted to be asked to work with Admiral Sportswear on a fascinating project that gives people the opportunity to vote for their favourite Admiral kit from the many the company have produced over the years.
Admiral of course spearheaded the replica kit market in the 1970s and are known for their innovative, exciting and dynamic designs.
The selection of kits presented on their site is divided into decades and while for many the 1970s gave birth to the most iconic Admiral designs, I think you'll be surprised at just how many fantastic strips Admiral have supplied to clubs in subsequent years.
So head over to Admiral's website now, browse through the array of superb designs and get voting!
http://www.admiralsportswear.com/Admiral/Fav-Kit