Posted by John Devlin
For anyone interested in football from the 60s, 70s and 80s then Backpass magazine really is essential reading!
Reminiscent of the classic late 70s era of football writing from the likes of Shoot etc the magazine is filled with proper articles offering insights, memories and new perspectives on classic matches and events that have shaped our national game.
Its packed with colour and loads of articles, interviews and photos of the teams and players from past eras, primarily from the UK but also from the worldwide arena.
There's plenty there for anyone with an interest in kits as well as I contribute a True Colours feature every issue looking at a selection of 50s, 60s, 70s and 80s kits from a specific team. Focusing on 6 outfits, I illustrate the kit and explain a bit more about the design and its history. Past teams include Southampton, Sunderland, Rangers, Hull City, Manchester City, QPR and Millwall. I've included some sample spreads below.
The latest issue (no.22) is out now and includes my feature on Aberdeen kits.
I can't recommend Backpass highly enough – in a day when we're just surrounded by jokey football magazines and ones aimed at children its great to have this superb retro publication around. Its available from WH Smiths, although be quick as copies go fast, and via mail order (back issues are available too) – for more info visit: www.backpassmagazine.co.uk
Posted by John Devlin
Well after some deep soul searching I finally plucked up courage to don the Shirt of Hurt for Sport Relief! When I realised I'd hit my sponsorship target of £100 I realised I had to go through with it!
Many many thanks to all the people who so generously sponsored me (I was particularly pleased to notice the patronage of one of the team behind the shirt's design as well!) Its much appreciated.
But don't forget, its still not too late to sponsor me – please head over to http://my.sportrelief.com/sponsor/truecoloursshirtofhurt to do so, its quick and easy and all for a good cause.
Here is the photographic proof of the occasion (by the way no Photoshop was used on any of these photos, especially not the 4th and 5th ones).
Posted by John Devlin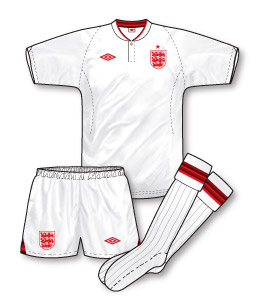 Very few kits create as much interest among the football fashion fraternity as a new England strip. The 2012 home kit from Umbro, launched a couple of weeks ago and worn for the first time against Holland in a friendly, has again generated some fierce debate alongside a fair bit of controversy (mainly by Daily Mail readers who complained that the previous shirt had only been worn 8 times. But thats just the sort of thing Daily Mail readers like to do).
Well, now the dust has settled I thought it was time to give my views on the shirt.
I was fortunate enough to be invited by Umbro up to Manchester City's London office near Hyde Park for a sneak preview of the kit before the launch and a chat about the design. My first impression on its unveiling was that it looked superb – FAR better than the grubby leaked shots that had appeared on line a few days earlier (these leaks really take the sting out of new kits don't they?) The absence of the familiar blue and dominance of red trim brought to mind a conversation I'd had with Umbro a couple of years ago when I was asked what my views were on red's place on the England kit. So thats what they were on about!!
Another initial thought was that the white was actually a very pale cream, which when combined with the red trim gave it an inherently English/old school cricket team vibe. Although this wasn't the case – the cream 'cast' was simply caused by the ambient lighting and the tone of the mannequin showing through the shirt – I do think that would have been a nice idea. Maybe next time.
Umbro reinvented kit design with the production of the 2009 England home kit and since then their ethos of proper, classic tailoring without the "bells and whistles" favoured by other companies has shone through with every outfit they produce. Its no different with this kit. Examining the shirt in detail reveals the neat button up collar that is designed to be worn in one of three ways: 1) Buttoned up with collar down 2) Unbuttoned with collar down and 3) Collar up revealing Umbro's latest design motif consisting of a sequence of stylish bands in a variety of red shades. Expect to see similar  throughout Umbro's kit roster for the forthcoming season(s) – the rationale comes from wanting to create an additional Umbro branding device such as adidas' three stripes.
Back to the collar though, I prefer seeing the collar up with the stripes showing and think this would have made a strong design in its own right. Comparing colllar up vs collar down, there's quite a big difference in appearance. Almost like comparing a non-contrasting collar to a contrasting one. My only fear with this potential for variation though is that players on the field could vary the way they wear their jerseys creating slight visual anomalies. What with base layers, gloves, coloured boots, sock tape and, God help us, snoods, do we really need another way for players to disrupt the visual integrity of the team kit?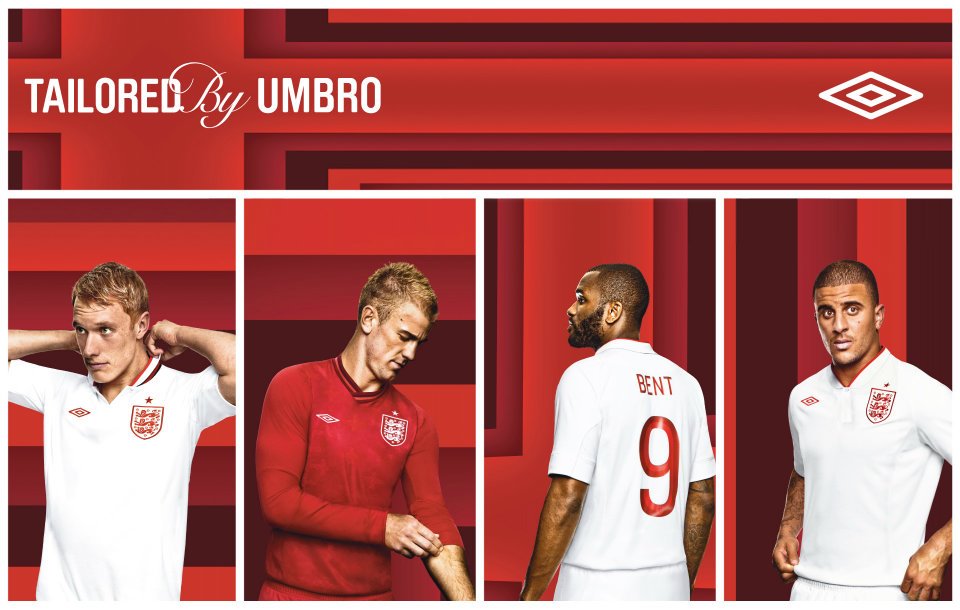 Examining the shirt in more detail reveals two considerably different fabrics, a cotton feel for the body and a more synthetic appearing material for the sleeves. Another great design element is the slight split in the sleeve cuffs that creates a real old school tailored jersey feel. This is the best part of the kit for me to be honest and in my view gives the long sleeved shirt the edge over the short sleeved version where the split is less pronounced.
The lack of blue in the kit was clearly a big step for Umbro and a brave move by the FA in rubber stamping it. When the current blue away shirt was launched England fans were up in arms saying that there is only white and red in the English flag and that therefore there should only be white and red in the kit. Well, you got your wish. There's only white and red in this one. As Umbro explained, inspiration for the design comes from the flag of St George.
Although I prefer to see England's white shirt combined with a dark navy and just a splash of red, I have to say I think the white and red colourway works a treat and really brings a fresh look to the kit. The only problem I do have is with the badge.
Yes, the famous three lions are now rendered in all-red (possibly as a result of the highly successful tonal ranges introduced by Umbro in recent years) and have lost the new shade of blue introduced a couple of years ago when the badge was redrawn. I was surprised that the staunchly traditional FA gave this the go ahead. Early versions of the kit did feature the standard badge but this direction was abandoned and the decision made to go solely with a red and white colour scheme. For me though the badge shouldn't have been tampered with. Maybe its the graphic designer in me but I feel the team's visual identity has been lost a bit with the move away from the badge's regular colour scheme. I think it was unnecessary and a distraction from what is otherwise a very fine kit.
The team have switched back to white shorts as well, primarily in line with UEFA's obsession with single colour kits (although other countries don't toe the line). Expect to see the white shorts abandoned though when England aren't playing in a major tournament. The new red tonal stripes adorn the shorts by way of small triangles on each leg and also feature on the sock turnovers. There are a pair of red change shorts as well, although these are a slightly different shade to the red worn as part of the goalkeeper's all-red kit.
Ah yes, the goalie kit. I won't go into too much detail about that here, except to say that expect a patriotic display when Joe Hart stands between two outfield players should the side be sporting the red change shorts in a match.
Summing up, I think the new home design is a great kit – not a classic though, and not a patch on the 2009 home shirt but a definite improvement on the slightly too clever for its own good 2010 home jersey.
Its solid, classy and not afraid to stand up for itself amongst the intricate flashes and coloured panels that form part of so many other international kits. Its been  designed with the thought and care you would expect from Umbro and as such is a brave design. I just can't get over the all-red badge issue though. The white and red together certainly scream 'England' but do they scream 'English football'?
As a way of a PS, I should remind you that myself, a loyal Scotland fan, will be donning the new England shirt as part of Sport Relief's 'Shirt of Hurt' challenge. I would really appreciate it if you could sponsor me please as I prepare to wear an England shirt for the very first time!!! Full details are here. Please sponsor whatever you can afford. It's all for a good cause….thank you!
Posted by John Devlin
As many of you will know, when it comes to international football my loyalties lie with Scotland. Always have, always will. Inevitable really as it was my Scottish Dad who first got me interested in football back in the 1970s. This has caused some friction living down south as you might imagine, not least with my English mum! As a result of my support of the Scotland side I have owned and worn countless Scottish replica shirts over the years but not surprisingly never any England ones and in fact have never put an England shirt on my back….until now.
Listening to the fantastic Danny Baker show on BBC Five Live last Saturday gave me an idea. On the show Danny took the "Shirt of Hurt" challenge for Sport Relief by swapping jerseys with actor Ray Winstone. If you're not aware of the concept, "Shirt of Hurt" requires you to pull on the shirt of your most bitterest rivals in aid of Sport Relief. Danny, an ardent Millwall fan, donned Ray's West Ham shirt and Ray, a Hammer through and through, wore Danny's Millwall jersey. Years of support, belief and passion for your team rocked by simply wearing the colours of your fierce enemies!
So in aid of Sport Relief, I  too will be taking the "Shirt of Hurt" challenge by pulling on a shirt, for the first time ever, of Scotland's greatest rivals and bitterest enemies: England!
Thanks to my friends at Umbro I have a brand new, still in its wrapper and rather splendid 2012 England home shirt just waiting to be worn. All I need you to do, is to please please sponsor me!
Photographic proof will be posted on the site and will no doubt haunt me for the rest of my life! But its all for a great cause – so please donate whatever you can afford to see me in my England "Shirt of Hurt"!
Click here to visit my official Sport Relief page where you can sponsor me
Thank you very much.