Posted by John Devlin
I love going through old sportswear catalogues and this Umbro example from 1957 is a great example. It includes not only the collared shirts that had been fashionable up to then but also the 'new' continental style V-necks that swept the football world in the late 50s.
The catalogue also comes with a covering letter explaining that Umbro kits can only be supplied via a specialist sports outfitter.
Fascinating stuff…here are some pages.
Posted by John Devlin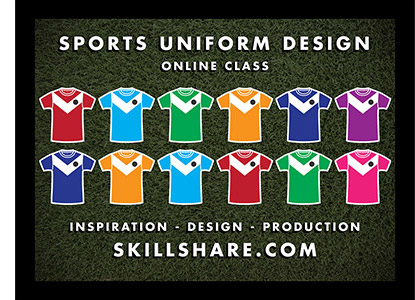 I was fortunate enough to interview the then Nike kit designer Stewart Scott Curran a couple of years ago on all matters concerning football kits. (Missed it? Read it here) Since then Stewart moved on to Umbro and more recently has been working in the States on even more exciting projects.
The good news is that Stewart has made his talent and kit expertise secrets available for all to partake in as part of a sports uniform/kit design course on  Skillshare.com – an online global community based around creativity, collaboration and learning. Its an absolutely fantastic resource and can help you really get to grips with professional kit design.
The good news is that Stewart has very kindly offered a massive 50% discount for True Colours visitors! Simply enter the discount code 1STHALF when prompted.
To find out more and visit Stewart's course click here
Good luck, I'd be really interested to see the results!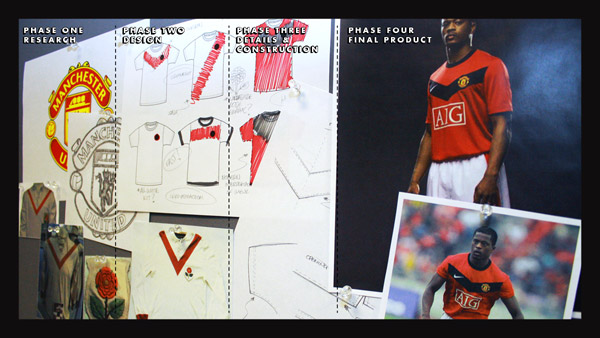 Posted by John Devlin
What caught my eye kit-wise this week was the varying fortunes of two European sides sporting outfits in unfamiliar colours on our green and pleasant pitches.
The first saw action at Old Trafford in the Champions League on Tuesday against Manchester United and belonged to the mighty Real Madrid. A simply beautiful kit honed out of one of the most unfashionable colours in football, green, but in a rich dark 'Racing Green' shade. So classy, its a really strong example of elegant kit design with adidas' three stripes given more of a supporting role than usual thanks to being knocked back to a subtle silver. It also accompanied a controversial but valuable Real win.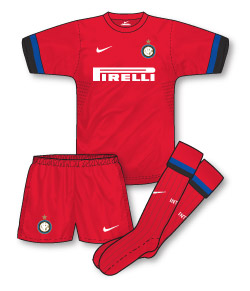 A couple of days later Inter Milan turned up at White Hart Lane for their Europa League fixture with Spurs carrying their all-red kit in their luggage despite their being no clash with Spurs' white strip. Another good looking Nike kit, with simple but effective incorporation of Inter's blue and black on the cuffs, it is one, however, that has become very unpopular with Inter supporters as of course it rather foolishly features one of the main colours of their bitter rivals AC Milan. Inter were well and truly beaten by AVB's boys.
Interestingly, Real were reluctant to wear their green kit on Tuesday, which they have come to see as an unlucky outfit, and wanted to sport their famous and traditional all-white. This however would have meant Manchester United would have had to sport black shorts and socks due to the colour clash. Quite rightly, as the home side United refused to do this and UEFA forced Real to wear their special European change kit.
It was a very different story in London on Thursday however with, it appears, Inter's kit choice governed by a simple desire to give exposure to their red strip in the hope of shifting a few extra replicas. Their comprehensive defeat to Spurs ensured this plan backfired somewhat.
Hmmm…is there a lesson to be learnt here when it comes to deciding which kit to wear away from home….!?
Posted by John Devlin