Posted by John Devlin

Although Admiral as a trademark had been around since ABC Hosiery ltd registered it in 1914, the company's most famous period was without doubt the 1970s when they broke new ground in supplying football kits and paved the way for the commercial kit revolution based around replica strips that was to follow.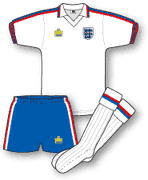 The innovative deal was with Leeds Utd and in 1973-74 the Admiral logo became the first sportswear logo to appear on an English team's kit (on both the shirts and shorts). The kit was remarkable as it was produced in nylon rather than the customary cotton. With the new deal with the English FA Admiral then produced the first commercially available replica kit. The prominent position of the Admiral logo and the other stylistic embellishments meant that young fans who wanted to emulate their heroes accurately had to buy the Admiral replicas. It was a piece of commercial genius that revolutionized English football.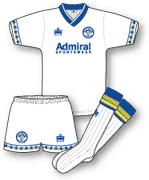 Other teams followed suite including Southampton and Manchester Utd however Admiral's success was not to last and amidst financial problems they lost contracts with all of their domestic teams. Only England remained and eventually that too ended in 1983 with the bankruptcy of the once gloriously successful company. Some lower league teams picked up on Admiral again a few years later such as Crystal Palace and Charlton and the firm eventually gained some prominence again in the early 90s with returns to Leeds, Southampton alongside new relationships with Wimbledon and several Scottish clubs.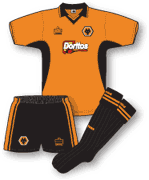 Since then however the company have focused on other sports such as cricket with their only recent high profile deal being with Wolves in the mid 00s and the company are currently enjoying a third tenure with their old chums at Elland Road.
3 Responses to "Sportswear Brand Histories – Admiral"
Simon Says:
June 7th, 2011 at 3:10 pm

The 1970's Admiral will go as iconic kits due to what has been informed above but also due to their ground braking kit designs. The chevroned yoke of my beloved West Ham, The Daffadil Yellow and green stiping on the Wales shirts and shorts and based on the same template to Wales, the much disliked chocolate Coventry away strip were truely innovative! Well done Admiral, You are greatly missed!

Holger Says:
July 31st, 2011 at 10:24 pm

Hi,

I'm from Germany and the first Admiral-Team I saw, was Leeds Utd., playing against Bayern Munich in the European championship final 1975.

Since that day, I am a Leeds and Admiral fan.

Unfortunately, in those days, it was impossible to get an Admiral replika kit in Germany.

We just had boring Addidas and Puma.

So, a trip to London in 1977, made it possible to buy some Admiral replika kits.

Leeds, of course, but also England, Wales and West Ham.

They were like gold in my hands.

I still have all of them.

regards

Álvaro Says:
September 10th, 2013 at 9:40 am

Who was the first in all the world? Also Leeds?
Leave a Reply