Posted by John Devlin
Football kit templates are much maligned – unfairly in my view – as a lazy way to supply teams with kits. Whether the side is sponsored by a major brand or merely using a teamwear outfit, templates have always been around and they're here to stay, especially with the average lifespan for a kit being a single season making totally unique designs for every club almost impossible
Its important though that, especially when it comes to teamwear, that the template designs keep moving forward. Nothing infuriates me more than a side adopting a design thats 2 or 3 seasons old purely for the sake of changing the strip.
The best templates allow for little tweaks here and there to make the designs a little more unique. It might be including non-contrasting collar and cuffs or simply revising slightly another design element.
After a mediocre 10-11 season kit-wise 11-12 is shaping up to be a cracker and some great templates are leading the way.
I realise this may be a controversial choice, but for me the latest Puma template as employed by their lower league sides is one of the greatest kit templates ever. Gushing words perhaps? After all it has attracted criticism by being worn by virtually every lower league and Scottish club on Puma's roster. But its just a great design – simple, classic, flexible and, most importantly, it allows a combination or 2 or 3 colours to be incorporated into a kit without impinging on the overall integrity of the clubs identity by inserting unnecessary large panels of colour willy nilly. Puma's branding is strong, without being overpowering and it could be said that it provides an almost anonymous design that is both practical and effective and provides a solid foundation for the club's brand/tradition and primary sponsor logo to stand out.
With hints of the 70s and 80s all squeezed together its a functional kit template that just screams football.
Shirt variations include V-neck or collar, dual colour or single colour shoulder trim which can be applied on both sides or asymmetrically – it even can handle contrasting sleeves, hoops, stripes or in Motherwell's case a chest panel without breaking swear. There's even the odd shadow badge design in there too!
There are two types of shorts (although some Scottish clubs have opted for plain pairs) and two designs of socks, one with a single band and one with two.
There are a few anomalies, for example Crawley Town have decided to pair the shirt with last season's Puma shorts and there some very slight variations on the template (such as Cardiff's questionable third kit and the 'training kit' style third kits worn by Stevenage and Crawley that feature broaded trim down each sleeve) but on the whole the design options are consistent throughout the range.
I've illustrated what I hope is the entire English and Scottish renditions of this great template (let me know if I've missed any!). It may take a while to load, click on the image to view at a larger size.
Top row, l-r, Burnley home, Burnley away, Cardiff home, Cardiff away, Colchester away, Partick Thistle away
Second row, l-r: Leyton Orient home, Leyton Orient away, Reading home, Reading away, Stevenage home, Dunfermline away
Third row, l-r: Preston home, Preston away, Rotherham home, Rotherham away, Hibernian away, Hibernian third
Fourth row, l-r: Crawley home, Crawley away, Sheffield Wednesday home, Sheffield Wednesday away, Dundee home, Dundee away
Fifth row, l-r: Stirling Albion home, Motherwell home, Motherwell away, Raith Rovers home, Raith Rovers away, Morecambe home
Sixth row, l-r: Greenock Morton home, Greenock Morton away
Posted by John Devlin
Maybe its just because I'm a Scotland supporter but I'm puzzled as to the lack of interest in the UK in the Carling Nations Cup. Despite the poor attendances I've really enjoyed following the matches (on the radio) and it brings back fond memories of the Home Internationals. Plus of course it gives us a chance to check out all the kits, apart from England, of  the "home" UK nations (plus the Republic of Ireland of course).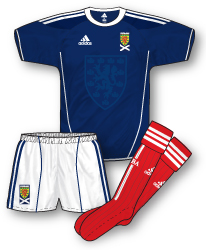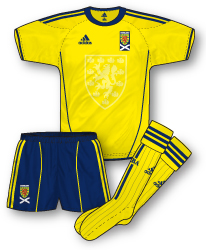 Umbro dominate the home nations international kits as they did in the early 90s with only Scotland outside of their roster. The Scots' adidas kits are due to expire later this year with a new home design due in November but as mentioned elsewhere on the site they are good, sturdy designs from a well-used adidas template. The away is equally as smart as the home (worn against Northern Ireland) and mirrors the design exactly including the SFA crest watermark which for me is the only negative point of the kits. Disappointing to see both Wales and Scotland wearing their away kits in the week – perhaps the clash of shorts caused an issue and they both decided to change or of course it may be just an opportunity to give an airing to the change designs.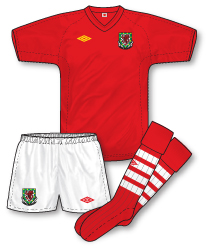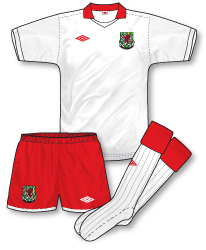 The recent Welsh kits saga where it seemed the FAW switched kit designers almost every few months has stabilised with these great Umbro designs, Umbro returning to Wales for the first time in approximately 20 years. The home 10-11 kit is minimal and elegant and follows an Umbro template that also appeared in the Premier League last year. Non-contrasting, layered V-neck design and yellow Umbro logo (anyone else noticed that Umbro are really favouring yellow/amber/gold branding on their shirts of late?) complete the shirt design which is accompanied by plain white shorts and those exquisite hooped socks. Curiously, the Welsh side wore this home kit against the Republic of Ireland with red change shorts, presumably to prevent a clash with Ireland's white shorts. However, the Irish side decided to sport their 10-11 white away kit instead meaning the change was futile! The away 10-11 Wales design keeps it simple too and follows the basic red and white scheme and simply reverses the colours. The away shirt introduces a red collar with white neck.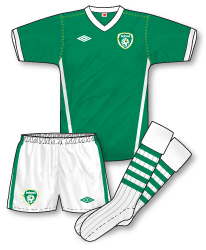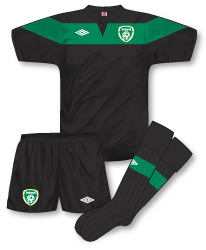 The Republic of Ireland have been supplied by Umbro since 1994 and have benefited from some superb designs. There has been a few questionable offerings as well though but fortunately this latest 10-11 home kit is one of the best strips worn by the nation for some time. The shirt, worn in the emphatic win against Northern Ireland, features a simple white V neck and cuffs with white bands angling in from each side. The really smart touch comes from the subtle gold stitching throughout. The angled bands continue as shorts trim and those Umbro hooped socks are also worn. The Irish side have also just launched a new away kit due to last until next year. It sees the side return to black and is crafted from a new Umbro template that I'm sure we'll see much of in the forthcoming season. Its a bold design that I think people will either love or hate! The main focus of the kit sees a large band stretching horizontally across the chest and continuing on each sleeve. The rest of the design is sparse with the shirt topped off with a neat button up 'cycling jersey' style neck.
Speaking of designs you either love or hate, Northern Ireland are also sporting a new Umbro away design in the tournament that clearly falls into that category. Worn for the first time in the 5-0 defeat to the Republic, the shirt sticks with the familiar white change colour scheme but is adorned with a large green and navy V across the chest topped off with a yellow Umbro logo (again!) Navy of course, has often appeared in the Northern Ireland kit palette. These bold designs have been very popular in recent years (ie Man City's third kit) and it seems to be a clear direction Umbro are aiming for with their contemporary strips. Simple green shorts (ideal for mix and matching with the home kit) and white socks, trimmed with a green and navy band complete the outfit. The home design (to date worn against Scotland) is more sober and features a basic white crew neck and shadow stripes paired with green trimmed white shorts and plain green socks. The green appears to be a slightly warmer shade than that worn the country's neighbours. Its a simple but effective design that is due to last until 2012 but with international lifespan dates being somewhat erratic this may not be the case.
Posted by John Devlin
For a glimpse into the kit history of your team as featured in TRUE COLOURS click on the team links below where you will be able to view two sample pages for each club included in the books.
For the full kit history see the two volumes of TRUE COLOURS – the only place to include in detail all the home, away and third kits since 1980 of England's biggest clubs.
Kits from Volume 1 & 2 will open a PDF.
All downloadable artwork is (C) John Devlin and is available on the strict condition that is for personal use/reference only and must not be offered for retail.
Posted by John Devlin
Here you will find various updates to TRUE COLOURS including kits for the seasons covered that were released too late for the book's publication dates and also various corrections and additions that have been discovered since the books were released. Every effort has been made to make the books as accurate as possible but if you know of any errors then please get in touch using the contact form. Thanks to my recent acquisition of hundreds of Shoot! magazines from the late 70s/early 80s and the very generous supply of information from David King's kit research (thanks David!) I'm able to now illustrate a handful of very rare third kits that I was not aware of at the time of publishing True Colours 1 and 2.Thanks also to Dave Moor at Historical Kits for the exchange of information!
05–06 Missing kits
Everton third kit 2005–06
Released by the club after the copy deadline for True Colours volume 1 had passed, this vivid yellow third kit became the latest addition to the ever-growing Umbro/Everton back catalogue. The shirt featured an asymmetrically trimmed cut-away neck and navy and white horizontal pinstripes to which flashes of navy were added in typical Umbro style. However, like the 00-01 and 03-04 outfit this kit was never worn on active duty.
Portsmouth third kit 2005–06
Like the above Everton kit this white and navy Pompey outfit was unveiled too late for inclusion in True Colours volume 1. Also, like the Everton strip it only lasted one season and attracted criticism in some quarters for actually being rather superfluous to requirements. Unlike the Toffeemen's outfit though this strip did actually make an appearance on the pitch. It was premiered, just before Christmas 2005, in the club's 3–0 away defeat to Manchester United.
Liverpool Euro kit 2005–06
Following Liverpool's incredible Champions League success of 04–05 the team sported a unique home strip in the following season's competition. The shirt (which was trimmed luxuriously in gold) loosely followed a similar design to that worn by West Ham and Bolton (other Reebok clients) and included loose diagonal shadow bands and unique gold flashes on each shoulder. The other prominent design feature was the addition of five stars above the club badge (which despite rumours did not return to the popular 'Liver Bird' technique) to symbolise the Red's five European Cup/Champions League victories.
Middlesbrough third kit 2005–06
The last of the 05–06 season shirts that did not make into True Colours was this very rare Middlesbrough third kit, worn only once in the March 06 UEFA Cup Quarter Final tie at FC Basel. The Swiss side's red and blue kit meant that both of Boro's designated outfits clashed and this classy all white number was worn to solve the problem. The collar matched that to the club's standard all blue jersey with black panels and reversed stitching were added to each sleeve. Unusually the Errea logo was placed centrally on the shirt. Boro lost the game 2–0 but recovered to win 4–1 in the return home leg and proceed onto the final. Sadly the club couldn't overcome the mighty Seville and were soundly beaten 4–0.
Wales kits
Thanks to Shakey at the excellent www.footballmatchshirts.co.uk site I am able to correct a couple of errors that appeared in the Wales section of True Colours Volume 2 and include a rare third kit from the late 80s.
Wales away kit 1984–1987, correction
There seems to be a commonly held belief that the second Wales adidas away kit of the 80s simply reversed the colour scheme of the home and comprised of white shirts and red shorts. It appears this is inaccurate and in fact Mike England's men continued with a yellow and green away strip – although now fashioned into a fairly plain design. The origin of the mythical white away kit of these period seems to stem from, of all places, Subbuteo, who at the time produced a miniature version of the Wales team decked out in incorrect white strips!
Wales away kit 1987–1990, correction
The colour scheme of the rather splendid Hummel away kit was actually yellow and black, and not yellow and green.
Wales third kit 1987–1990
As well as the standard red kit and yellow and black away, Hummel also produced an all white third kit for the Welsh side during their tenure as kit supplier. The kit was worn only once in September 1988, away against Holland in Wales' first Italia 90 World Cup qualifier – the Dutch side's orange shirts obviously just a little too similar to both the Welsh red and yellow. The match ended in a 1–0 victory for Holland. While we are on the subject of Wales kits, it might be a good opportunity to include the country's new kits:
Wales third kit 2007–2008
Wales have never been shy in adopting third strips, and this design was worn for the first time in a May 2007 friendly against New Zealand in Wrexham – forcing the 'all whites' to change to their blue away kit. The match ended in a 2–2 draw. The strip features a brave design of red and green alternate sleeves which are then flipped for the shorts. The shirt also includes a more restrained neck than the hefty V-necks worn on the Welsh home and away kits of the time.
Wales home kit 2007–2008
There appears to be some confusion in the Wales kit camp at the moment – the side took to the field in this new home kit for a friendly against the Republic of Ireland (a 2–2 draw) and their final European Championship qualifier against Germany in November 2007 (a 0–0 draw). The shirt is not as radical as the previous design, its main design feature being a watermarked dragon print. Kappa have announced that the jersey will be officially launched on St David's Day (March 2008) with replicas also available then. A new away kit will follow in April. However, the Football Association of Wales have also announced their new kit deal with JJB Sports who will be launching their Welsh strips in August 2008! Meaning that Wales will sport their final set of Kappa strips for just 9 months. Its an unusual move and perhaps the country might have been better sticking with the existing Kappa outfits (which were only introduced in 2006) rather than opting for these short term new kits.
Middlesbrough kits
Friend of the site and self-confessed Boro anorak Shaun Wilson has let me know of a couple of Middlesbrough kits that were missing from True Colours. He also pointed me in the direction of a wonderful collection of Boro shirts: www.flickr.com/photos/boro_shirts.
Middlesbrough third kit 1986–1987
As well as the red home and royal blue away kits of this period, Boro also donned this Hummel sky blue/navy blue third outfit. The design followed that of the home and away. The sponsorship situation at this time was a little cloudy; this jersey did not feature the standard Dickens logo of that season and was mostly worn unsponsored although the logo of ICI's polyethylene plastic film product, Visqueen, did appear on the shirt by the end of the campaign. ICI of course came on board as the club's main shirt sponsor a few years later in 1992.
Middlesbrough third kit 1988–1990
Following the pattern of the previous season, a white Boro third shirt also appeared in 1988. The design essentially just reversed the colours of the home jersey complete with the logos of Heritage Hampers and kit manufacturers, Skill. The shirt was also worn with the white home shorts.
Middlesbrough alternative home kit 1989–1990
Although I made reference to this outfit in TRUE COLOURS I though this might be an apt opportunity to illustrate it. The club's achievement in getting to the Zenith Data Systems (ZDS) Final in 1990 marked the side's first ever trip to Wembley. To mark the occasion a special one-off adaptation of their standard home shirt of the era was worn. The design, which was worn in just this game, was basically the same as the regular home jersey with the exception of a large, solid white chest panel that housed the Skill and Heritage Hampers logos and the club badge. Commemorative embroidery adorned the badge which also featured on the white shorts. The shorts ditched the triangular side bar trims and added a chequerboard shadow pattern. The unique strip did not bring the club luck however as they lost the game 1–0 to Chelsea.
Miscellaneous Middlesbrough kits
Rather than their standard V-neck adidas blue away jersey of the late 70s/early 80s, Middlesbrough also sported a wing collared version of the shirt, minus club badge/sponsor's logo). Any kit fan won't need reminding that in the early days of shirt sponsorship, sponsored shirts were banned from TV coverage. This occasionally would catch teams out if they arrived at a game that was due to be televised without an unsponsored set of kits. This situation happened twice to Boro; a 1981 visit to Manchester City meant the club were forced to borrow Manchester United shirts (can you imagine that happening today!), and in a 1983 trip to QPR plain adidas orange jerseys with black trim, minus club badge and of course sponsor, were worn by the club to ensure that the TV cameras could keep rolling. Finally, the club's 1994–95 jade/dark green away kit was also retained as third kit for the 1995–96 season, complete with the logo of Boro's new shirt sponsor Cellnet. It was one of the few times an Errea Boro kit lasted for more than one campaign although it is unclear whether the strip was actually called into action.
Wolverhampton Wanderers kits
Wolves third kit 1991–1992
Clubs who wear yellow or gold shirts (Wolves, Watford, Norwich etc) seldom have to worry too much about away kits due to the relative lack of colour clashes in a season. The commercial advantages of change strips are obvious though in terms of replica sales. Nowadays, away shirts are often worn even when a clash does not occur in order to promote the kit to fans. With some exceptions though, it is rare for a team wearing yellow/gold to release a third kit as there is effectively no real requirement for the shirt other than to market another replica design. In the early 90s third kits were becoming popular for the first time and this era saw Wolves wear their only (as far as I can tell) official third outfit. The sky blue Bukta kit followed the design of the home and away, with a swish trim of black and old gold.
Wolves away kit 2006–2007, correction
One of the problems when putting together a book like TRUE COLOURS is dealing with the tight deadlines. All artwork had to be with the printers in the summer meaning a race against time to get all the new kits included. A side effect of this is that often the only reference material available was pre-release publicity shots and as many kit fans will know early prototype versions of kits can alter considerably from the final outfit. This was the case with this Wolves away kit. The definitive strip worn during the 2006–07 campaign as illustrated here, had different sleeve detailing to the illustration included in TRUE COLOURS VOL 2.
Chelsea kits
Chelsea third kit 1977–1981
Despite the relatively few teams wearing both blue and yellow (Shrewsbury Town?) in this period Chelsea issued a white third shirt in the late 70s to augment their blue home and yellow away outfits. The shirt was attractively simple with a basic V-neck and interestingly non-contrasting cuffs. Umbro diamond trim appeared on the shorts that were a straight reversal of the home pair. Its not clear whether this rather smart strip was ever worn in action but it did appear in one of the club's official team photos of the early 80s in an era when 'training/leisure' tops were scarce.
Chelsea third kit 1990–1991
Never shy of donning a third kit, Chelsea sported this simple all red shirt against Coventry City in the 90–91 season due to Coventry's sky blue and white striped jersey clashing with both Chelsea's kits at the time. Unlike many other clubs you always got the feeling that the majority of Chelsea's third kits were necessary, functional items.
Sunderland kits
Sunderland fourth kit 1980–1981
Fourth kits are real rarities and are guaranteed to get kit fanatics such as myself very excited! This swish all-red Sunderland shirt (with no contrasting collar/cuffs) made an appearance in the 80–81 season away at West Brom where the Black Cats lost 2–1. A quick glance at TRUE COLOURS 1 indicates that as well as the team's red and white striped home shirt, their blue away and white third jerseys must have been judged not to provide sufficient colour differentiation against the Baggies.
Sunderland third kit 1985–1986
The very pale yellow third kit worn in the 83–84, 84–85 seasons was not retained for the final year of the Nike deal at Roker Park and instead this brighter all yellow third outfit was introduced. The black trimmed jersey still featured the Nike logo and club badge the 'wrong way round' although interestingly the Nike logo also featured on each sleeve.
Sunderland third kit 1989–1991
The merest of tweaks was applied to the Sunderland Hummel third kit of the late 80s. Instead of featuring the wrapover crew neck as worn in the 88–89 incarnation a wrapover V-neck was introduced. Other than that tiny change the kit remained the same.
Fulham kits
Fulham third kit 1990–1991
With the Fulham's penchant for red away shirts to accompany their white home jerseys there is always a fair chance that a third kit is lurking around somewhere in the shadows, just waiting for the opportunity to make an appearance against a red and white striped side. This yellow and blue outfit followed to all intents and purposes the design of the home, minus the piping and additional sock stripes. It made a couple of appearances in 90–91, most notably in a good 2–1 win away at Brentford.
Leicester City kits
Leicester City third kit 1979–1983
This white version of the Foxes' Umbro shirt of the late 70s/early 80s was probably only worn once or twice but was called into action for the club's 3–1 defeat at West Ham – a blip in an otherwise superb 79–80 season that saw the club crowned champions of Division 2 and promoted to the top flight. Hammers fans will remember that the club were then sporting the classic Admiral claret and sky blue 'yoked' shirt that must have clashed too much with Leicester's blue home and red away strips.
Leicester City home, away and third kits 1989–1990

The Scoreline Leicester kits actually went through a tiny cosmetic change in the 89–90 season. 88–89 saw the kits sporting the Foxes badge in the centre of the shirt with a Scoreline logo on each sleeve (as illustrated in True Colours but by the following year the club crest (now with the addition of 'Leicester City F.C.' around its edge) and the Scoreline logo were both given a more traditional placement on either side of the chest. This very minor alteration occured throughout all of the club's three kits.
Leicester City away kit 1990–1992, correction
The shadow pattern on the club's Bukta away kit, introduced in 1990, actually featured a different design to that of the home kit. The pattern consisted of gradiated and abstracted diagonal blocks. Some versions of the shirt also featured a navy blue Bukta logo.
Birmingham City kits
Birmingham City alternative home kit 1992–1993
The 92–93 season saw Birmingham City in a period of upheaval. The controversial reign of the Kumar brothers (and their even more controversial kits courtesy of Influence, the sportswear company also owned by the Kumars) ended in the Spring of 1993 with the arrival of new owner David Sullivan and the appoinment of Karren Brady as MD. The unpopular 'paintbox' home kit, supplied by Influence and worn for the majority of 1992, was quickly ditched and replaced for the last two months of the season only by this dynamic little number. This 'stop gap' kit featured large white shoulder panels and no manufacturers logos and was worn in the crucial 1–0 win over Charlton in the last game of the season that ensured the Blues avoided the drop to Division 2. The club badge and Triton Showers logo appeared centrally. No replicas were produced.
Birmingham City alternative away kit 1992–1993
Birmingham's 92–93 white away kit was also abandoned during the takeover and was replaced by this simple yellow and blue version of the temporary home outfit. Again, the outfit featured no manufacturers' logo. This kit was mistakenly identified in TRUE COLOURS Volume 1 as a third kit for 92–93.
Wigan Athletic kits
Wigan Athletic third kit 1998–1999
Adidas' arrival at Wigan in 1998 brought along some splendid outfits but one that slipped through the net in TRUE COLOURS Vol 1 was this seldom worn all-green third kit that featured in the 98–99 season. The style mirrored that of the club's regular strips of that season with the exception of basic adidas shorts and socks that were favoured ahead of the slightly more elaborate designs that formed part of the home and away kits – perhaps the outfit was produced in a rush to meet a problematic fixture? The shirt was worn in a 1–0 defeat to Manchester City although interestingly when the two clubs met again the 2nd leg of the play-off semi-final Wigan opted for their standard white away shirt paired with the blue home shorts.
Sheffield United kits
Sheffield United third kit 1979–1981
The Blades' first Hobott home and away kits (as documented in True Colours) in all honesty did not provide a satisfactory solution to colour clashes so it was not a surprise when I discovered that the club also donned an all-yellow version of the strip during this period. It made an appearance away at Brentford in the 79–81 season, a match that United won 2–1. Incidentally, what happened to Hobott? They really were the masters of lower league kits in the 80s. If anyone knows drop me a line.
Crystal Palace kits
Crystal Palace away kit 1985–1987, correction
Contrary to popular belief this dynamic mid-80s Hummel Palace kit was actually trimmed with blue and not red as I (and Eagles expert Andy Burton) had illustrated it. The proof came during the club's shirt parade at Selhurst Park a couple of years ago when loads of old shirts were modelled on the pitch.
Coventry City kits
Coventry City alternative home kit 1981–1983
Highfield Road must have been a very interesting place to be a kit man in the early 80s. Not only was there the issue of Coventry's provocative Talbot shirts and their tamer alternate non-sponsored versions (for televised matches) there was also a second alternate home kit. This shirt was worn to combat the problem that occured when the plain white backs of the first alternate shirts caused a clash with teams playing in white (such as Ipswich Town and their away kit of the time). The second alternate shirt was similar in design to the non-sponsored jerseys but was predominantly navy blue. Interestingly, the backs were sky blue.
Newcastle United kits
Newcastle United third kit 1987–1988
Until relatively recently Newcastle have always been remarkably frugal when it came to different kits. They were quite happy with just their famous home black and white stripes and an away kit. However, in the late 80s their silver away kit caused an issue at an away game at Luton Town. Most likely under the discretion of the referee it was deemed that both United's kits clashed with Luton's white jersey. Instead this mid-blue makeshift number appeared. It was a standard shadow pinstriped Umbro affair of the time and was worn minus club badge but including the logo of shirt sponsors Greenalls – the pressures of commercialism taking precedent over club heritage even then!
Ipswich Town kits
Ipswich Town away kit 2006–2008, correction
This kit was actually comprised of a white shirt and navy blue shorts and socks – not black. White change shorts and socks were also worn.
Ipswich Town kit third kit 2006–2008
A kit that missed inclusion in TRUE COLOURS VOL 2 due its emergence after the publication deadline was this Ipswich all black third kit.  The design followed that of the white away and featured an identical neck design paired with white piping. The shirt was called into action in 06–07 for the 3–1 defeat at QPR and the 1–1 draw at Leeds that virtually condemned the Elland Road side to relegation.
Ipswich Town kit away kit 1986–1989
The very swish red version of adidas' last set of kits for Ipswich actually featured a blue stripe inbetween the white stripes on the sleeves and shorts – similar to the style favoured by the French national side.
Republic of Ireland kits
Republic of Ireland away kit 1997–1998, correction
Ireland's away kit for the 97–98 period was actually a remarkable combination of orange, green and black – not navy.
Derby County kits
Derby County home kit 1978–1981, correction
This classy Le Coq Sportif home kit was actually white and navy and not white and black as depicted in TRUE COLOURS 2. It was a very dark shade of navy however! This was one of the first Le Coq Sportif shirts to appear in the English game and was a taste of what was to come in the 80s.
Derby County away kit 1999–2000, correction
Puma's 99–00 away kit for the Rams was navy (with a very subtle hint of purple) and not the solid purple shade included in TRUE COLOURS 2.
Derby County special kit 2006–2007
This kit didn't make it to Derby's section in TRUE COLOURS 2. It was worn for one match only right at the end of the 06–07 season in the Championship play-off final against West Brom. It was the last game of the Joma deal and the company obviously thought they'd go out with a bang in this all-or-nothing match by introducing a special, unique kit. It clearly did the trick though as the Rams won 1–0 with a goal by Pearson enough to clinch promotion to the Premiership.
More updates to follow shortly.
Posted by John Devlin
Over the next couple of weeks I hope to complete the 09-10 kits for the Premier League and the Championship along with the kits of Leeds United, Charlton Athletic, Norwich City and Southampton who were all featured in the True Colours books.
If you're looking for 08-09 kits, they can be found here.
Vote for your favourite 09-10 Premier League kit – please leave a comment here: http://www.truecoloursfootballkits.com/truecolours/poll-favourite-premier-league-kit-09-10
Barclays Premier League 09–10 Kits
Arsenal home kit 08-10, Arsenal away kit 09-10, Arsenal third kit 09-10
Aston Villa home kit 09-10, Aston Villa away kit 09-10, Aston Villa away kit 08-09, third kit 09-10
Birmingham City home kit 09-10, Birmingham City away kit 09-10, Birmingham City away kit 08-09, third kit 09-10
Blackburn Rovers home kit 09-10, Blackburn Rovers away kit 09-10, Blackburn Rovers away kit 08-09, third kit 09-10
Bolton Wanderers home kit 09-10, Bolton Wanderers away kit 09-10
Burnley home kit 09-10, Burnley away kit 09-10
Chelsea home kit 09-10, Chelsea away kit, Chelsea third kit 09-10
Everton home kit 09-10, Everton away kit 09-10, Everton third kit 09-10
Fulham home kit 09-10, Fulham away kit 09-10, Fulham third kit 09-10
Hull City home kit 09-10, Hull City away kit 09-10
Liverpool home kit 08-10, Liverpool away kit 09-10, Liverpool third kit 09-10
Manchester City home kit 09-10, Manchester City away kit 09-10, Manchester City third kit 09-10
Manchester United home kit 09-10, Manchester United away kit 09-10, Manchester United away kit 08-09, third kit 09-10
Portsmouth home kit 09-10, Portsmouth away kit 09-10, Portsmouth third kit 09-10
Stoke City home kit 09-10, Stoke City away kit 09-10
Sunderland home kit 09-10, Sunderland away kit 09-10, Sunderland away kit 08-09 third kit 09-10
Tottenham Hotspur home kit 09-10, Tottenham Hotspur away kit 09-10, Tottenham Hotspur third kit 09-10
West Ham United home kit 09-10, West Ham United away kit 09-10
Wigan Athletic home kit 09-10, Wigan Athletic away kit 09-10
Wolverhampton Wanderers home kit 09-10, Wolverhampton Wanderers away kit 09-10
Coca Cola Championship 09–10 kits

Barnsley home kit 09-10, Barnsley away kit 09-10

Blackpool home kit 09-10, Blackpool away kit 09-10
Bristol City home kit 09-10, Bristol City away kit 09-10
Cardiff City home kit 09-10, Cardiff City away kit 09-10
Coventry City home kit 09-10, Coventry City away kit 09-10, Coventry City third kit 09-10
Crystal Palace home kit 09-10, Crystal Palace away kit 09-10
Derby County home kit 09-10, Derby County away kit 09-10, Derby County third kit 08-10
Doncaster Rovers home kit 09-10, Doncaster Rovers away kit 08-10, Doncaster Rovers third kit 08-10
Ipswich Town home kit 09-10, Ipswich Town away kit 08-10, Ipswich Town third kit 09-10
Leicester City home kit 09-10, Leicester City away kit 09-10
Middlesbrough home kit 09-10, Middlesbrough away kit 09-10
Newcastle United home kit 09-10, Newcastle United away kit 09-10, Newcastle United third kit 09-10
Nottingham Forest home kit 09-10, Nottingham Forest away kit 09-10
Peterborough United home kit 08-10, Peterborough United away kit 09-10, Peterborough United third kit 09-10, Peterborough United charity kit 09-10
Plymouth Argyle home kit 09-10, Plymouth Argyle away kit 09-10
Preston North End home kit 09-10, Preston North End away kit 09-10, Preston North End third kit 09-10
Queen's Park Rangers home kit 09-10, Queen's Park Rangers away kit 09-10, Queen's Park Rangers third kit 09-10
Reading home kit 09-10, Reading away kit 09-10, Reading third kit 09-10
Scunthorpe United home kit 09-10, Scunthorpe United away kit 08-10
Sheffield United home kit 09-10, Sheffield United away kit 09-10, Sheffield United third kit 09-10
Sheffield Wednesday home kit 09-10, Sheffield Wednesday away kit 09-10
Swansea City home kit 09-10, Swansea City away kit 09-10
Watford home kit 09-10, Watford away kit 09-10
West Bromwich Albion home kit 09-10, West Bromwich Albion away kit 09-10
Finally, to complete my coverage of 09-10 kits, the strips worn by Charlton Athletic, Leeds United, Norwich City and Southampton who were all featured in the True Colours books.
Charlton Athletic home kit 09-10, Charlton Athletic away kit 09-10
Southampton home kit 08-10, Southampton away kit 09-10
Posted by John Devlin
Click on the thumbnails below to view each image at full size.
Arsenal 08-09 home kit, away kit, third kit
Aston Villa 08-09 home kit, away kit, third kit
Birmingham City 08-09 home kit, away kit
Blackburn Rovers 08-09, home kit, away kit, third kit
Bolton Wanderers 08-09, home kit, away kit
Charlton Athletic 08-09, home kit, away kit
Chelsea 08-09, home kit, away kit, third kit
Coventry City 08-09, home kit, away kit, third kit
Crystal Palace 08-09, home kit, away kit
Derby County 08-09, home kit, away kit, third kit
Everton 08-09, home kit, away kit, third kit
Fulham 08-09, home kit, away kit, third kit
Ipswich Town 08-09, home kit, away kit
Leeds United 08-09, home kit, away kit, third kit
Leicester City 08-09, home kit, away kit, third kit
Liverpool 08-09, home kit, away kit, third kit
Manchester City 08-09, home kit, away kit, third kit
Manchester United 08-09, home kit, away kit, third kit
Middlesbrough 08-09, home kit, away kit
Newcastle United 08-09, home kit, away kit, third kit
Norwich City 08-09, home kit, away kit, commemorative kit
Nottingham Forest 08-09, home kit, away kit, third kit
Portsmouth 08-09, home kit, away kit, third kit
Reading 08-09, home kit, away kit
Sheffield United 08-09, home kit, away kit
Stoke City 08-09, home kit, away kit
Southampton 08-09, home kit, away kit
Sunderland 08-09, home kit, away kit
Tottenham Hotspur 08-09, home kit, away kit, third kit
Watford 08-09, home kit, away kit
West Bromwich Albion 08-09, home kit, away kit
West Ham United 08-09, home kit, away kit
Wigan Athletic 08-09, home kit, away kit
Wolverhampton Wanderers 08-09, home kit, away kit
All illustrations are (C) 2008 John Devlin and must not be reproduced without express permission.
Posted by John Devlin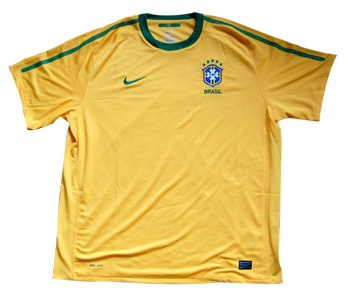 Most replica shirts are naturally bought by diehard fans who want to show their support for the team. But if I were to choose one shirt that seems to transcend affiliation more than any other and is snapped up in soccer shops worldwide it would have to be the iconic yellow and green of Brazil. It seems you don't have to be Brazilian to wear the jersey, such is the legendary status of the country's teams over the years and the standards of excellence and flair that they represent. By donning the jersey you show the world that you love good football and out of all the World Cup apparel available the Brazilian shirt is always a big seller.
Nike introduced a new Brazil World Cup Jersey prior to the tournament's kick off and its a superb looking minimalist and elegant shirt with the only trim of note being green stripes down each sleeve and round neck design, making it slightly reminiscent of the country's 1998-2000 strip. The stripes are actually made of a rubber-like material with lots of tiny holes and on the left sleeve the stripe incorporates five stars – symbolising the country's five World Cup triumphs.
The Dri-FIT fabric used is part of Nike's ecologically sound ethos and is comprised of up to eight recycled plastic bottles taken from Japanese and Taiwanese landfill sites and then melted down. All in all Nike have prevented 13 million bottles from going into landfill sites with the creation of their new range of shirts.

Apart from being incredibly comfortable to wear there are lots of little details that make the shirt interesting. Inside the neck there is a tiny Brazilian flag with the legend 'Nascido Para Jogar Futebol' or 'Born to Play Football' and on the back of the neck there is a green panel with 'Brasil' text. A mesh fabric runs down each side of the jersey for ventilation.
Turn the shirt inside out though for a real surprise as on the reverse of the badge (placed over the heart of course) is the message 'Pride and Love' beautifully rendered in a font designed by a Brazilian artist. Its a great, subtle touch and an similar graphic relevant to each country is included in most if not all of Nike's national shirts in their soccer apparel range this year.
Without being burdened by unnecessary design elements the shirt is simple and classic with impressive environmental qualifications and the added bonus of an inspirational message over the heart!
Posted by John Devlin
With just under a week to go, here is a complete set of home and away kits for every country competing in this year's South African World Cup. I've not included third kits but will feature the superb African Unity shirt in a Kit Cupboard special soon.
There's still question marks over the DPR Korea (North Korea) kits, seems we won't know what they will be wearing for sure until they take the field in it but the others should be accurate.
I'd be really interested in not only your favourite kit(s) but also which company you think have made the best strips this year. For me, I love most of the adidas and the Puma African kits – especially the away styles. Nike has been a bit of a disappointment I think although I do like the Holland and Portugal strips.
And while you're preparing for the World Cup don't forget, you can download EPL Talk's special e-book 'What the World Cup means to me' that I was asked to contribute to here.
Finally, check out Andrew Rockall's World Cup blog here. If its anything like his contributions to this site it should be a good read.
All illustrations are (C) 2010 John Devlin and must not be reproduced online or in print without permission.
Posted by John Devlin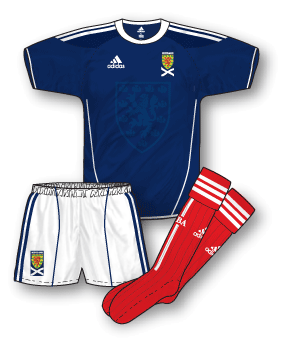 One of the most eagerly awaited kits of the season (well, in my house anyway) was the new Scotland home outfit – the first to be made for the team since adidas replaced Diadora last year. Of course the massive marketing and promotional juggernaut behind the Umbro England kits has dominated the kit news in recent months but the importance of Scotland's new strip cannot be underestimated given the lacklustre response amongst the Tartan Army towards the last few Diadora efforts and the power and status adidas have in world football.
Expectations were high and in my view, thankfully, adidas have delivered with a superb strip devoid of their usual complex trim and coloured panels and featuring instead a relatively straight forward, stylish and restrained effort. Phew.
Everyone now knows this Scotland kit is a 'type 2 adidas design' (although honestly, had anyone heard of a 'type 2 adidas design' before it was announced in connection with this strip!?) It basically means thats its a generic adidas template, badged up for Scotland. I can't actually recall who else has worn this design to be frank and to me it doesn't matter.
The strip combines the heritage and pride behind the Scotland strip and the gravitas and sportswear expertise of adidas. The jersey features a simple crew-style neck, the classic three-stripe trim and subtly curved piping running down the front. The shorts continue the piping theme in navy and the good old red socks are present with 'Alba' (Gaelic for Scotland, not the low-budget hi-fi firm) on the front.
As as a Scotland fan I am delighted with the kit and mightily relieved the adidas branding didn't overtake the identity of the country. My only gripe, and I am not alone in this view, is that the large Scottish crest watermark on the front of the shirt just doesn't seem to work. In principle the idea is sound, although a little early-90s, but I think its just the application of the crest looks, dare I say, cheap. Its only a small moan to be honest, and I have a suspicion it will look a lot better in the flesh which I hope to discover when I purchase my replica when they are released in the Summer.
It's a great start to adidas' relationship with Scotland and thanks to a 1–0 win over the Czech Republic in the kit's only outing so far, a great start to new boss Craig Levein's managerial career with the national side.
Posted by John Devlin
The new England away kit has a lot to live up to. Since the home design was rebooted by Umbro in 2009 questions were asked about how the red (lets face it, its not going to be anything but red these days!) away strip would match up.
Umbro whetted the appetite of the England faithful and football kit fans in general with a launch campaign heavily web-orientated with an unveiling date set for the 3rd March friendly with Egypt.  I was fortunate enough to be invited up for a sneak preview of the kit with a presentation by Aitor Throup (the conceptual brain behind the design) and David Branch – the leading designers behind England apparel. Aitor  explained at length the thinking behind the design before removing black veils from mannequins to reveal the outfits.
The kit is loosely based on the Aztec jersey – a version of which England wore in '66 – but Aitor and David are keen to point out, this is NOT a lazy re-hash of the kit worn in England's finest hour.
Essentially the designers wanted to take a 'body and movement' approach to the kit and looked at the most common action stance a player would take during a match (generally arms bent, leaning forward) and constructed the shirt around this position before examining the results. The designers discovered that traditional seams/panels wouldn't necessarily provide the optimum comfort/performance level required for the shirt's use on the pitch. Therefore an angular, slightly abstract set of panels were formed that wrapped around from the back of the shirt on to the side and pulled over onto the shoulders. Unorthodox perhaps but specifically designed for the shirt in action. This curious construction is most noticeable on the long sleeved version (can't help but think Umbro ARE leaning towards the long sleeved jerseys being the definitive version of this strip – a move that more than echoes '66!) where the innovative panels are clearly marked across the elbows giving a 'base layer' feel. These panels are in three slightly different shades of red, giving a subtle but interesting effect. The neck is to all intents and purposes a crew design, but with a lower front and higher back – again designed for comfort on the pitch. Similarly the cuffs follow suite with the backs extending a good inch or so lower than the cut at the front.
Ah yes, the cuffs. The stylistic element that has caused most debate amongst football fans and I have to confess they jarred with me at first. But then, the more I looked at and examined the shirt the more sense they made. They're different, stylish and eye-catching and now I believe that the use of this simple contrasting feature gives the design an extra unique quality.
Umbro aren't shouting about technology in this design. The varying fabrics aren't radically contrasting colours that scream "look, hi-tech breathable fabric!" and have led to scores of recent kits adorned with unnecessary white panels that spoil the overall integrity of a kit's colour scheme. Of course the technology is there but this kit is all about the fit. Tailored to be comfortable and effective on the pitch.
Suprisingly, given the home kits switch to white shorts, the away's shorts are also white. Although now the England badge and Umbro logo are rendered in red (so as not to spoil the simplicity of the red and white design) and simple vertical stripes are added to each leg. Like the cuffs the front of the shorts on the thigh is considerably higher than the back. The socks, which like the home are minus visible Umbro branding) seem to aesthetically borrow from the recent trend of taping the bottom of the socks around the ankle. It is not yet known what change shorts will be worn with the kit – very possibly the navy change pair from the home outfit.
My belief was that the shirt would be a grower and that a lukewarm initial response would increase in approval once replicas were bought and people realised what a stunning piece of clever design it really is. However, after the surprise launch of the shirt by Kasabian at a Paris gig the overall opinion of England fans has been incredibly positive. I have to agree and the more I see the shirt the more I love it. When you compare it to the previous England away you realise how dated that design now looks and illustrates how far Umbro have come with their modern tailoring approach to their kits.
After the incredible experience of having the outfit presented to me by the designers themselves (a real privilege) and analysing it in detail I can't help but think that its an absolute classic and a perfect companion outfit for the home strip, ensuring that whether or not Capello's squad bring home the World Cup trophy this summer, they will definitely be one of the best dressed teams in the tournament.