Posted by John Devlin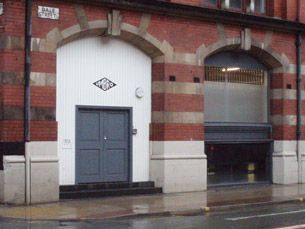 As I've mentioned elsewhere on the site I was extremely honoured to be invited by Umbro up to their studios in Manchester for an exclusive presentation of the new England away kit. I can't reveal any details about the strip until it is officially unveiled by Umbro but I can tell you about the rest of the day and some of the fascinating conversation I had with David Blanch and Aitor Throup about Umbro kits.
Umbro's design studio is situated in the old textile industry part of Manchester city centre with an entrance fronted by the very old classic Umbro logotype. On entering I was greeted by Tom and Aaron who run Umbro's blog site and shown into a room festooned with choice items from the Umbro shirt archive – bliss! Other attendees included football kit experts from footballshirtculture.com, football-shirts.co.uk and others along with matchworn shirt expert and all round decent fellow Simon 'Shakey' Shakeshaft.
Surrounded by history and some classic old shirts, with plenty from the early 70s, I delved in to see what I could uncover.
Items included a matchworn Sunderland shirt (complete with ripped collar) from the 1973 FA Cup final, early 70s Coventry, Palace and Derby kits, Arsenal's late 70s shirts when they seemed to have a residency at Wembley for the FA Cup and assorted Birmingham, Cardiff and Manchester City jerseys – many in pristine condition. What amazed me was the variety of fabrics, not all just the itchy, heavy cotton we associate with historic shirts, but a range of softer, brushed cotton, airtex and sandpaper-like polyester that Umbro seemed to favour in the early 80s. I think I was so engrossed in the archive I stupidly didn't have the prescence of mind to take more than a handful of photos!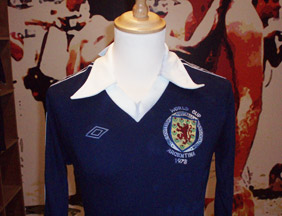 Highlights for me was the big display of England kits and a healthy selection of Scotland shirts including an Alex McLeish matchworn jersey from the 1986 Mexico World Cup finals and what I can only imagine was a prototype of Scotland's 1978 Argentina World Cup shirt that featured a different collar and 'double diamond' Umbro taping on each sleeve rather than the 'filled-in' version that was worn.
I was then introduced to David Blanch (pictured below), the chief kit designer at Umbro who spoke at length about kits to me. It was great to talk to him and he was very open and frank about the designs Umbro are producing. Aside of his obvious knowledge of kit history, what did strike me though was his immense passion for the subject. It is clear that he and all of the Umbro design team put a HUGE amount of effort and work into these designs, they are not things that are just slung together! David was keen to stress that he doesn't just design for the pitch, he doesn't just design for replicas, he designs for football.
Of course, first topic of conversation was the England strips.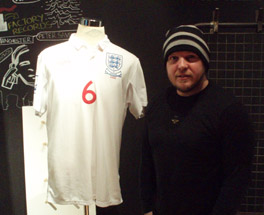 The main design philosophy behind the current white England home kit was one of fine tailoring being used to help bring confidence to the team. David used the analogy of wearing a suit compared to casual clothes and how different that can make you feel. The principle is the same on the football pitch. With a precise, tailored approach with each kit designed to fit specifically for each player (no more problems for Peter Crouch whose shorts often used to have to extra material added on afterwards to lengthen them) so that each one looks his best and hopefully plays his best. The tailored fit of the outfits is designed to intimidate the opposition as well. Fitting in with this philosophy is the idea of simple classic designs. No more ever intricate flimsy, minimal necklines, David is a fan of collars, crew necks and V-necks – the staple diet of football shirts. All unnecessary elements have been removed so that just simple colourways are left. I explained my dislike of the large white flashes and panels that have been used on nearly every kit over the past few years and unbalance teams' colour schemes. It seems these were used primarily to highlight where different, hi-tech, breathable fabric has been used. Umbro's thinking now is that we all know hi-tech, wicking fabric is used in kits, there's just no need to keep highlighting it. They are returning to simple, solid colour with minimum distraction. Self-assured confidence in a good design.
The white shorts that form part of the current England outfit were also introduced to give the players height and again, confidence. The reason for the tonal badges and Umbro logo on the shorts was purely to bring all attention up the badge and Umbro logo – that is where the focus is.
David is clearly (and rightly) very proud of the England home shirt as it has effectively 're-booted' kit design, scrubbing out all the complex, fiddly kits that preceeded it and almost started again with a fresh approach to football apparel. It's ultra modern with all the contemporary technology you would expect and yet at the same time it is true to the heritage and history of the side wearing it. Surely this approach is the kit ideal of all football fans?
We also discussed the subtle differences that differentiate a player's shirts from replicas that have been introduced to thwart matchworn bootleggers. David can tell an genuine player's shirt at a glance due to the tiny elements he has secreted away in the design. Another giveaway is the fact that the player's shirts are generally much smaller than the average replica version. He also explained how the position of the badge is slightly different on player's shirts to allow for the match details scroll to be included beneath it and still balance with the Umbro logo.
I asked David if he thought England would ever have a third kit again and he revealed that a navy blue England third shirt has been designed for some time and sits under closely guarded lock and key! It could be called on at a moments notice should the need arise but if it ever did see action it is unlikely that replicas would be produced. "I presume you'll be showing us the third shirt today" I enquired slightly cheekily and already knowing the answer! David just shook his head!!
I asked about the various shorts clashes that have been occuring in the Premier League this season and that have caused such debate on the site. As we all now know it seems now shorts clashes just aren't important. Its shirts and socks that count and these are the only kit elements officials are interested in. With this in mind David explained that that the reason Man City and Blackburn for example haven't been donning change shorts is simply to maintain the integrity of the kit. If Man City's kit is blue shirt, white shorts and blue socks Umbro don't want this overall design compromised by changing to blue shorts if a 'clash' occurs.
Talking of Man City, David revealed that the 09-10 third shirt is one of the current favourites in the Umbro team, partly due to the unique positioning and sizing of the sponsor's logo in order to blend in perfectly and not disrupt the design. Obviously the kit is based on City's mid 70s away kit but the sash was switched to the other direction so as not to interfere with the club badge which, in David's eyes, HAS to sit over the heart.
David also sits on a kit advisory panel for FIFA. He explained some of the regulations they have such as restrictions on the number and size of flags that can appear on a kit. This rule lead to problems with England's 05-07 home kit where Umbro had to convince them that the red flashes on the shoulder were not in fact the St George's cross but primarily just a design element.
As you can imagine it was fascinating conversation. I later also spoke with Aitor Throup, design consultant, about England's kits. He is immensely driven with some superb ideas and initiatives and it is clear the influence he has had on the Tailored by Umbro kits. Find out more about Aitor's involvement with Umbro by visiting the Umbro blog. Both he and David were such nice chaps and so friendly and open in their discussions about kits. I also spoke briefly to James, another member of Umbro's design team who told me that they regularly used both volumes of True Colours in the studio when researching ideas etc. I can't tell you how made up I was to hear this! It rounded off a simply superb evening in the company of without doubt one of the most innovative kit design companies around.
Thanks to Tom, Aaron, David, Aitor and James for taking the time to talk kits with us and making us all very welcome.
Posted by John Devlin
My interest in New Zealand football has been documented elsewhere on the site but I've also recently finished a set of home kit illustrations for all eight teams who play in the domestic New Zealand Football Championship.
Its odd that some of the templates used are a good few years old (Youngheart Manawatu and Hawkes Bay United) and yet some (Waitekere United) are back up to date. There's also a fair mix of manufacturers: Umbro (2), Nike, Lotto (4) and a brand I'm not familiar with, Suno. The shirts and shorts feature multi sponsorship and the NZFL sleeve patch. Many of the shirts also feature the logos of various trust organisations that in accordance with NZ government legislation help fund sport in the country.
Posted by John Devlin
For me, this is one of the classic kits of all time. Adidas were certainly enjoying a golden age in the early 80s – especially on the continent – with designs that just don't seem to have aged. This French home kit had so many really nice features; the non-contrasting collar (adorned with pinstripes), the plunging 70s white inset neck, the dainty adidas logo (minus text) and the low-slung FFF badge. Add to that the standard French tricolore three-stripe trim and you've got a real gem of a shirt. The design was worn up until the 1982 World Cup finals when the inset neck was then removed (presumably to keep the players cooler in the Spanish heat), but sadly the overall panache of the design lost something with this change. The only mystery for me looking back is why the socks only had two stripes instead of three?
Worn in: The successful 1982 World Cup qualifying campaign.
Worn by: Michel Platini, Dominique Rocheteau, Jean-Francois Larios.
Posted by John Devlin
Everyone associates Leeds United today with the colour palette of white, yellow and blue. But back in the 60s and early 70 the club employed a fairly loose mix and match arrangement of kits and colours including a frequently worn (whisper it) red away kit and this all-orange ensemble that made just one outing in the 70-71 season. The one and only appearance of this orange kit saw Leeds well beaten, ensuring that their regular red away outfit was the only change strip preferred from then on that season.
Worn in: A 3-0 defeat to Stoke City at The Victoria Ground in September 1970 – and this was after Leeds had only conceded two goals in the previous seven games.
Worn by: Eddie Gray, Billy Bremner, Norman Hunter.
Thanks to Neil Jeffries who provided the following scanned photo.

Posted by John Devlin
Regular contributor to the site Philip Marriott, a diehard Newcastle United fan and kit obsessive has sent in this wonderful article on the Toon's strange use of away kits over the years. A fascinating read from a fan's point of view. Cheers Philip!
They play in black and white….or most other colours!
The situation with Newcastle's away kits has always been a curious one. The Magpies have traditionally opted against change colours in the past or even changing the shorts and socks on the home kit. Indeed, the Toon wore white home shorts for the first time at Chelsea in 1980. Since then, white shorts and socks have been worn on the home kit many times, even at the expense of seldom worn change kits. Third kits have been irregular for Newcastle pre 2003, with the Green asics design of the 90's and plain red or blue being worn very occasionally in the late 60's/early 70's. This is peculiar considering that away designs have often been unhelpful, sometimes in white or silver. The latter was worn on a regular basis in the 80's causing regular clashes as Spurs and Luton among others.
The concept of a new away/3rd colour every year is a clear way to lead Toon fans to part with their hard earned, but also provides great anticipation as the colours often change yearly. In 03/4 there was a black away and silver third whilst in 04/5 there was a two tone blue effort and a great yellow third kit. The change kits were traditionally seldom worn up until 03/4 when each kit was worn several times regardless of clashes, exceptions being the 07/8 Argentina style kit and the 08/9 silver strip.
The addition of new kits has often proved popular, with a surge in the club shop for the 08/9 purple kit and 98/9 shiny blue away shirt. The only problem with some of these kits has been the inconsistency of their use. In 98/9, the home kit was sported at Spurs whilst the shiny blue design remained in the kit bag, likewise at the Southampton and Leeds matches that season.
The two designs of focus on are the away kits for 95/6 and 97/8, possibly the best and the worst Toon kits ever.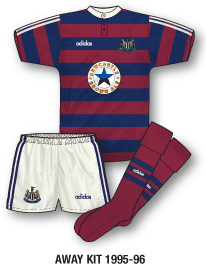 Worn with ecru shorts and maroon socks, the maroon and blue hooped kit in 1995, created by adidas in their first season and resembling the old kit worn by Newcastle West End was an instant hit yet saw only 5 competitive matches, the last of which was in October 1995! Strangely, it was not worn at Blackburn or Leeds later in the season. This great kit was worn during happy times, made even more iconic by stars such as David Ginola and Les Ferdinand. The shirt is a great reminder of traditional values and modern materials being merged into a classic design which reflected the wishes of the fans and the rigours of Premiership football.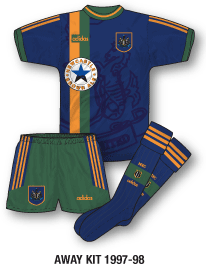 Now contrast this with the outrageous 97/8 design, worn only three times competitively. This kit was neglected for the matches at Derby, Spurs, Bolton, Sheffield United, PSV and more. It was used in three defeats, 4-1 at Leeds and then 2-1 at both Sheffield Wednesday and Southampton. Crazily, it was worn with three pairs of shorts and three pairs of socks, using similar colours! The standard kit at Leeds, customised white shorts and socks at Hillsborough and then the white HOME shorts and UNMARKED purple socks at the Dell. The curiosity here is the inconsistency of use and the number of shorts and socks worn. The rationale for kit choices by kit managers can be no more baffling than on these occasions, where the kit should probably have been worn regardless of its unpopularity. Nevertheless, the shirt sold well, as this was 1997 when replica shirt sales were soaring in this country. But surely the fans deserved more for forty pounds than 3 matches that season? Surely the clashes at Bolton, Spurs etc should have been avoided?
Whilst teams like Milan, and in most cases Manchester United, have a set away colour, Newcastle never have. White prevailed from the 1920's until the late 60's but this is highly unpractical and was before kit replicas became a fact of life. Should teams have a set away colour? A yellow and green design similar to the 70's would sell well, but are Newcastle, by luck rather than design, at a commercial advantage to most teams? If yellow and green was worn every year, sales would surely decline but if there is anew colour each time, fashion conscious fans are faced with two forty pound change kits a year, and a good income for the club. Quite what has happened with the away kits over the years or why, only the kit manager of the time can answer. But like the strange two blue kits scenario at Portsmouth in 03/4, it remains one of the Premier Leagues' kit mysteries. What is indisputable though is that the shirts will sell, money will be made and we can expect new designs each year. Enjoy.
Posted by John Devlin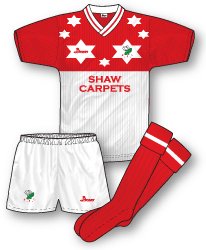 As anyone who has read my books will confirm, I'm not one eager to negatively criticise kit design as I realise that such a matter is always subjective. Having said that, it is difficult to find anything too positive to say about this truly extraordinary shirt from the kit design era that taste forgot: the late 80s/early 90s. Made by Beaver International who specialised in lower league outfits, the jersey dispenses with the club's traditional all-red colour scheme and is instead white with a red yoke liberally adorned with a bold display of stars – a motif rarely seen on football shirts. Topped with thin shadow stripes, a wrapover V-neck and the sponsorhip of Shaw Carpets it is, it has to be said, probably the least popular of all Barnsley kits over the years.
Worn in: Two excellent wins over eventual Division 2 champions Leeds United (1–0 at home, 2–1 away). Also worn in a 7–0 drubbing at the hands of West Brom.
Worn by: Paul Futcher, Steve Agnew, Owen Archdeacon.
Posted by John Devlin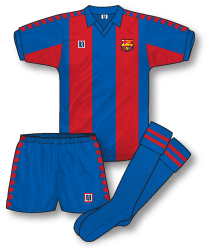 One of the most distinctive continental shirts worldwide is undoubtedly that of Barcelona. Until the club's recent arrangement with Unicef they were famous for never allowing their sacred shirt to be 'desecrated' by a sponsor's logo. However the powers that be's strict stance on the pureness of the Barca strip didn't seem to prevent some truly hideous designs being worn by the club. Although this outfit (produced by Meyba) dates from an era when Barcelona did have a classic aesthetic on the pitch and is pretty familiar to UK fans thanks to the high profile presence at the Nou Camp of Terry Venables and several British players at this time. The kit was worn for an incredible seven seasons and featured a classic combination of stripes and a subtle Meyba trim on the sleeves making it surely one of the more memorable Barca outfits.
Worn in: Barcelona's 1984–85 La Liga winning season.
Worn by: Gary Lineker, Steve Archibald, Mark Hughes.

Posted by John Devlin
I was delighted when friend of the site Denis Hurley mentioned contributing an article around one of his pet hates concerning football kit design and sent in this great feature. Denis is a freelance sports journalist in Ireland who has an unhealthy obsession with football kits.
It is often odd when you think back to the things you did when you were a little boy. When I was eight years old, at the beginning of the 1992-93 season, clearly following real football was not enough to satisfy me, and so I created an imaginary club. Where I, being from Ireland, got the name 'Clydeonian' from I'll never know (I always took an interest in Caledonian Thistle after I heard of them a few years later), and my method of squad selection was probably not the best either.
Basically, I started off with a team comprised of players whose Pro-Set cards I had, meaning a strikeforce of Paul Merson and Owen Archdeacon, though I allowed myself to sign Dragan Stojkovic when I realised Andy May (of Bristol City in real life) was not up to the standard required of a team chasing a fantasy championship. You're probably wondering why such meanderings are appearing on a site dedicated to kits. Well, you see, even back then I held the same principles towards kits that I still do.
In my head, and on numerous sheets of paper spent drawing goals from games, Clydeonian wore an adidas kit. It was a mixture of what France and Rangers wore at the time, with the three stripes over either shoulder, two red and one white, with white shorts and blue socks with red tops. The away was exactly the same design, only white where the blue was, blue where red was and red where white was, with blue shorts and white socks, with the third following the same rules, red the main colour. And this is the point I am trying to make – I like it when clubs have a set of kits where the shorts and socks can be properly mixed and matched, as the club's identity is retained no matter what kit is worn as all the colours are there.
Manchester United's strips in 1996-97 were classics in this regard, the shorts and socks exactly the same design, with the kits worn in many different variations.
To a lesser extent, United's kits two seasons ago also matched up to that criteria, with the home and away kits both using the same pair of black socks as first choice. However, consider United's offerings from 2006-07.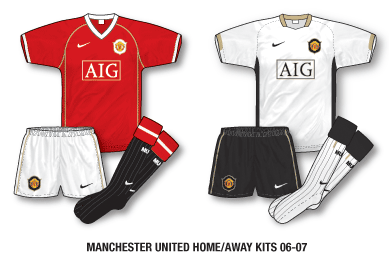 The home was the usual red/white/black, with gold trim on the shirt and shorts. The away was white, with black shorts and white socks, gold appearing all though as well. Red, often a trim on white United aways, was missing from the kit unless there was a sock clash, as at West Ham that season, where the home socks jarred with the rest of the kit. And that is what annoys me (and sometimes I worry that niggling little things like this irritate me far too much and I should get out more) – when a prominent colour in a side's home kit, or one very close to it, is featured on the away kit, only paired with a different colour. Take Everton's away outfits from 2006-07 until last season. All white shirts, but all with navy or black shorts, as opposed to royal blue, last featured prominently on a Toffees' away in 04-05, when plenty mixing and matching occurred.
As I am Arsenal fan, let's take a look at the Gunners' three kits from 07-08.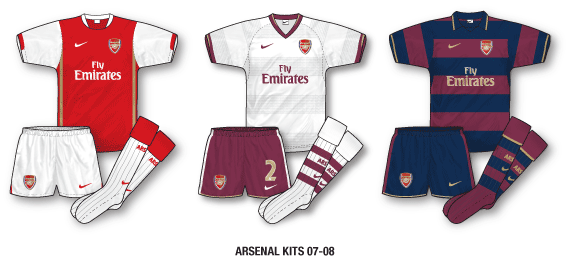 The home was the one launched a year previous, classic red with white sleeves and white shorts and socks, with gold trim on the shirt. Gold was also the third colour on the new away and navy and redcurrant hooped third, the only colour to feature on all three kits. White was on the home and away, with redcurrant on the away and third, with red confined to the home and navy, the tertiary colour on many an Arsenal home, only on the third kit. Despite the fact that colours appeared on more than one kit, there was no mixing and matching. This meant that four different pairs of shorts were used (regular white home, recurrant away and navy third as well as white change away shorts at Sheffield United in the Carling Cup) and five different sock designs (white and red with the home kit, redcurrant and white hoops and plain redcurrant with the away and redcurrant and navy with the third). You can't help but feel that, with a little more thought from Nike, the away would have been trimmed in red with red shorts and socks, paving the way to mix and match.
Let me point out, however, that I'm not calling for all teams to have aways that reverse their homes, I love yellow and blue Arsenal away kits, but when things are so near and yet so far, the lack of foresight seems silly.
(C) Denis Hurley 2009
Posted by John Devlin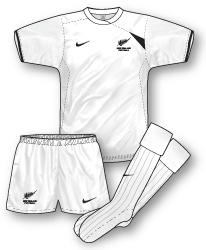 With all the fuss surrounding Ireland's controversial failure to qualify for the 2010 World Cup it may have escaped people's notice that a small country at the bottom of the world have qualified for their first World Cup since Spain 1982. Yes, thanks to a 1–0 win over Bahrain, New Zealand's 'All Whites' (would it have been better to have them play in black like their famous rugby counterparts, or is that too sacred?) will be in South Africa next year.
Their kit for the qualifying campaign was the standard Nike template worn in yellow as Fulham's third kit last season. The sharp eyed amongst you will also recognise it as the design I chose for the official Nike 'True Colours' shirt, so obviously its a favourite design of mine.
With most of my family now living in New Zealand I will certainly be cheering the All Whites next year.
Worn in: The Asia/Oceania World Cup play-off 1–0 win over Bahrain. The winning goal scored by Plymouth Argyle's Rory Fallon.
Worn by: Ivan Vicelich, Ben Sigmund, Tim Brown.
Posted by John Devlin
Scotland are known throughout the world for their navy shirts, soon to be revamped courtesy of the SFA's deal with adidas. But throughout the 1880s, 1890s and the first decade of the 1900s they also occasionally sported a different home strip of pink and amber (officially known as 'primrose') hoops – the racing colours of racehorse owner Archibald Philip Primrose, Lord Roseberry, who was an early patron of the game north of the border in the late 1880s.
The unique colour combination was resurrected as a change strip (illustrated) after World War 2 when it made a handful of appearances. Contrary to popular opinion, as far as I can see, the kit's last appearance was not in 1951 but actually 1949 against France at Hampden Park.
Results were pretty good in the Roseberry colours and I for one would love to see it brought back as a Scotland change strip by adidas. As well as its individuality it would bring tradition and pride back to the Scotland side as it rebuilds after failing to qualify for the 2010 World Cup.
Worn in: The 1949 2–0 win over France.
Worn by: Willie Waddell, George Aitken and Billy Steel.