Posted by John Devlin
Nike have stuck pretty rigidly to Villa's traditions since arriving as kit supplier in 2007. This time round they've replaced the light blue necks that they've used on all three of their previous Villa kits with a non-contrasting claret V-neck design and added a Croatia-esque chequerboard pattern down each side of the shirt to add some degree of flair. A similar pattern (reduced in size) forms the trim on the shorts. The biggest change (apart from the presence of new sponsor FxPro who replace children's hospice, Acorns) is the introduction of claret socks for the first time since 2002–03. FxPro are a foreign exchange trading company who must be doing well as they are also sponsoring Fulham this season! Although its an effective, traditional strip and the chequerboard motif lifts it somewhat I can't help but think that Villa kits in recent years are stuck in a bit of a rut. Its interesting that Nike have often dabbled with Arsenal's white sleeve heritage but are less keen  to tamper with Villa's blue. Is it a teamwear issue perhaps?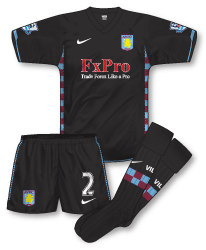 The away kit follows the same design (including the chequerboard sides) but in black – the first time the club have worn the colour to this extent in 10 years. Utilising the same template with its splashes of claret and light blue works really well (especially on the socks) and ensure that it retains Villa's identity for the 2010–11 season. The FxPro logo in red raises questions of legibility however.
19 Responses to "Aston Villa 2010-11 Kits"
Leave a Reply