Posted by John Devlin
I was asked a while ago to be part of a brand new documentary on those pioneers of the replica kit market Admiral Sportswear and I'm delighted to say that at last the finished article is ready!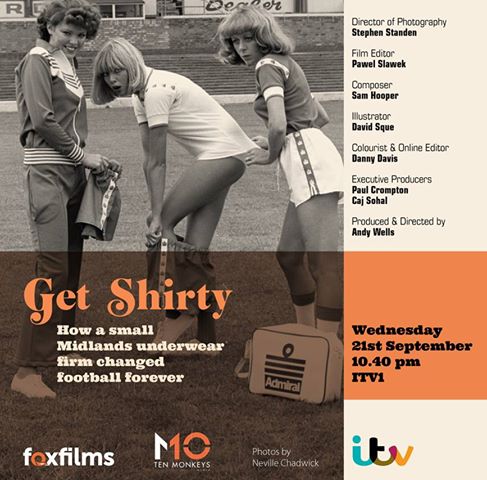 It is entitled 'Get Shirty' and will be screened on ITV1 this Wednesday 21 September at 10.40pm. It was such a joy and honour to be involved and from what I've seen of the final programme it will be fantastic. There's interviews with key personnel in the Admiral story including designers, factory workers and of course the owner back then in those halcyon days, the legendary Bert Patrick.
I was interviewed extensively for the documentary over the period of two years and talked at length about the impact and the incredible legacy this small firm in Leicester started.
The first trailer has just been released and can be viewed here:
https://www.youtube.com/watch?v=SvJwi81BUAU
Get Shirty – Wednesday 21 September 2016, 10.40pm,  ITV1
3 Responses to "Get Shirty – Admiral Documentary"
Andy Rockall - Statto_74 Says:
September 21st, 2016 at 12:27 pm

Is anyone else as excited as I am? Don't recall feeling this giddy on Christmas morning. Twitter is awash with kit chat.

Ciaran Says:
September 21st, 2016 at 2:37 pm

Looking forward to hearing from the kitmaster tonight. Be nice to look at those old Leicester city 70s kits again.

Best of luck with it Dev.

Steve Browne Says:
October 5th, 2016 at 8:52 pm

Having heard about this documentary a couple of years ago, I was beginning to wonder where it had gone. Really worth the wait! Added to significantly by adding some depth, such as the designer Lindsay Jelley's admission she knew absolutely nothing about football – hence she designed such ground-breaking styles, which have never been matched. The anecdotes were superb, and one wonders where Admiral would have gone, if they'd avoided the receiver?
Personally, I've always thought that it was of its time, the immediate period just prior to shirt sponsorship, that allowed innovation in football kit design that would have been restricted by the sponsors' thereafter. Consider, how on earth West Ham's chevrons or Coventry's 'dynamic stripes' have fared with an ugly sponsor logo?
Leave a Reply