Posted by John Devlin
To wrap up my reviews/summaries of all Premier League 2010-11 kits are Liverpool's three strips for the season. I posted a detailed initial review of the home on its unveiling back in July. Nine turbulent months later for Liverpool my opinion is still pretty much the same. Looking at the other new adidas kits that have appeared in the past few months its good to see that they gave Liverpool a unique outfit. I have warmed to the design slightly but am not really a fan of the shadow pattern used throughout which seems to dull down the vibrancy of the shirt. The gold trim is a nice touch and something I would like to see used (with care!) on future Liverpool home kits.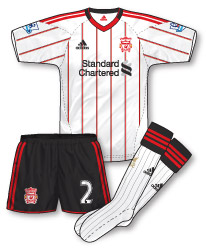 Always good to see the Reds away from home in white and black and the 2010-11 adidas nearly, but not quite ticks all the boxes. I think my main issue with it is the effect of the black red and gold pinstripes. Pedantic maybe, but using three colours here seems to create thicker stripes that look too heavy for the shirt somehow. Its a nice idea but I wonder if there was a better way to incorporate the three colours into the pinstripe design? Still, the rest of the kit gets my thumbs up especially the socks with their black and red turnover.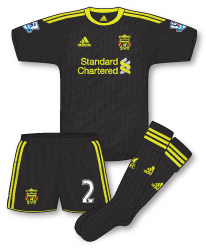 The third Liverpool kit for the season sees a return to black (yet again), this time trimmed with a bright, flurescent yellow. The shirt fabric incorporates the same shadow pattern as the home but for me the whole strip is a tad dull and doesn't really excite me. Its seen a fair bit of use this season though and the yellow colour has formed the main theme of a lot of the club's European training wear. Best part of the shirt for me is the fact that the Liverpool crest has switched to yellow with only the flames retaining the red colour (a trick also included on the recently unveiled 11-12 away kit)…but don't get me started on the Liverpool crest…
12 Responses to "Liverpool 2010-11 Kits"
Leave a Reply