Posted by John Devlin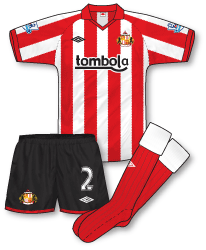 Not much to complain about kit-wise at The Stadium of Light this season as Umbro have turned out a solid pair of strips for The Black Cats. The home design is clearly based on Umbro's classic late 70s/early 80s Sunderland outfit with its tidy collar and sober stripes. On closer inspection though the stripes actually feature a very subtle zig zag weave which is comprised of tiny Umbro diamonds. A nice touch and again reminiscent of late 70s striped kits which were often seen to have a similar effect due to the style of the fabric. The socks are also based on the late 70s pairs and feature simple white turnovers. Online bingo company Tombola become the club's new sponsor although the logo doesn't feature on children's replicas due to recent gambling legislation. The whole design of the kit is simple but very effective – plus its refreshing to see a jersey that doesn't mess around with the presentation of the stripes – adidas take note!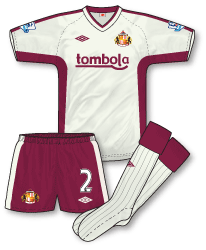 The club's new away is another superb Umbro strip. I have to admit I really like the subtle muted off-white colours that are appearing this season (see also Everton's third kit) and this shirt is comprised of a colour rather grandly named as silver birch and trimmed with zinfandel (that's claret to you and me). OK,  naming issues aside, the colours form such an interesting combination on the strip (which is almost identical in design to Blackburn's away kit) and create a really individual and classy looking outfit. One of my favourite's of the season.
27 Responses to "Sunderland 2010-11 Kits"
Leave a Reply