Posted by John Devlin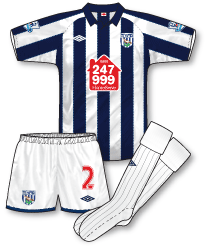 West Brom kits always seem to be a bit hit and miss with me but I can't put my finger on why. Maybe its the fact that the navy is often so dark it edges the colour scheme towards black and white and the overall effect is neither one thing or the other – I don't know. Having said that the club's 2010-11 home kit is one of the side's better outfits in recent years. Like the Sunderland kit it borrows the trappings of Umbro's late 70s strips for the club including the zig-zag trimming on the stripes and even going so far as to reinvent that jersey's button-up neck (courtesy of an adaptation from the previous England kit). The shorts feature a simple trim along the leg and the socks are as plain as they could be. After a couple of years wearing shirts without a regular sponsor this year the Baggies have struck a deal with home emergency repair experts HomeServe who have decided to include a huge logo featuring their cunningly constructed phone number.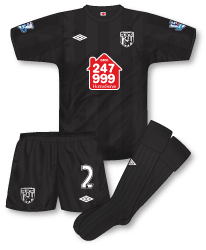 Away from home the club seem to have taken the advice of Spinal Tap's Nigel Tufnel and gone for a design that is 'none more black'. With no contrasting trim whatsoever this mean, moody and magnificient strip's only concession to flair is the inclusion of very subtle shadow stripes. In my view its simplicity makes the outfit one of the better black strips knocking around at the moment – its plainness means the necessary logos, badges, crests etc are presented clearly without clashing with the design. My only criticism is that as a set I would question whether the black of the away kit 'clashes' with the navy of the home.
29 Responses to "West Bromwich Albion Kits 2010-11"
Leave a Reply