Can it really be two months since my last blog? Still, I hope there's been enough kit related features and articles on the site to keep you entertained!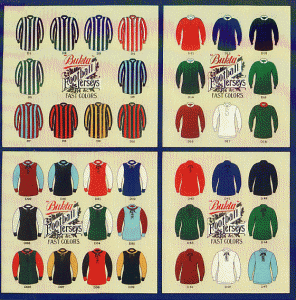 I've just come back from a week away in Herefordshire where despite not being near a computer I managed to get a football kit fix in Tintern Abbey gift shop of all places! I spied on the rack this wonderful card featuring a selection of historical Bukta kits from an old advertisement reproduced from the National Archive.
What I found surprising on my travels though was that all of the sports shops I visited only seemed to stock replica shirts of the big 4, Chelsea, Liverpool, Man Utd & Arsenal. It was a bit sad not to see any local sides represented. Still I did find one shop with a great selection of obscure rugby jerseys which was fascinating.
Already the 2010 World Cup kits are starting to appear. I'm not overly impressed by many of the adidas outfits that have already been unveiled so far – maybe they'll grow on me. Again, they seem too fiddly and are overwhelmed with patterns and flashes – I know that seems to be adidas' trademark style against the simplicity of Puma, Umbro and Nike – but at the moment I can't quite get my head around what they are trying to do. It'll be interesting (for me anyway!) to see what they do with the Scotland kit next year. I'll look at these latest adidas kits in detail in a future post.
With the World Cup in mind I've also added a new Kit Cupboard feature on the current New Zealand home kit. New Zealand (my kind of adopted country due to my folks now living out there) of course qualified last week for South Africa. By sheer coincidence their kit is the same as the one Nike produced for True Colours!
Umbro have asked me to contribute some graphics for a new vote they are doing on their blog, namely the best Umbro kit of the last decade. Have a look at the selections and vote for what you think is the best kit in each season: http://blog.umbro.com/ More seasons to follow shortly.
I know I've mentioned this before but another site well worth visiting is Leicester City fansite Bentleys Roof. They have posted a few very entertaining articles on past Foxes kits for which I have contributed graphics: http://www.bentleysroof.co.uk/category/the-kit-room/
If you would like to use any of the kit illustrations from either my site or books please drop me a line.
Thanks to invaluable assistance from many of you (but especially Steve Browne and Martin Reynolds) I have added a few more kits the Kit Cupboard special on Admiral in the 70s including some great Orient and Sheffield United kits. Unfortunately the gallery feature is playing up a bit at the moment meaning they are a little jumbled up in order! But I hope to get this sorted soon. People often ask me why I didn't go further back in time on my books. Producing this Admiral special reminds me why! Kit usage was just so inconsistent back then with little changes and irregularities occuring all the time. Many of the Admiral kits went through minor tweaks each season (and often mid-season!): eg. badge positioning, Admiral logo colour and socks trim etc etc. To document these all accurately would be nearly impossible – you would need a photo from every match ever played I think – and potentially a little dull. What I've tried to do is just illustrate the main kit from each period.
Glad to see my QPR kits section is attracting some interest. I have also updated these recently and added some more kits.
Finally, friend of the site Denis Hurley has contributed a great little piece about a particular bugbear of his, namely home/away/third kits that aren't able to be "mixed and matched" throughout a season. It follows on nicely from the debate about Liverpool's many shorts that have been worn this campaign. Check it out here.
If you'd also like to contribute an article to my site then please let me know!