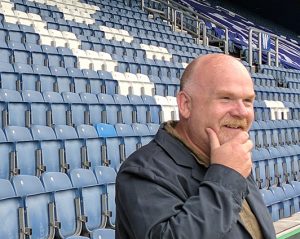 My obsession with football kit design started at the age of 8 with the discovery of The Observer Book of Football and it's colour plate section that depicted the shirts of the Football league at that time. Fascinated by the colours and designs the rest of my life has seen me, in some way or other, drawing and documenting football kit design.
Starting with felt tip pens on the back of cereal packets and leading through to last year's True Colours: International Football Kits book – my love of football kit history, design and culture has been constant in my life.
My first book, True Colours, was published in October 2005 with the follow up, True Colours Volume 2, following a year later. The books aimed to be the first to document the kit history of the top teams in England at that time. Nothing like it had been attempted before; to illustrate team strips with a level of detail and sophistication.
Since then I have been fortunate enough to be involved with a myriad of different football kit projects including illustrated and writing for football programmes, books, magazines, newspapers, radio and TV interviews, the Get Shirty documentary that told the story of Admiral, and including of course my recent series of officially approved and licensed kit history prints.
I'll expand on my story once this new website is live and try to encompass all of the various kit-related material I've worked on.
Click here to contact me.