The third largest sportswear company worldwide (after Nike and adidas) is Puma who were born in Germany to the other half of the Dassler family (Adi of course founding adidas) Rudolf. In fact using a similar trick to his brother, Rudolf originally named the company Ruda before changing it to Puma in 1948. Like Reebok the company gained prominence in the sports footwear market before focusing on football kit.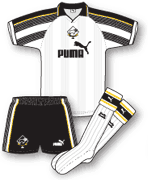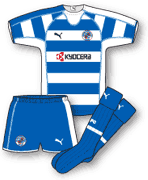 Their first foray in England was in the early 90s with Derby County and Sheffield Wednesday with the teams sporting some very contemporary and forward thinking designs. Later in the decade Everton and Stoke followed suite and today the firm still produce some fine outfits for Coventry, Tottenham and Reading amongst others.
A glance at the line up of kits for Euro 2008 reveals that the international football strip market is dominated by Puma, adidas and Nike.
Sadly the Dassler brothers' infamous falling out that led to the formation of Puma and adidas was never patched up and the brothers died unreconciled.