Tracking down international kits history can be extremely difficult – mainly due to the relatively few games that are played on the international arena (until fairly recently) and the sparse photographic evidence that emerges from games.
The Wales kit history is particularly complex with more twists and turns than most. Since True Colours 2 was published several missing Wales outfits have been brought to my attention – primarily thanks to Simon 'Shakey' Shakeshaft at the rather excellent www.footballmatchshirts.co.uk. Shakey is a massive collector of Wales match worn shirts and has been able to give me a more complete rundown of Wales' strips and correct a few mistakes.
Some of these kits have been included in the updates section of my site but I thought it might be good to go through them again here, along with the two classic Admiral kits of the late 70s: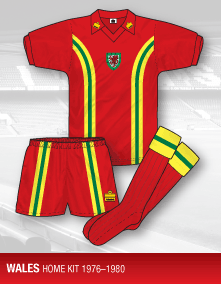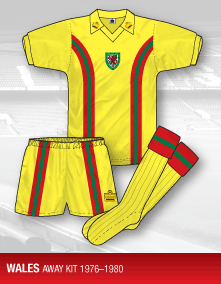 Admiral's kit design revolution extended to the Wales national team in 1976 with a design very familiar to all football kit afficianados. Known affectionately as the 'tramlines' the kit featured arched yellow and green strips that extended onto the shorts. The badges was placed centrally with an Admiral logo cunningly placed on each large wing collar ensuring they would appear prominently in every mug shot of a Welsh player – marketing genius! The away version retained the design and simply flipped the colours.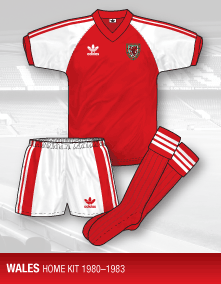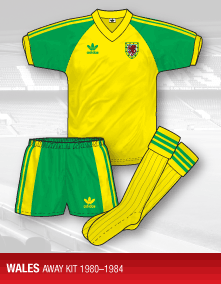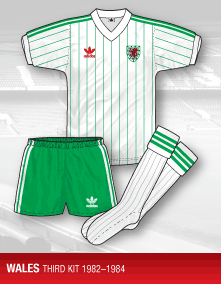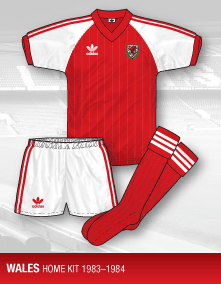 Wales entered the 80s with a smart new set of outfits from adidas. The red shirt now also featured white sleeves accompanied by the trademark adidas three stripe trim. The shorts featured large red panels on each leg. The away kit once again mirrored that of the home. One of the rarest of all Wales shirts was the white third kit that was issued in 1982 (missing from True Colours 2). Never worn, the shirt featured green pinstripes and was paired with green shorts and white socks. In late 1983 the home kit went through a slight modification with shadow pinstripes added to the shirt fabric and the shorts switched to a more standard adidas three stripe pair. This kit was only worn in 2 or 3 games in 1983 and 1984.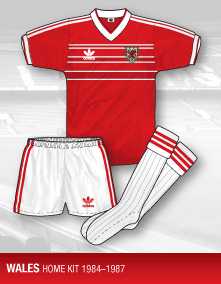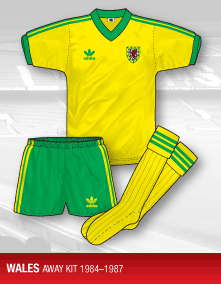 The second and final set of adidas kits saw the introduction of home design featuring a sequence of horizontal white pinstripes across the chest. It was a curious design that, as far as I'm aware, was not employed by an other adidas teams of the era. The away shirt for this period was not, as included in True Colours 2, a reversed version of the home, but was in fact a rather plain yellow and green ensemble. It is a common held belief that the away kit of this period was white – a misconception that has its origins with Subbuteo who produced a miniature Welsh side in that very kit.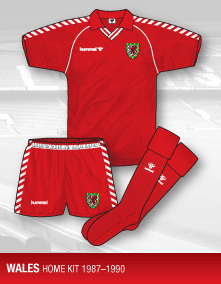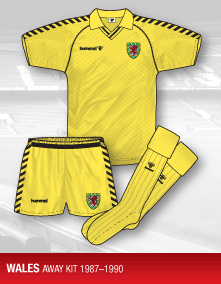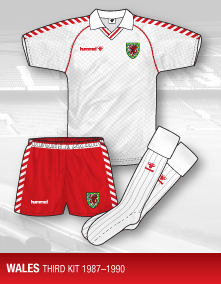 The Welsh side ended the decade in this superb set of kits from Danish sportswear giants Hummel. Often criticised at the time, in my view they made classy strips with adventurous designs. The Welsh home was now all red with non-contrasting V-neck and cuffs and white chevron trim and piping. The shirt fabric also featured a shadow chevron design. The away shirt was not yellow and green as I illustrated it in True Colours 2, but in fact strangely yellow and black. Finally, another rare design that slipped through the True Colours net was this white version of the home kit that was worn with the home shorts and unique white socks. This third kit was only worn once, in a 1-0 defeat to Holland in an Italia 90 World Cup qualifier. It was decided that the orange of Holland was just too close to both the Welsh home and away shirts of the time.