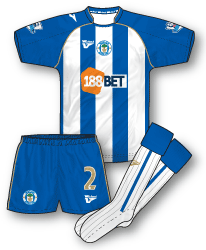 Wigan Athletic Home Kit 09-10
After just one year with Champion Wigan have switched to lower league kit specialists Vandanel – giving the company their first ever English top flight kit. Its a straightforward design, nice and tidy, nothing too flash and certainly fair more sedate than the angular excess of the Champion kit. Gold trim tops of the outfit with the club badge placed centrally. As with many kits at the moment Vandanel sneak an extra logo on to the shoulder. The shirt also features the logo of new sponsors 188 Bet who also sponsor Bolton – the first time (I believe!) the Premier League has featured the same sponsor on two different teams since the NTL days of Aston Villa and Newcastle.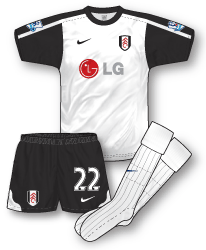 Fulham Home Kit 09-10
Nike's third kit for Fulham sees them introduce a vastly different design to the previous two strips for the West London club. Template critics will no doubt pick up on the same design used by Arsenal and Southend Utd amongst others, but it does suit the simple black and white of Fulham. For me personally, Fulham's Puma kits were the highpoint in recent years of the club's kits but this shirt with the introduction of black sleeves is a breath of fresh air.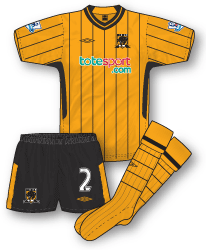 Hull City Home Kit 09-10
Hull hung on to their Premier League status by the skin of their teeth last season and 09-10 sees them in a new design from the rich canon of kits that Umbro are launching for the forthcoming season. The club seems to be alternating between amber shirts and black and amber striped shirts although this jersey does feature the most 80s of all football kit fashion; pinstripes. The shorts are standard Umbro issue and the socks feature a nice pinstripe hoop design. New sponsors totesport.com are also included on the shirt for the first time. Its an elegant looking design but reminds me too much of Umbro's Wolverhampton Wanderers early 80s kit.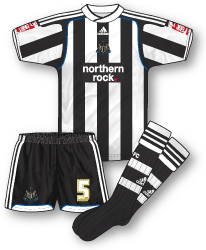 Newcastle United Home Kit 09-10
In all the fuss about Newcastle's 'challenging' away kit everyone seems to have forgotten that the club also have a rather superb new home kit for the new season – although supporters will still find the red sleeve badges of the Coca-Cola Championship hard to take. The template is essentially the same as the away but works so well in black and white. Its also good to see some more traditional looking stripes on the Toon jersey – the first time this has occured since 2001. Despite their financial issues Northern Rock remain as sponsors. Another plus point is that once again, Newcastle will retain this kit for two seasons.