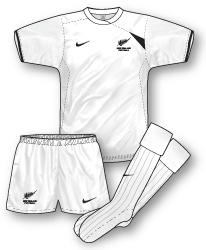 With all the fuss surrounding Ireland's controversial failure to qualify for the 2010 World Cup it may have escaped people's notice that a small country at the bottom of the world have qualified for their first World Cup since Spain 1982. Yes, thanks to a 1–0 win over Bahrain, New Zealand's 'All Whites' (would it have been better to have them play in black like their famous rugby counterparts, or is that too sacred?) will be in South Africa next year.
Their kit for the qualifying campaign was the standard Nike template worn in yellow as Fulham's third kit last season. The sharp eyed amongst you will also recognise it as the design I chose for the official Nike 'True Colours' shirt, so obviously its a favourite design of mine.
With most of my family now living in New Zealand I will certainly be cheering the All Whites next year.
Worn in: The Asia/Oceania World Cup play-off 1–0 win over Bahrain. The winning goal scored by Plymouth Argyle's Rory Fallon.
Worn by: Ivan Vicelich, Ben Sigmund, Tim Brown.