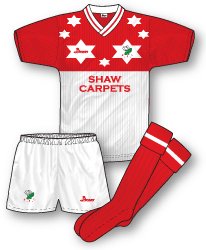 As anyone who has read my books will confirm, I'm not one eager to negatively criticise kit design as I realise that such a matter is always subjective. Having said that, it is difficult to find anything too positive to say about this truly extraordinary shirt from the kit design era that taste forgot: the late 80s/early 90s. Made by Beaver International who specialised in lower league outfits, the jersey dispenses with the club's traditional all-red colour scheme and is instead white with a red yoke liberally adorned with a bold display of stars – a motif rarely seen on football shirts. Topped with thin shadow stripes, a wrapover V-neck and the sponsorhip of Shaw Carpets it is, it has to be said, probably the least popular of all Barnsley kits over the years.
Worn in: Two excellent wins over eventual Division 2 champions Leeds United (1–0 at home, 2–1 away). Also worn in a 7–0 drubbing at the hands of West Brom.
Worn by: Paul Futcher, Steve Agnew, Owen Archdeacon.