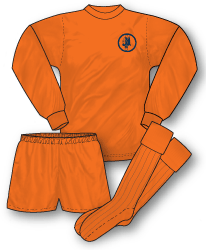 Everyone associates Leeds United today with the colour palette of white, yellow and blue. But back in the 60s and early 70 the club employed a fairly loose mix and match arrangement of kits and colours including a frequently worn (whisper it) red away kit and this all-orange ensemble that made just one outing in the 70-71 season. The one and only appearance of this orange kit saw Leeds well beaten, ensuring that their regular red away outfit was the only change strip preferred from then on that season.
Worn in: A 3-0 defeat to Stoke City at The Victoria Ground in September 1970 – and this was after Leeds had only conceded two goals in the previous seven games.
Worn by: Eddie Gray, Billy Bremner, Norman Hunter.
Thanks to Neil Jeffries who provided the following scanned photo.