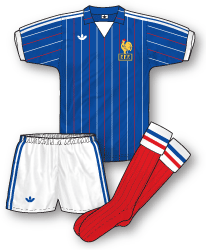 For me, this is one of the classic kits of all time. Adidas were certainly enjoying a golden age in the early 80s – especially on the continent – with designs that just don't seem to have aged. This French home kit had so many really nice features; the non-contrasting collar (adorned with pinstripes), the plunging 70s white inset neck, the dainty adidas logo (minus text) and the low-slung FFF badge. Add to that the standard French tricolore three-stripe trim and you've got a real gem of a shirt. The design was worn up until the 1982 World Cup finals when the inset neck was then removed (presumably to keep the players cooler in the Spanish heat), but sadly the overall panache of the design lost something with this change. The only mystery for me looking back is why the socks only had two stripes instead of three?
Worn in: The successful 1982 World Cup qualifying campaign.
Worn by: Michel Platini, Dominique Rocheteau, Jean-Francois Larios.