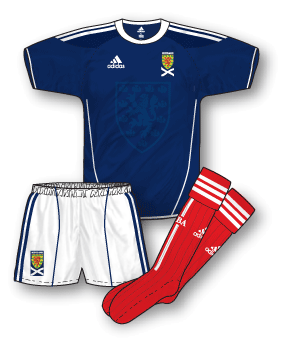 One of the most eagerly awaited kits of the season (well, in my house anyway) was the new Scotland home outfit – the first to be made for the team since adidas replaced Diadora last year. Of course the massive marketing and promotional juggernaut behind the Umbro England kits has dominated the kit news in recent months but the importance of Scotland's new strip cannot be underestimated given the lacklustre response amongst the Tartan Army towards the last few Diadora efforts and the power and status adidas have in world football.
Expectations were high and in my view, thankfully, adidas have delivered with a superb strip devoid of their usual complex trim and coloured panels and featuring instead a relatively straight forward, stylish and restrained effort. Phew.
Everyone now knows this Scotland kit is a 'type 2 adidas design' (although honestly, had anyone heard of a 'type 2 adidas design' before it was announced in connection with this strip!?) It basically means thats its a generic adidas template, badged up for Scotland. I can't actually recall who else has worn this design to be frank and to me it doesn't matter.
The strip combines the heritage and pride behind the Scotland strip and the gravitas and sportswear expertise of adidas. The jersey features a simple crew-style neck, the classic three-stripe trim and subtly curved piping running down the front. The shorts continue the piping theme in navy and the good old red socks are present with 'Alba' (Gaelic for Scotland, not the low-budget hi-fi firm) on the front.
As as a Scotland fan I am delighted with the kit and mightily relieved the adidas branding didn't overtake the identity of the country. My only gripe, and I am not alone in this view, is that the large Scottish crest watermark on the front of the shirt just doesn't seem to work. In principle the idea is sound, although a little early-90s, but I think its just the application of the crest looks, dare I say, cheap. Its only a small moan to be honest, and I have a suspicion it will look a lot better in the flesh which I hope to discover when I purchase my replica when they are released in the Summer.
It's a great start to adidas' relationship with Scotland and thanks to a 1–0 win over the Czech Republic in the kit's only outing so far, a great start to new boss Craig Levein's managerial career with the national side.