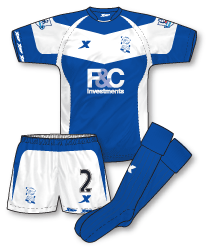 Birmingham prepared for 2010-11 with the announcement of a new kit deal with Chinese sportswear manufacturers Xtep. The club previewed four designs and asked supporters to vote on the one they preferred. Faced with some simple, clean designs fans, bizarrely, voted for this strip. Although it carries on some degree of tradition by featuring a large expanse of white on the kit I can't help but think that the designs is just too full-on. One rejected design was virtually identical to this but with the broad white V removed and in my view this would have been a better choice. One element I do like is the inclusion of small Xtep logos on the cuff of the right sleeve and the left leg of the shorts. Although the original illustration of the kit showed blue and white socks, for some reason the final versions worn are just plain blue.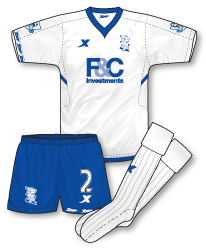 Perhaps as a reaction to the somewhat over the top flamboyance of the home shirt the away couldn't be much simpler. Just an elegant pointed V-neck and the merest of blue trim under the arm adorns this jersey – apart of course from club badge and sponsors logos (including the small Xtep marques on the sleeve). Plain blue shorts and white socks complete the outfit although the shirt has already been worn with the white home shorts, creating a rather unbalanced combination.
Given the amount of white on the home shirt and the plain white away, there is clearly a need for a third kit. Rumours are that it will be red but no confirmation of this has yet been announced.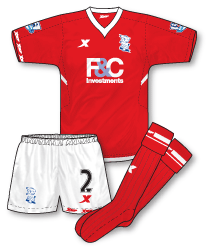 STOP PRESS – Although at the time of writing (August 2010) no official announcement about the third kit has been made evidence on the Premier League website shows how it will look. Its essentially a red version of the away kit.