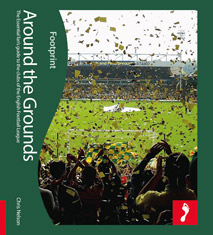 Around The Grounds by Chris Nelson is a new book just published by Footprint.
Its the essential fan's guide to the clubs of the English Football League and contains all the essentials from pre-match pints and pies to rituals and histories, all brought to life with stunning photography.
Whether you're an armchair expert, or a firm fixture on the terraces, Around The Grounds is your pass through the gates, hearts and minds of the 92 clubs of the English Football league. Broken down by club, the story of each hallowed ground is told, celebrating the victories and commiserating the losses both on and off the pitch, taking in the defining moments as well as the legendary characters that helped to fix each club in the hearts of their supporters.
Combined with essential facts, stats and little-known nuggets of information, and illustrated throughout with full colour photography, this book gives a unique insight into the life and personality of each team and those who support them.
This book combines contemporary design, knowledgeable and passionate writing, classic images from past and present plus an illustrated chapter I've contributed on how football kits have come of age.
The whole book is a highly entertaining read that really gives an insight into what makes other teams and their supporters tick. I must admit I struggle to put it down once I pick it up!
To have a virtual flick through some of the pages online click here.
To order it from Amazon click here.