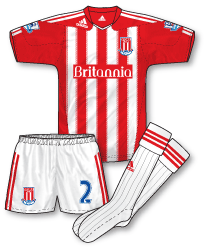 The buzz around the Britannia Stadium when it was announced that Stoke's 2010-11 kit would be made by adidas was palpable. Sadly the club ended up with a home strip that didn't really live up to expectations and left many supporters a bit deflated. In my view the shirt struggles too hard to fit in with an adidas template that first saw the light of day in the World Cup, and the stripes are made confusing and messy by the addition of 2 dashed lines on the outer edge. It just feels too forced and unnecessary. The rather pedestrian minimalist neck also does nothing to improve the design. The shorts and socks are relatively sober adidas fare, with red alternative pairs also lined up if required.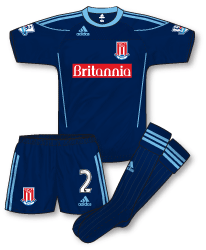 Still, if the home is arguably one of the worst in the Premier League this season the away does perform better. Again, another World Cup template is transformed into what is a rather fetching navy and sky blue ensemble. The lopsided adidas/Stoke badge placement (caused by the chest panel) is accompanied by the ominpresent Britannia logo – would this look better simply reversed out of the blue in white with no hint of red? The shirt also features a very subtle abstract shadow pattern. Shorts and socks follow the design of the home with the exception that on the shorts the adidas logo appears on the front in its traditional position rather than on the back as is the case with the home kit.
I would guess that we will be seeing a far more traditional Stoke home shirt for 11-12.