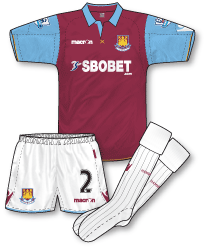 Up until this season I haven't been the biggest fan of Macron kits. Having seen them close up during a Southend v Leeds game last year I was amazed at just how big and baggy the Leeds kit seemed and how this style made the outfit look very dated. However I worked on some Italian team Macron kit illustrations last year and was amazed at how much better their designs for continental sides seemed.
So I was delighted to see that for 2010-11 Macron are making kits for several English teams and all of them are a vast improvement on some of their previous strips. The ones provided for West Ham are, in my view, superb and manage to bring the heritage and history of the club together with some really nice, but not over-fussy detailing, and a very contemporary look and fit. The home shirt reminds me a bit of the Pony home kit from 1995 with its formal collar and simple pale blue sleeves (constructed with interesting panelling). The neck of the collar is adorned with two gold stitches arranged in to a cross (symbolising the club's hammer motif) and the gold is continued on the cuffs as well. I don't even mind the large Macron logos on the shirt and shorts! Its a classic design that works just as well with the away kit's pale blue shorts and socks that have been designed to mix and match perfectly.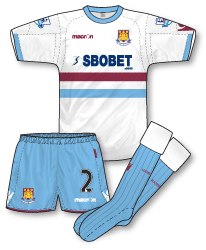 On to the away kit….another great design that resurrects the club's late 50s/ 60s away kit of white shirt with a single claret and single blue horizontal band. Its an iconic design and its surprising that a revamped version hasn't made a reappearance in the Hammers' kitbag since its original incarnation. The shirt features identical stitching and panelling to the home kit – the only main difference in terms of construction is the inclusion of a pale blue crew neck and cuffs.
Two great kits from Macron, both with a superb fit – I wonder if we'll see the famous pale blue with two claret hoops strip next year, or are West Ham due a navy away kit?