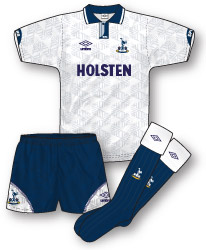 Just like when Kennedy was shot, or Diana died, anyone with a remote interest in football kits will remember where they were when they saw Spurs walk out on to the Wembley turf in the 1991 FA Cup final wearing shorts of a length not seen since…ooh…before you were born.
Its hard to imagine now the uproar the Umbro shorts caused with fans and players alike more accustomed to the skimpier and snugger pairs that had grown increasingly skimpier and snugger since the 1960s. However the laughter soon stopped and within just a couple of years every team was decked out in more amply sized shorts and in fact have worn them ever since. It was a truly trendsetting move from Umbro.
There was more to the kit than just big shorts though. The previous decade's penchant for slick modernist V-necks was discarded and instead a proper old-fashioned button up collar was introduced to the baggy shirt. It wasn't all retro influence though as the fabric of the jersey featured a state of the art trademark "3D" geometric Umbro shadow print. The socks switched from white to navy. Top this off with curved trim on the cuffs (adorned with the 'Spurs' motif') and you have yourself a timeless kit.
Worn by: Paul Allen, Gary Mabbutt, Paul Gascoigne

Worn in: The dramatic 2-1 win over Nottingham Forest in the 1991 FA Cup Final during which the kit was given an early preview. The final, of course, was overshadowed by Gazza's reckless tackle that damaged his cruciate ligaments and marred his last game for Spurs.

Buy this shirt now from Vintage Football Shirts