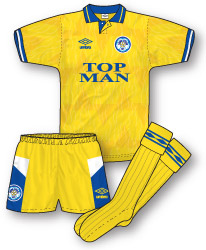 This season sees Leeds run out away from home in all black but for many of the club's supporters (and most probably neutrals) yellow is the only change colour the club should wear.
This classic outfit was launched in 1989 just before things got, well, a bit lairy on the kits front and is an absolute gem. Stylish and elegant the shirt combines a rich yellow with a standard Umbro blue collar and button-up neck and two levels of shadow pattern on the shirt; a regular triangular motif alongside a wavy line design.
The kit, including yellow shorts adorned with large blue and white side panels ticked all the right boxes for Leeds fans – it even also included the, now iconic, Top Man sponsor for the first two years of its life. Yes, unusually the kit lasted for three seasons and very memorable they were indeed for the club. In 1989-90 they clinched the old Division 2 title before two years later repeating the achievement at the very top of the English league – Division 1. That season (91-92) the jersey was sponsored by local paper the Yorkshire Evening Post.
As well as its strong and solid design, there's no doubt the period of success the club enjoyed during its lifespan has contributed to this kit still being fondly remembered by the Elland Road faithful.
Worn by: Mel Sterland, Gary McAllister, Gordon Strachan.
Worn in: The stunning 3-2 victory at Sheffield United that sealed the 91-92 Division 1 crown.
Buy this shirt now from Vintage Football Shirts